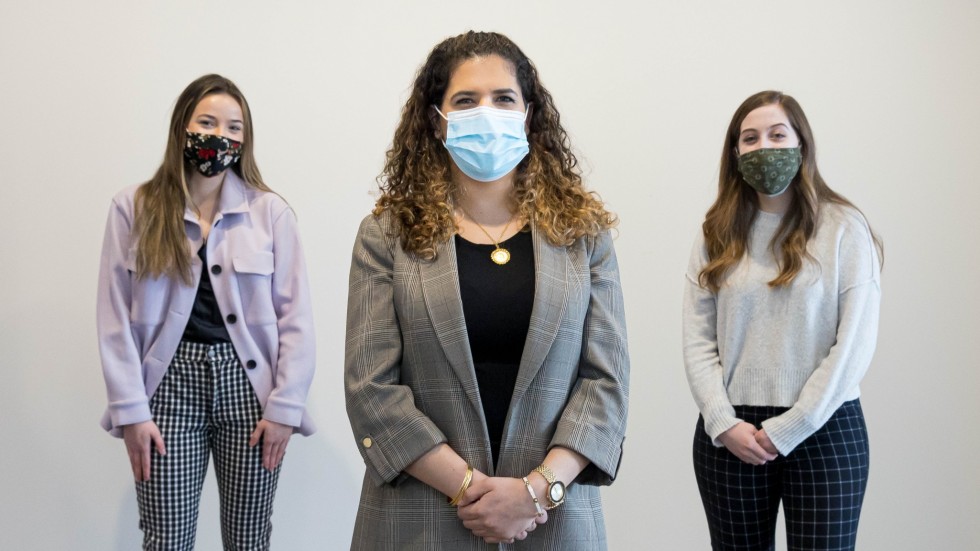 Winter | Spring 2021 - Faculty Spotlight
A Student-Driven Approach to "Fake News"
Assistant Professor of Politics Anwar Mhajne, along with Taylor White '21 and Siobhan Dowcett '21, created a new course, the Politics of Fake News.
Last fall, Assistant Professor of Politics Anwar Mhajne asked her students to share their ideal topic for an upper-level course.
Siobhan Dowcett '21 and Taylor White '21, who were taking Mhajne's course on cybersecurity at the time, had something front of mind: disinformation online.
"In watching the election and the rise of QAnon, we both thought it would be great to take that focus we'd had all semester and turn it into an entire course," says Dowcett. "There's a long history of 'fake news,' and it's important to understand how the term has been politicized and what issues we're really facing," adds White.
Mhajne liked their proposal, and a new spring semester course, the Politics of Fake News, took shape.
"Fake news is a common phrase, and it catches people's attention," says Mhajne. "But we're really focused on disinformation—actively making a fake story or emphasizing certain points to cause damage—and misinformation—a person reading or seeing something that they're not aware is fake."
As she developed the syllabus, Mhajne enlisted the help of Dowcett and White to ensure the interests and perspectives of students would influence the material covered.
"These are upper-level courses— students are truly choosing to be there," says Mhajne. "To build off that enthusiasm, I like to emphasize student responsibility, encouraging them to take initiative around what topics they want to cover as well as creating space for engagement and discussion."
Mhajne, Dowcett and White worked to ensure that content was inclusive and nonpartisan, monitored the news to keep coursework relevant and discussed the challenges that students face when navigating tough conversations with family and peers.
A focus on students is apparent in Mhajne's courses. "I've taken her every semester that she's been at the College," says White. "She's very observant of her students, recognizing our skills and weaknesses, and she calls us out in a way that helps us learn." Dowcett agrees, "She's constantly creating and sharing opportunities for growth. She's very much invested in every student's success."
Mhajne's approach to teaching reflects her own experience in college and graduate school. A first-generation student, she grew up in a conservative Muslim city in Israel. Her decision to go to college hours away from her family and then to earn her doctorate in the U.S. meant overcoming cultural traditions and expectations as well as navigating linguistic, geographic and logistical challenges.
"What helped me was having teachers and professors who believed in me, built a real relationship and helped me develop the tools to overcome the challenges I faced," says Mhajne. "As someone who didn't have college-educated family members to rely on and who was learning in different languages and new spaces, I discovered that part of building diversity in the classroom is through embracing the diverse ways people learn and retain information."
With that in mind, the course built on students' understanding of disinformation and misinformation in a number of ways, including with guest lecturers who offered insight into real-world issues and by practicing how to have tough conversations and establish a common set of facts.
Mhajne plans to refine the course and teach it again next year. "A course like this isn't just for us," explains Dowcett. Adds White, "We hope it'll be a mainstay at Stonehill."
Stonehill Alumni Magazine