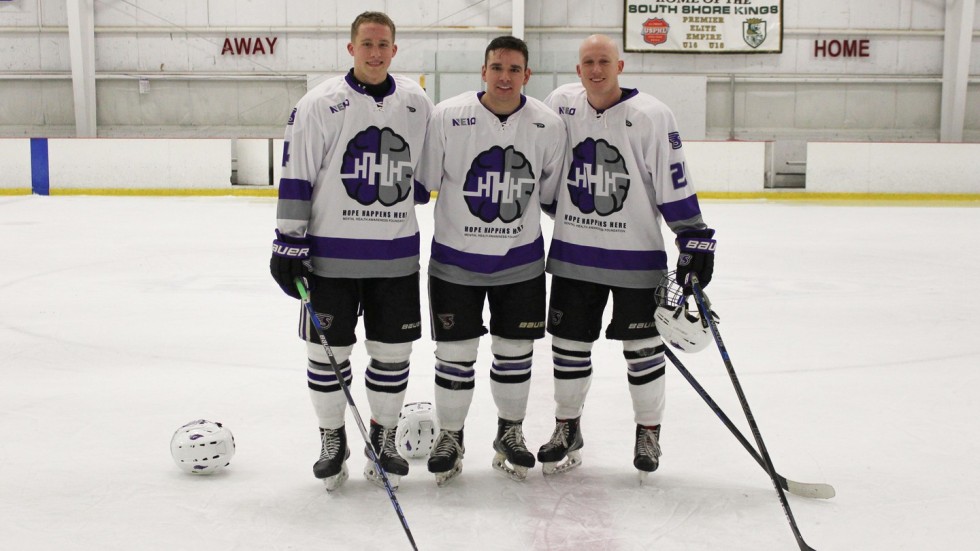 ---
Skyhawk Talk, Winter | Spring 2020
Athletes Find Hope in New Program
---
Ice hockey player Michael Seibold '20 used to rise at 6 a.m. Monday through Friday and was on the ice by 7 a.m. for practice. The criminology major carried a full class load on top of his hockey commitment, a schedule that didn't leave much free time.
As graduation approached, Seibold could have been forgiven for wanting to coast a bit, but that wasn't the case. He and teammates, Jack Scannell '20 and James Varney '20, had more to do before they collected their diplomas and wanted to leave a legacy beyond what they had accomplished on the ice. [Pictured above, l to r, Seibold, Varney and Scannell.)
The trio co-founded the Stonehill chapter of Hope Happens Here (HHH), an organization dedicated to eliminating the stigma around mental health, particularly among student-athletes.
"Our main purpose is to provide a voice for students," Seibold says. "The focus is on student-athletes, but HHH is here for any student on campus who wants to speak up and be heard."
Stonehill provides mental health services for its students, but the three seniors saw areas where HHH could help fill in some gaps. 
Varney, for example, served as the HHH representative on the College's JED subcommittee—the JED Foundation is a nonprofit organization that seeks to strengthen emotional health among the nation's teens and young adults. In this role, Varney was part of mental health and wellness policy discussions with College leaders. 
Speaking of the unique challenges that student-athletes face, Varney says that the path they take from a young age to play in college has an effect on mental health. "I think that this adds to the pressure that athletes feel to be successful in college, and inadvertently, the struggles they face when it doesn't always work out."
This year, HHH, which consisted of nine board members representing several sports, promoted mental health awareness at varsity soccer, field hockey, basketball and ice hockey games as well as hosted a basketball tournament in November. 
At a men's ice hockey game in January, the group placed HHH t-shirts in the stands, along with cards displaying mental health and crisis resource information. The team also wore special HHH jerseys.
To further raise awareness, the Stonehill HHH Instagram feed includes personal stories from athletes who share their own struggles with mental health as well as posts about how to ask for help, deal with stress, handle success and failure and manage competition. A recent Stonehill-related tribute garnered over 25,000 views on the HHH feed. 
"We have seen so many people we know struggle with their own mental health issues," Scannell says. "There are even more people suffering in silence from various mental health conditions. We wanted to use our platform as student-athletes to create a place to talk about it."
The founders, who graduated in May, are counting on underclassmen to take HHH to the next level. 
"It will be a collective effort of those who will be returning to campus in the fall to carry on the Stonehill chapter of Hope Happens Here," Seibold says. "The momentum we generated this past year opened up a lot of doors—we had support from the administration, athletics and students. We started conversations to let people know that how they feel is not unusual, and there is someone around to help."
—John Quattrucci