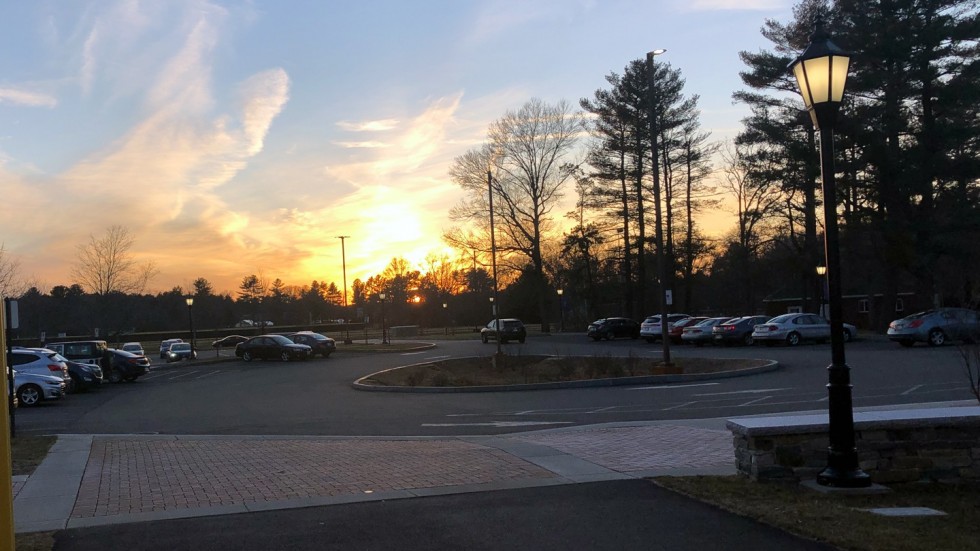 ---
Rhododendron Drive, Winter | Spring 2020
Sunset Countdown
By Emma-Cate Rapose '20
---
I think many Stonehill students would agree with me when I say that the sunsets on campus are out of this world. This spring semester of my senior year, I had begun to make the effort to catch one every evening and post it on my Instagram story with a countdown to how many Stonehill sunsets I had left.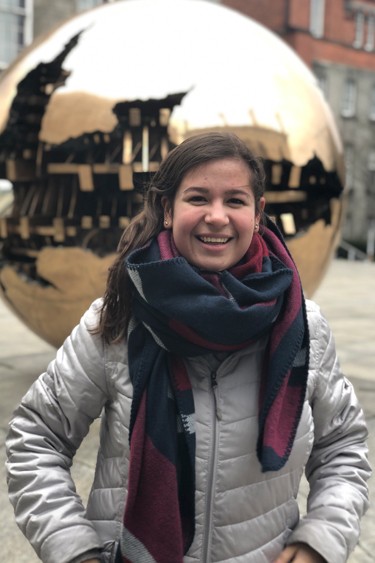 My countdown came to a halt on March 5, when I thought I still had 73 sunsets to go. That night, I sprinted out the back door of the May Welcome Center after my 4-6:30 p.m. class, so I could capture the last rays of sun setting over W.B. Mason Stadium [photo above]. That would be my last memory of Stonehill as a college senior. Shortly after, I got in my car and drove home to Plymouth for spring break, not knowing that we wouldn't return a week later.
When I first found out that my time at Stonehill was cut short due to COVID-19, I grieved all that I had lost, including my final Relay for Life event, my last a cappella concert with Girls from the Hill, many more Student Alumni Association meetings, and celebrating every milestone of the last eight weeks of senior year with the friends that I had made over the last four years.
I'll be the first to admit that I might have been over involved in extracurriculars—my schedule was constantly packed with activities from the moment I woke up until the late evening hours. I cherished my daily routine, and without it, I have a lot of free time on my hands. Although I am still grieving, it's been incredible to see what silver linings have risen to the surface now that I'm not busy all the time.
One of my friends and I often joked that Stonehill sunsets brought the "lux," and the members of the Stonehill community brought the "spes" to Stonehill's motto, Lux et Spes. The COVID-19 pandemic has made me realize that this isn't necessarily the case—even without a nightly Stonehill sunset, I've found a lot of both light and hope in the students, faculty and staff.
I feel closer than ever to the Stonehill community. Journalism Professor Maureen Boyle, who has been a mentor to me over the last four years, replies to all of my tweets, no matter what they are about. The witty banter always puts a smile on my face. Alex Cuprinski, assistant director of alumni engagement, has been at Stonehill for just a few months, but already cares so much for the students he works with. I am grateful for his friendship and support.
Devon Sprague and Alicia Brienza, director and assistant director of the Center for Writing and Academic Achievement, have been working tirelessly to make sure there are resources available to all students who want help, while also making sure the tutors have the support they need. Student Engagement holds trivia every Monday and Thursday night—although I never do well with the questions, my friends and I FaceTime for hours after, joking about how terribly we did—and that's the fun of it for me. It's truly the highlight of every week.
Although the end of my senior year has been far from ideal, the bonds of the Stonehill community are strong enough that a pandemic could never tear them apart. I know that Stonehill will always be there for me, and I can always go back. The first thing I'll be doing as soon as this is all over is driving to campus, parking my car in the library parking lot and watching the sunset over W.B. Mason Stadium.
Emma-Cate Rapose '20 is an American Studies major with minors in Journalism and Communication. She was the opinions editor for The Summit newspaper this year.
---
Share Your Story.
Submit your 500-word essay about your Stonehill thoughts and memories to the editor.
---