---
Alumni Community, Winter | Spring 2020
Weddings
---
More Stonehill Weddings
Betty Holmes '75 to Walter Bump, 5/18/19
Kristen Hoppe '06 to Mark Niedbala, 4/27/18
Brittany Topper '08 to Paul Jarboe, 7/27/19
Marie Mullen '09 to Richard Bylund, 12/29/18
Emily Tracey '09 to Tyler Eppich, 9/7/19
Kathryn Wood '09 to Christopher Cate, 10/12/18
Laurel Campbell '11 to John Martell, 10/5/19
Matthew D'Amore '11 to Stephanie Demers, 5/4/19
Jennifer Gerlach '11 to James Provo '11, 6/29/19
Molly Mattern '11 to Joseph Urban '11, 6/22/19
Allison Sirois '11 to Nils Pilotte, 11/9/19
Alyssa Liftig '12 to Robert Mollins '12, 10/19/19
Corinne O'Kane '12 to Elizabeth Kilzi, 9/21/19
Bethany Conway '13 to Robert Sosa, 10/26/19
Julia Crane '13 to Brendon Dempsey '13, 9/7/19
Julie Ridge '13 to Joseph Falzone '14, 6/22/19
Christine Vivero '13 to Nicholas Toyias '13, 10/12/19
Kristen Kennedy '14 to Matthew Smith '15, 3/22/19
Sarah Sherman '14 to Matthew Murmello '14, 6/1/19
Cassandra Valencia-O'Shea '15 to Christopher Brodeur '15, 6/15/19
Jessica Devereaux '16 to Ryan Paulik '16, 8/17/19
---
Want to submit a wedding or baby photo?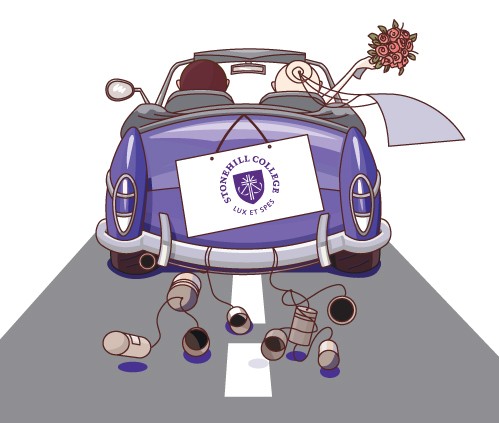 Here's how:
Visit our Keep in Touch page to complete the form and photo upload.
To be considered for publication, upload digital photos in .jpeg format, at least 2 MB in size. The person submitting the photo must be part of the wedded couple or parent of the baby and a Stonehill graduate. Because of space constraints, not all photos submitted will be included in the print or online version of the magazine.