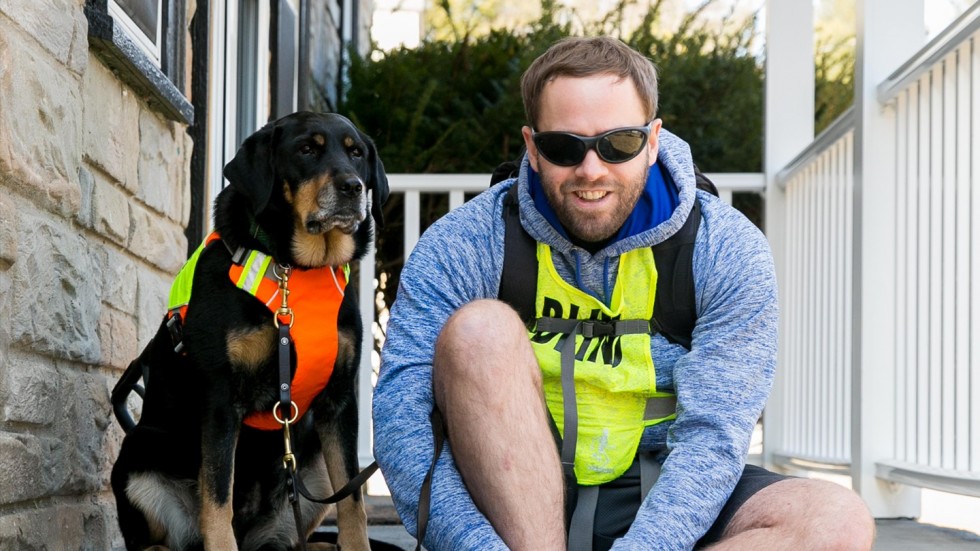 Winter | Spring 2020 - Features
Brian Switzer '13 Runs On
When Brian Switzer '13 was 2 years old, he was diagnosed with hearing loss. 
By age 4, his vision started to go.
When he was 11, his parents sat him down to tell him: he had Usher Syndrome Type 2. He would slowly become both deaf and blind.
Usher Syndrome is a rare genetic disorder that causes combined deafness and blindness. There is no cure.
Today, he is deaf and going blind—he can now only sense light. An athlete from a young age, Switzer was determined to keep active so he transitioned from soccer to running—and has learned how to keep running in the face of obstacles. 
With guides, Switzer has raced nine marathons, including the Boston Marathon twice and the New York City Marathon. He ran a marathon up a mountain in freezing temperatures through the wilderness of Alaska. 
This fall, he'll run the Cape Cod Ruck4HIT, a relay race in which he'll run some 30 miles carrying a 30-pound rucksack.
"Running helped me gain that confidence. It relieves my stress," says Switzer, who works for Career Launch at Perkins School for the Blind in Watertown. "A lot of people think someone who's blind can't do anything. Running demonstrates there's a lot we're capable of."
Putting in the Work
Switzer started at the Boston School for the Deaf at age 3 and only spoke American Sign Language for the first couple of years.
"Once I started signing, I was able to pick up speech a little better, but my speech hasn't always been as great as it is now. People have had a hard time understanding me most of my life," says Switzer, 29, who now lives in Sharon with his wife, Emily, and  guide dog, Intrigue.
"When I transitioned to public school, I had a sign language interpreter," he says.
Growing up in Easton, he played baseball and soccer but gave both up by middle school, as his vision worsened. "Vision loss with Usher is progressive, so  I had some vision toward the center of my eye, and slowly, that circle got smaller and smaller," he says. "By the time I was 24, it closed up."
At Oliver Ames High School in Easton, he fell in love with running. "It was a little easier—not following a ball, but a path. The nice thing is it's all about the work you put in. There's a team aspect, too. You train with others, there's camaraderie."
He ran cross-country, winter and spring track during his first year—but his fear of running into a tree caused him to stop in his tracks sophomore year.
"I couldn't use my central vision fast enough to keep track of the trees—the fear was too much," he recalls. But his love of running was too great. He decided to rejoin and run slowly, just for the love of it.
Seeing Beyond
At Stonehill, where he majored in philosophy and economics and minored in German, he was "still able to run somewhat on my own" and would run around campus and through the nearby sheep pasture in his free time. 
But the larger lesson he learned at Stonehill—especially as a philosophy major and member of the Philosophy Society—was to see beyond himself.
"Philosophy made me think in a larger picture," he says. "As someone with a disability, it's really easy to think of yourself. Philosophy taught me to see the wider picture, to think of others. That carries over to what I do now, trying to help others." At the Perkins School, Switzer works with visually impaired young adults teaching assistive technology and other business fundamentals to prepare them for full-time employment. 
"

Philosophy taught me to see the wider picture, to think of others. That carries over to what I do now, trying to help others."

—

Brian Switzer '13
"Stonehill taught me a lot about myself and the kind of person I want to be: someone who engages with the community, helps others," he says. 
As a student, he was involved with extracurricular activities that allowed him to focus on others, rather than himself. He tutored math at the MacPháidín Library, served as the diversity chair of his class, was a teaching assistant for the Food Justice seminar and distributed food through The Farm at Stonehill.
"We delivered fresh vegetables to low-income areas and worked with My Brother's Keeper," he says. "I grew to love working with other people and helping others. It helped me work where I am now."
Rediscovery
After graduation, while working as a math teacher at Sandwich High School, Switzer's central vision began to fail drastically. 
"I was struggling to read the students' homework. I was struggling to navigate hallways. I ended up leaving on account of my vision," he says.
"Because I left my job, I could no longer afford my apartment. I moved home with my parents—that was a real blow to my self-esteem. That was very tough."
He also had to give up running. 
"Quitting running was stressful," he says. "Running was a stress-relief. If I had a bad day, if my vision was off, if I was struggling to read—I could run."
"I wasn't sure what to do. A friend of a friend knew someone who was blind and working, and I reached out to see how they were able to do it," he says.
Eventually, he found the Carroll Center for the Blind in Newton and relearned how to travel with a cane, how to read braille and how to use a computer. He also met other blind and visually impaired people holding down full-time jobs. "I felt like maybe I could get back on my feet," he recalls.
So in 2015, he enrolled in graduate school at Suffolk University, where he earned a master's degree in public policy—and rediscovered running.
A friend from Germany, Marco Steffan, was looking for someone with Usher with whom to run the New York City Half Marathon. Steffan wanted to raise awareness for Usher, as he knew a family with two daughters with the syndrome. He also wanted to raise money for the girls to see Paris before they lost their sight.
"I told him of course—the only problem is I don't know how to run," says Switzer with a laugh. "He told me he'd tie himself to me with rope and guide me."  
So it was then that Brian Switzer ran his first-ever half marathon. And he kept on running.
Baptism by Fire
His first full marathon was baptism by fire: The Equinox Marathon in Fairbanks, Alaska, widely considered one of the most difficult marathons in the nation. Runners climb a 1,800-foot ascent, race through uneven terrain in wooded trails, through snow and in freezing temperatures.
Again, Switzer and Steffan ran for Usher.
"For a good part of the race, you're going up a mountain. As we climbed the mountain, it was snowing. It was really difficult to hear—my hearing aids can get wet and damaged," he says, adding Steffan also suffered from altitude sickness.
He's now raced nine marathons, three ultra relays and five half marathons with various guides. He was on the first team of blind and visually impaired individuals to complete the Ragnar Relay Ultra Reach the Beach in 2016. 
He's also working on his second master's degree in education at UMass-Boston, is learning German braille and has contributed to two books: Walk In My Shoes: An Anthology of Usher Syndrome and Walk in My Paws: An Anthology: Working Service Dogs.
"The running community is one of the most accepting communities. Anytime I want to run a race, even though I'm blind, I can find a million people who want to run with me, even though I'm slowing them down," Switzer says.
At charity races, he enjoys talking to parents of blind kids or of kids with Usher, "telling them its not all that bad. There's definitely aspects of it that stink, but at the end of the day, I'm happy, I'm married, I have guide dog. I live a pretty happy life."