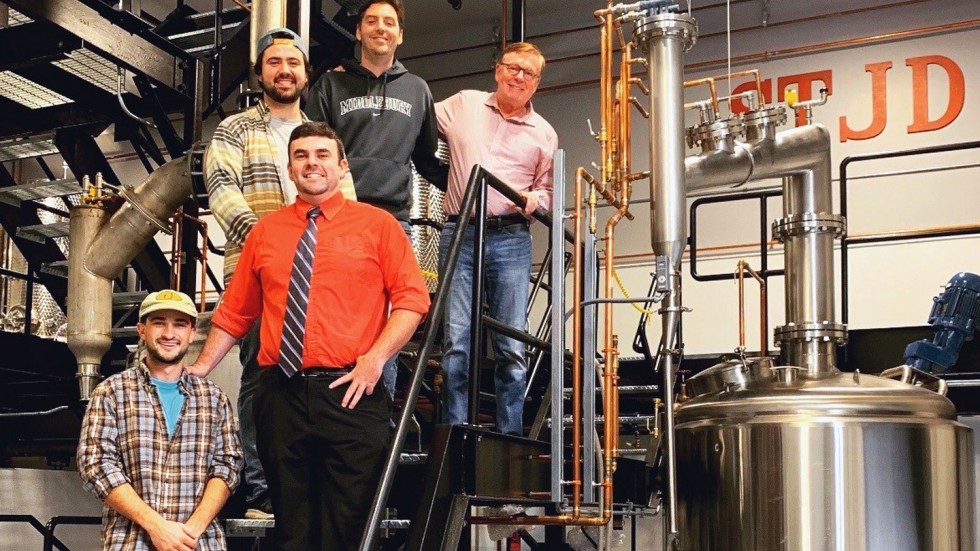 ---
Feature, Winter | Spring 2020
A Distiller of Spirit
Brendan Hughes '16 returned home to help his local economy in more ways than one.
By Kim Lawrence
---
You can say that St. Johnsbury, Vermont, has a little something for everyone. Love dogs? Visit the town's one-of-a-kind Dog Chapel. A space aficionado? Stop by the Fairbanks Museum and Planetarium. If 100% maple syrup is your thing, Maple Grove Farms has you covered. And if you enjoy craft rum, St. Johnsbury Distillery, owned and operated by Brendan Hughes '16, is right in the center of downtown.
But what St. Johnsbury has the most of, according to Hughes, is community. "We are the last exit on Route 93, so we are pretty far up," he says of his hometown. "It is a special place—people are friendly and know one another. It's a really caring community."
This is why Hughes decided to return home—after his four years at Stonehill as a biology major and entrepreneur minor and then a year at Notre Dame, where he earned a tri-discipline master's degree in business, science and engineering—to give back to his community. "It is a low-income area, so I wanted to come home and help create jobs for the local economy. This town is where I want to raise my family."
In 2017, along with his father and brother-in-law, Hughes saw an opportunity to buy a struggling rum distilling business. The trio revamped and rebranded the company and introduced St. Johnsbury Distillery, with six spirits on the market in Vermont and Massachusetts and several others in research and development. By later this summer, they hope to open a renovated tasting room in their downtown facility. 
St. Johnsbury Distillery remains true to its craft, using locally sourced ingredients and—a particular point of pride for Hughes—making their own alcohol. "Many distillers order their alcohol, but we make ours."
Aside from preserving the craft's authenticity, the in-house alcohol is serving a vital purpose in an unexpected way. After a law passed that distilleries could use their alcohol to make hand sanitizer in response to COVID-19, Hughes put a plan in motion to shift their production lines to accommodate this essential product.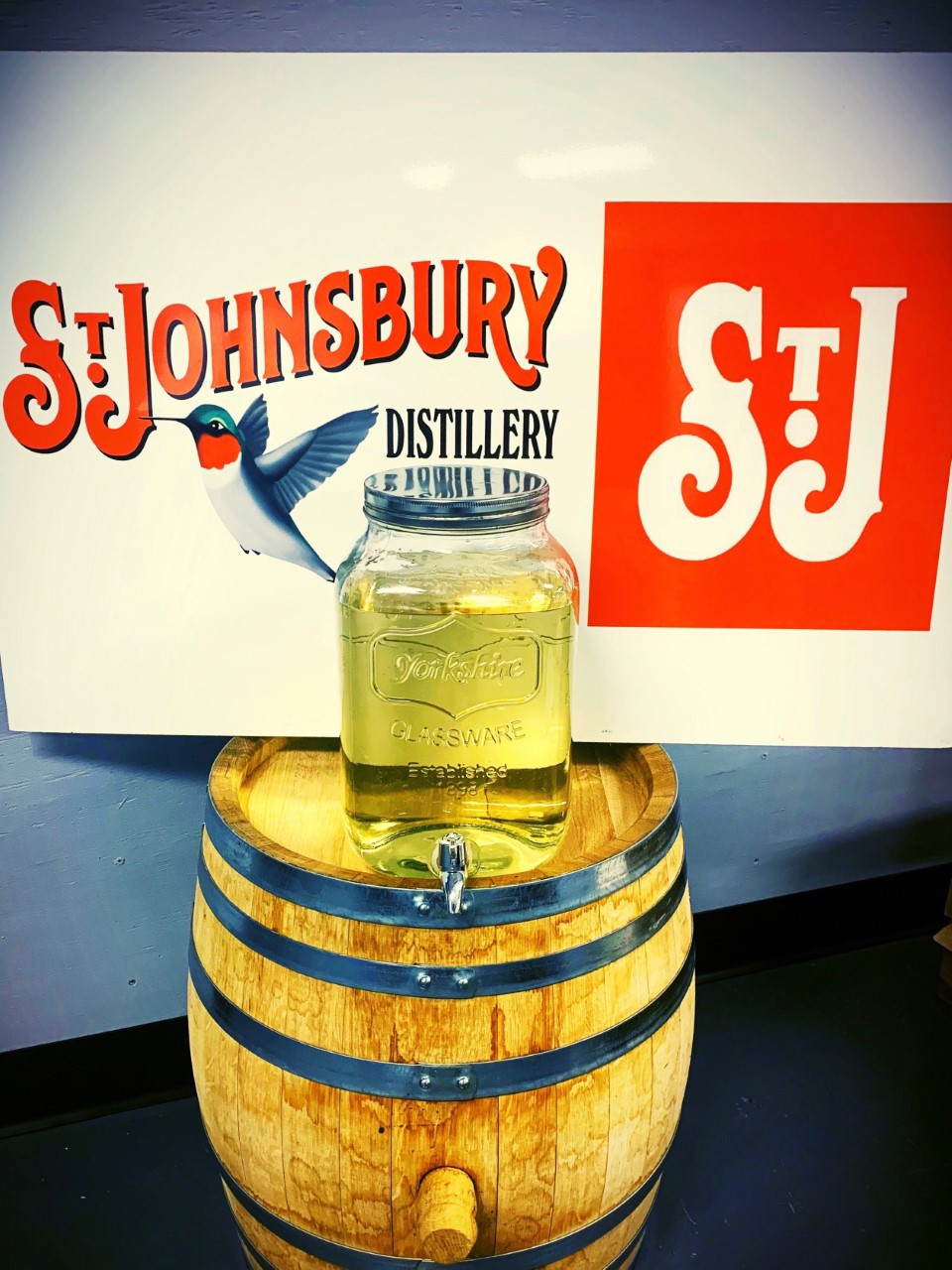 "Because we make our own ethanol, we didn't have some of the supply chain problems that other distilleries experienced," he says. St. Johnsbury Distillery made its first few batches of hand sanitizer for free to the community to slow the spread [photo, right]. "We didn't have bottles or anything yet. We told people to bring their containers, and we'd fill them." 
Making about 40-50 gallons of hand sanitizer a week, they then supplied it to first responders, healthcare facilities and essential businesses. "Our town is reliant on its essential businesses because they bring in revenue and employment. They can't stay open if they don't have necessary items like hand sanitizer, so we are able to fill that need," says Hughes.
Most recently, St. Johnsbury Distillery contracted with the State of Vermont to supply hand sanitizer to the state's offices and departments, with the first batch going to courthouses.
Although St. Johnsbury Distillery is still producing its rum and fulfilling curbside orders, the hand sanitizer has become its main product during this unprecedented time.
"We want our hand sanitizer to be consistently available at a reasonable price," says Hughes. "Our goal is to make enough so that we can keep our overhead and keep the lights on, and in line with our mission, help the St. Johnsbury community and our neighbors get through this."
---
Photo Above: Brendan Hughes '16 [center, in orange], co-owner and president of St. Johnsbury Distillery, with his colleagues [bottom] Mark Kuligoski, [top, left to right] Greg Piper, co-owner Brian Garvey and co-owner Dan Hughes.
---