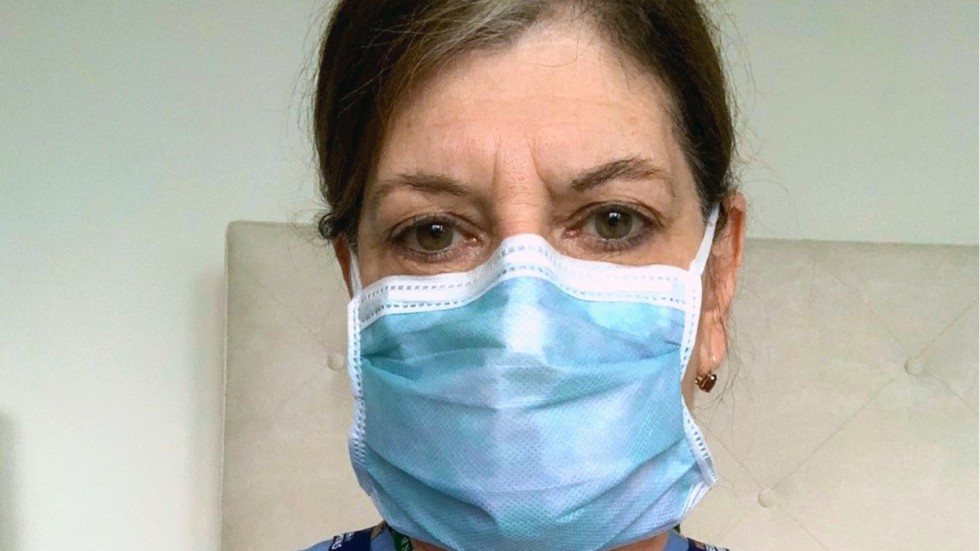 Winter | Spring 2020 - Feature
Out of Retirement, On to the Frontline
When the call went out for retired physicians to aid in the response to the COVID-19 pandemic, Judith Salerno, M.D., M.S. '73, president of The New York Academy of Medicine, came out of retirement as a clinician to serve on the frontlines.
The recipient of the Outstanding Alumnus Award in 2017 and the keynote speaker at Stonehill's Alumnae Summit in 2018, Dr. Salerno is now working at Bellevue Hospital in Manhattan, serving as a liaison between medical providers and families of patients with the disease.
SAM spoke to Dr. Salerno recently about her daily experiences at the epicenter of the pandemic, healthcare disparities, inspiration, her parents' example and why Religious Studies Professor Thomas Clarke '57 is one of her lifelong heroes. 
Did you have anxiety before you decided to come out of retirement and join the frontline?
I did ask myself if what I was doing was brave or stupid or something in between. That first day at the hospital, learning how to put on all the PPE and seeing all these sick patients, was overwhelming. I wondered if I was being selfish by putting myself in harm's way given my family's high level of concern. Once I started the work, I knew I was contributing and using a skill set that I have and that was needed—that realization gave me the peace to continue to do this.
How long do you plan to work in this role?
I am working in palliative care with intensive care unit teams. When I first came there, the size of the case load of the service was about three or four times the usual. Now it is back down to twice as many. When we start approaching the normal case load, I can go back into retirement again. I do feel I am needed. There are families I have communicated with every single day over a month's time. I want to stay connected to them. When I call them to give medical updates on their loved ones because they can't see or visit them, they know my voice. There is a certain level of trust in the relationships I have developed. I feel I would be letting them down if I left now.
Given the deep emotional dimension to this for frontline people like yourself, how do you turn those images off at night?
Since starting this tour at Bellevue Hospital—which is the largest public hospital, a safety net hospital, in New York City where we see the poorest of the poor and the sickest of the sick—I come home exhausted and sometimes just fall asleep on the sofa after dinner. But there are some nights when I wake up at 2 a.m. with visions of either myself or a family member becoming sick and imagining the terrible road ahead. I can't get back to sleep some nights despite how tired I might be. The anxiety is there, but we must keep it under the surface so that we can function in our jobs.
I have many friends and family members who call me in the evening asking me how my day was. I am not really able to talk about it since it is so raw. At the beginning, I tried to keep a journal and write about things, but I could not even do that anymore. It was too wrenching to try and relive—even with words on the page—what I had experienced that day. After this is over, I will use writing as a tool to process my experiences. 
What has been most difficult?
What is most difficult are the terrible inequities that I see and that are in our health system but are so exposed with working in a safety net hospital—seeing our patients who are maintenance workers, work on subways, deliver food and in similar jobs who are at the highest risk. I see a lot of patients whose families are back in Mexico or El Salvador, and they share an apartment with a number of other workers here. There is nobody to even call. I have tried to reach family members in other countries but haven't been terribly successful.
I am often speaking to patients and families through an interpreter, and I have to make sure that my communication is clear, simple and direct but honest at the same time. In speaking with families, I walk the fine line between hope and the reality that their loved one very likely may die. At first, I wasn't using the D word but now I really do have to use it—saying, your loved one, father, brother, wife might not make it out of the ICU. I am concerned that she will die. I have to say that.
"The thing I hear from families over and over is the same. They are hoping for a miracle. I don't know how I define a miracle these days."
The thing I hear from families over and over is the same. They are hoping for a miracle. I don't know how I define a miracle these days. Some days it is that someone was able to be extubated and get off a ventilator, even though I know they won't be the same person they were before they became ill. Honestly, I see very few of those miracles. Another miracle might be arranging a compassionate visit for family members before the person dies. These are small miracles, but they help. If we can't give people in these conditions a good death, then maybe we can give them one where there is some compassion and connection.
Beyond the pandemic, do we have the willingness and capacity to reduce disparities?
We have the ability and the resources. The question is whether we have the will as a nation to do so. I am hoping that we do. If we haven't learned anything from what we are experiencing now, we have lost an opportunity and lost the hope of the next generation for making the world a better place.
I am concerned that if you do not live in a hot spot or an epicenter like N.Y.C. and you are not experiencing what we are experiencing here, you might be a little cavalier in wanting to get out and defy social distancing. Is getting your nails done or seeing a movie worth the trade-off of risking your life? If people could spend one hour with me in the hospital, they would better understand. Every day, we confront that suffering of patients and families—physical and emotional pain that's so omnipresent. I hope this is an opportunity for us to shift the way we think about our world and work towards a better, kinder, compassionate and loving society. 
What do you think the long-term impact will be on those serving on the frontlines?
I have already heard of young people who were training in emergency medicine who have decided on career changes because of the degree of suffering and death they have seen. What they are experiencing is extraordinary and is a daily phenomenon unlike anything that experienced clinicians have ever lived through.
I worry that they are going to become inured to some of the suffering, and I am concerned about their mental health. I believe medicine is a profession grounded in compassion. I just hope we are not using up their stores of compassion. I see young doctors, nurses, respiratory technicians and other health professionals doing extraordinary work every day. The emotional exhaustion that they are experiencing, which I am experiencing, is very difficult, and I want to make sure we have the resources in place to catch them if they fall.
We don't know what mental health issues may linger. We don't know if it will be like the post-traumatic stress disorder that some of our military personnel experience after coming home from war. Is it going to be depression? We have to find ways for the people on the frontlines to have a community that surrounds them and helps them if they are going through difficult times.
What gives you inspiration?
Little things like walking to my apartment from the hospital at the end of the day to clear my head before I go home to my daughters. Sometimes a song or seeing the trees leafing out for spring, or a flower here or there. After a week of rain, when the sun comes out, it lifts my spirits. The people who bake us cookies with little cards from their kids or people who drop off pizzas for lunch—the little acts of kindness.
I live on the 27th floor of a 30-story high rise, and at 7 p.m. every night we are out, along with many others in the city, banging pots and pans and clapping in support of frontline workers—that brings tears to my eyes. It feels as though others care, even if they are not seeing what I see. They appreciate our effort. Ordinary people doing extraordinary things every day. 
Where do you find your internal fortitude, courage, sense of social responsibility?
Without question, my parents. They were the children of immigrants. We lived in a large immigrant family, where there was a sense of the collective good, a sense of community. We had few financial resources, and I had no idea we were poor because I always experienced a richness in my life. My father was a very religious man and was always doing things for people in need in our community. I saw as a young child what it was to be part of something larger and the responsibility that comes with that—whether it was cooking for people who had sick family members or donating to a cause, my parents were always there ready to step up. My parents treated everyone fairly, equally and compassionately.
"If ever it took a village, this takes a village."
If you had a word of advice for fellow alumni, what would your message from the frontline be?
This pandemic is not about you; this is about us. We have to think of everything we do as supporting each other and minimizing risks—not only to ourselves but to those around us. That's the only way we are going to beat this pandemic. It's like nothing I've ever experienced in my life. I hope that we are able to appreciate that if ever it took a village, this takes a village. 
Is there anybody from your Stonehill education who influenced you that you think of in these times?
The person I always remember is Religious Studies Professor Tom Clarke '57, who has been one of my lifelong heroes. Even when I haven't spoken to him for years, "his voice," his kindness and his intellectual clarity have accompanied me throughout my life. I will never forget the gift he gave me as my teacher at Stonehill. 
When I came back to Stonehill a few years ago to receive the Outstanding Alumnus Award, I was so moved that he came to the dinner. I have a picture of the two of us that I have framed because he was and continues to be, on so many levels, a bright light in my life. He really helped me understand what I could be, and he believed in me in so many ways.
When you are no longer working as a clinician, will you go back to your role as president of The New York Academy of Medicine?
Oh, I haven't stopped. I have a great team who are supporting me and have provided me a lot of leeway, but I frequently—3 or 4 nights a week—will have Zoom meetings with my team. I am still keeping up with things there. I have flipped my day job and my night job. 
The interview, as told to Director of Communications and Media Relations Martin McGovern, was edited for length and clarity.