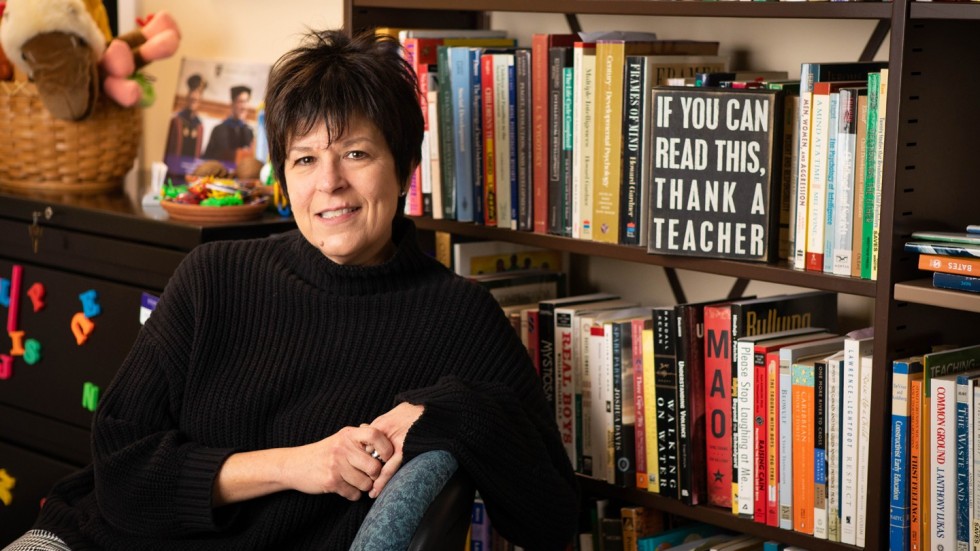 ---
Faculty Spotlight, Winter | Spring 2020
A Teacher's Guide
---
KNOWN FOR PRACTICING what she preaches, Professor Karen Anderson has taught hundreds of future teachers how to teach with enthusiasm, competency and care. A former New York City middle school math and science teacher, Anderson has received numerous awards, including a National Science Foundation grant for over $1 million and, most recently, Stonehill's Hegarty Award for Excellence in Teaching. Here, Anderson tells us about teaching middle schoolers, her parents' influence and a classroom pizza party she couldn't resist.
Best teaching advice I received:  Get to know your students and make sure they know you care about them. 
Something I always tell my students about teaching: My favorite classes are those where I learn the most about the content, about my students and about myself as a person, learner and teacher. After a really good class—and, thankfully, I have had many at Stonehill—I revise my syllabus based on student feedback, what worked and what they want to know more about. Change is good.
Teaching middle school was: The best decision I ever made. Not only did my students at J17 Hudson River Middle School in New York City teach me how to be a teacher, but they also taught me how to be a better person.  
A strategy for getting children interested in math or science: Actually have them do math or science. Mathematics and science should be verbs, not nouns. Something students do, not something they are told about or watch being done on the white board. Too many teachers—and, sadly, myself included when I started—do the math or science for the students. We think our job as the teacher is to ask all the questions, answer all the questions, demonstrate exactly what to do, when to do it and for how long. How do students actually learn from that? They need to be the ones who do the thinking and the doing. 
An influential person in my life: My parents, Russell and Marie Anderson, and the rest of my family. Unfortunately, being a teacher isn't always something that people are impressed by. But not my parents, particularly my dad. He thought teaching was an amazing profession and always encouraged me to do what makes me happy. I would not be a teacher if it weren't for my parents. 
If I weren't teaching, I would be: I can't image doing anything else. 
Something that recently made me laugh: When one of my classes negotiated a pizza party if they kept up their perfect attendance. At the time, we were six weeks into the semester and not one student had been absent yet—an impressive feat given that there were 26 of us in the class. Obviously, I agreed to it!  
Best spot on campus is: My office. I love the fact that so many students stop by. 
On a day off, I enjoy: Spending time at our home in western Maine. There are days at a time when my husband and I don't even leave the property. I also love to read and love book clubs. Getting to be part of a book discussion that I don't have to lead? Now that's awesome.