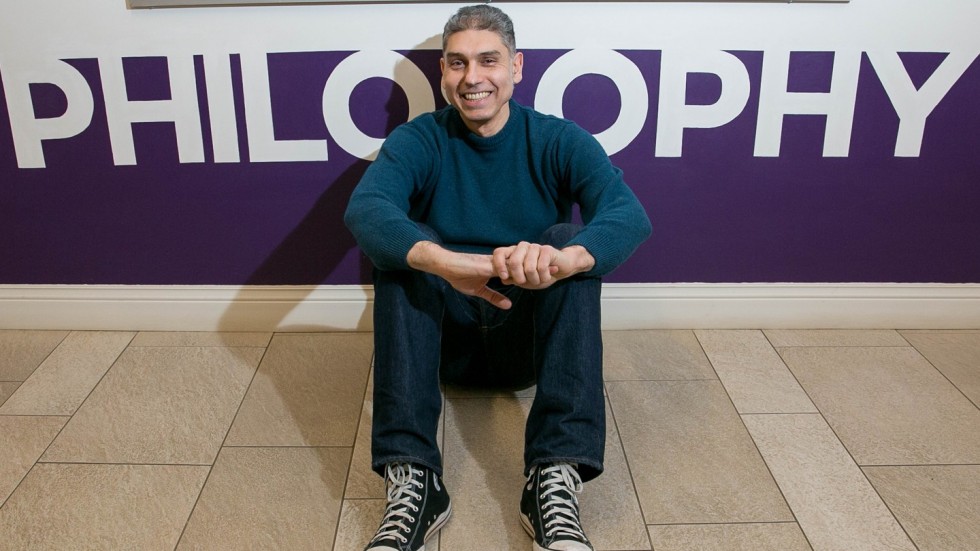 ---
Faculty Spotlight, Winter | Spring 2020
A Familiar Voice
---
LOPING THROUGH THE CORRIDORS of May Hall at the formidable height of 6'6, Constantinos ("Dinos") Mekios is an instantly recognizable figure on campus.
Although many faculty and students know the philosophy professor and former college basketball player for his physical stature and knowledge of biomedical ethics, there is a small yet devoted group of people who would recognize Mekios based on his voice alone. 
For the past twenty years, Mekios has hosted a radio show called "Our Little Rendezvous" every Tuesday from 10-11 p.m. on WHRB 95.3. "It really is a rendezvous. I feel like I'm playing records for a few friends, so there's a certain intimacy to it," says Mekios. Each episode features obscure records from around the world. "You could call it a general rock and roll show, but it's also pretty wacky," he says.
As a creative outlet, the show appeals to Mekios's love for exploring faraway countries and shedding light on undiscovered artists. When looking for new music, he ventures with his portable record player into the dustiest corners of record and antique stores as well as flea markets. 
He has amassed more than 50,000 records, which accounts for most of the space in his Somerville apartment. "I am very invested in finding vanity records from small artists that never really went anywhere," he explains. "When this happens, I feel as though I am finding a work of genius that otherwise might have been lost forever." 
Mekios believes that his record collecting mirrors his work as a philosopher. "Both have elements of curiosity, adventurousness and research," he says. 
Mekios was first exposed to the field of philosophy in a political philosophy lecture when he was an undergraduate at SUNY Stony Brook. He had traveled from his native Athens, Greece, to attend college and play basketball in the United States.
At the time, he planned to major in biology and pursue a career as a medical doctor or scientist. "I never thought that I would study philosophy, but after my sophomore year, I knew that I would never be able to escape it," he recalls. "I did not have a good idea of what philosophy was, but I liked it nonetheless. I loved the inquiry and the discussion of difficult questions."
In addition to teaching, he recently published Brute Facts (2018), an essay collection that he co-edited with his friend Elly Vintiadis. The term "brute facts" refers to the ideas and concepts in our lives that exist but do not seem to have any explanation, such as consciousness, the acceleration of gravity and the value of Pi. 
Through studying brute facts, Mekios explains, we can develop a better awareness of the limits of what humans can understand, and, on the other hand, a sense of the explanations that might be worth searching for.
Although Mekios loves traveling, he has no plans to leave Stonehill. "I never thought that I would still be in the United States 29 years after leaving Athens," he says. "But I love being at Stonehill. People care for each other and show interest in each other in a genuine way. And also, I can't move anywhere because it wouldn't be possible to move all of my records."