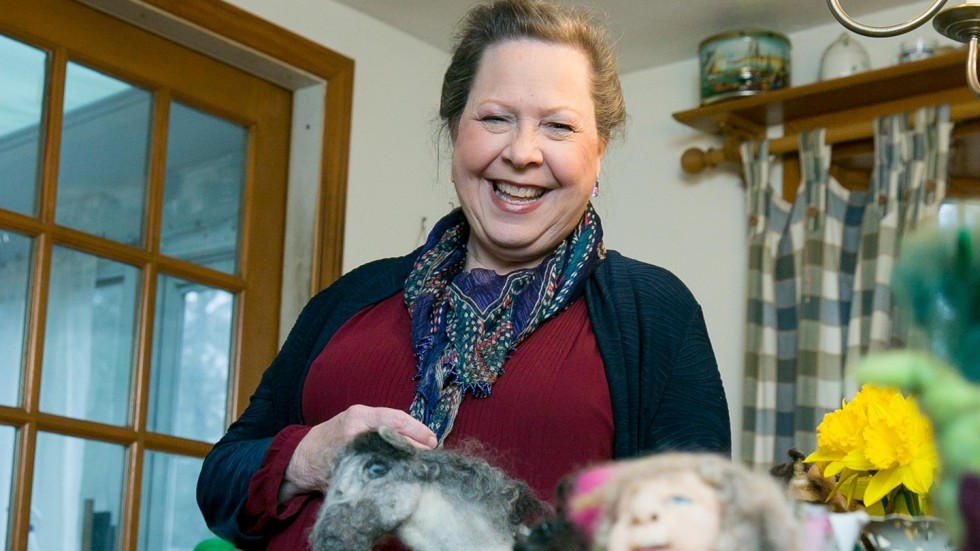 ---
Alumni Community, Winter | Spring 2020
Alumni Highlight: From Beginning to End
---
When Kathleen Quinn-Kortis '79 was 8 years old her grandmother taught her how to knit. "During recess in grade school, I would be out on the playground sitting with a ball of yarn and knitting needles making something," remembers Quinn-Kortis.
Her passion followed her through Stonehill, where the history major continued to knit as a hobby and took some art classes. During her senior year, she landed what she thought to be a summer job at Cape Cod Hospital. An inpatient coder in the medical records department, Quinn-Kortis has now worked at the hospital for 41 years.
It wasn't until her husband, Steve, surprised her with a spinning wheel—which dates back to 1801—that Quinn-Kortis realized a deeper passion within her craft. "I really wanted to create something from beginning to end," she recalls.
Having no experience spinning fiber, she attended a meeting of the Cape Cod Spinners Guild to learn the basics. "It was there that I found my people," she says.
Nearly a decade later, she and Steve now own and operate Woodside Woolies Farm in West Barnstable, home to several angora rabbits and goats. Their coats, sheared twice a year, are dyed and used to make the yarns Quinn-Kortis spins. The resulting products range from angora sweaters to intricate needle felted wool characters, which she sells at various local art fairs.
With retirement from Cape Cod Hospital on the horizon, Quinn-Kortis looks forward to what is next. "That is when I can focus on marketing, creating a website and managing a Woodside Woolies Etsy Shop."