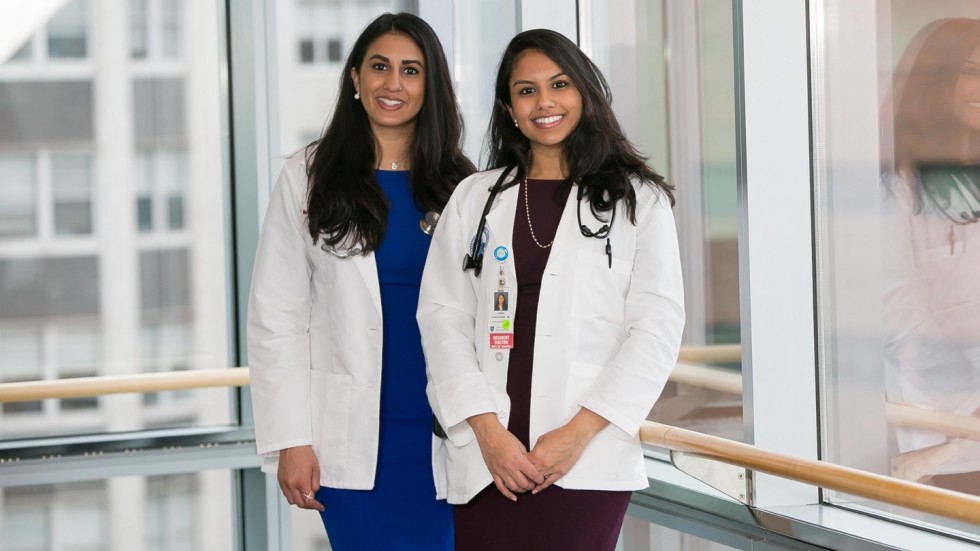 ---
Alumni Community, Winter | Spring 2020
Alumni Highlight: Family Medicine
---
For sisters Dr. Jasmine '12 [right] and Nisha '16 Khubchandani, you might say that medicine is in their blood.
A surgical resident at Massachusetts General Hospital, Jasmine hadn't originally considered becoming a physician. As a biology major, she participated in clinical internships with doctors and surgeons while at Stonehill that allowed her to discover her love for medicine.
For Nisha, her role as a pharmacy technician helped her realize her desire to provide care to those with health concerns. Shadowing physicians and working as a medical scribe definitively confirmed her interest in medicine. These experiences led her to Albany Medical College, where she is a second-year medical student.
They both say that their interest in science was shaped by the unconditional support they received from the College. "Stonehill was the first time I really got to see science come to life," says Jasmine, who was a biology major. Nisha, who studied chemistry, credits the faculty for furthering her love of the sciences. "If there is something you want to do, the faculty will do whatever they can to provide the resources and support needed to reach your dreams," she notes.
A Dual Focus
But Stonehill didn't just shape their interest in science; it also helped them both explore their commitment to equality, advocacy and social justice. Growing up in the diverse city of Brockton, as the daughter of Indian immigrants, Jasmine was influenced by seeing people working hard to make ends meet. Her goal, she recalls, was to become an educated, independent woman and to give back to her community. At Stonehill, she was involved with the Office of Intercultural Affairs as well as with clubs and activities that addressed diversity issues such as microaggressions in the classroom. "The Office of Intercultural Affairs fostered my passion for justice, especially after joining a college environment where not everyone looked like me. The groups I became involved in helped me grow as a leader and as an advocate for the most vulnerable," she recalls.
Nisha began her journey at Stonehill knowing that she wanted to understand the world at the molecular level and learn about others' cultures and stories. As a result, she says, the Shields Science Center and the Office of Intercultural Affairs became her "homes away from home." During her junior year, she studied in Pune, India, as part of a social justice program where she produced a documentary film following an Indian female physician and an Indian female homemaker, serving as a tribute to the significance of both roles. While she fully enjoyed her experience, she missed her science courses. She then knew for certain that she wanted to enter a field where she could use science to improve the lives of others.
As they pave their medical career paths, the sisters remain steadfast in honoring their passion for both science and social justice. Now in her third year of general surgery training, Jasmine plans to specialize in breast surgery, which will support her goal of working towards women's health advocacy. Currently, Jasmine is volunteering on the Massachusetts General Hospital COBRA Service—a surgical team that provides procedural support to the COVID-19 intensive care units. This summer, she will start a research fellowship at the Brigham and Women's Hospital Center for Surgery and Public Health, where she will conduct health disparities and cultural competency research, while simultaneously pursuing a master's degree in Public Policy.
This summer, Nisha will start her clinical rotations, gaining in-depth exposure to specific medical fields and allowing her to explore her interests in hematology/oncology and pediatrics. In her free time, she volunteers with Cooks for a Cause, a service program through which medical students cook nourishing, well-balanced meals with refugee children, as well as with Prescribed Books for Kids, through which she reads and distributes books to pediatric patients in the hospital.
Sibling Bond
Both Jasmine and Nisha credit each other for getting to where they are today. "Nisha is five years younger than I am, but I look up to her and often turn to her for advice," Jasmine says. "She provides emotional support and inspires me daily. I can't imagine doing this without her." Nisha says she reaches out to Jasmine for everything. "Having someone who knows me so well and what it's like to be in medicine is a huge plus," Nisha says. "I'm so lucky to have a mentor, best friend and sister all wrapped into one." And they both strive to make their parents proud. "They've given up everything for the 'American Dream,' and it is important to be successful to honor them and their sacrifices," says Jasmine.
Although their busy schedules don't leave much time for the sisters to return to campus often, their ties to Stonehill remain strong—their mother, Meena, is a circulation assistant in the MacPháidín Library.