Fall '22 | Winter '23 - President's Letter
Pathways Toward Professional and Personal Fulfillment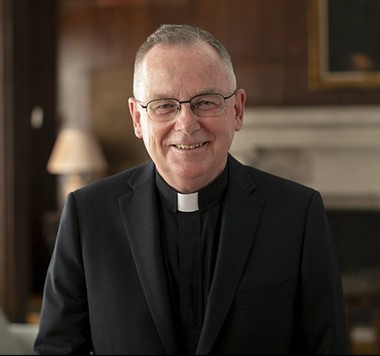 As we enter the new year, I am excited about the possibilities that await us during this season of renewal. No matter what goals you set for yourself in 2023 and beyond, it is my hope that each of you discover new pathways toward professional and personal fulfillment.
Guided by the College's educational mission, our faculty and staff are committed to helping students navigate the challenges they face along their journey. We witness their efforts come to life through our institution's Navigation Center for Student Success. Discussing this new campus collaborative, Executive Director of Student Success Christina Burney notes that the center's staff work tirelessly to help students find a calling that inspires them to get outside their comfort zone and reach their fullest potential.
Of course, faculty and staff aren't the only ones helping students broaden their horizons. Students are also helping one another too, as was the case last summer when Michael Kennedy '23 and Britney Savage '23 embarked on a road trip from Massachusetts to Montana. The pair spent a week driving a car belonging to Elizabeth Cronin '20 to help her complete a cross-country move. Their journey not only allowed Michael and Britney to see and experience new things, but also offered them perspective on the trajectory of their friendship. "It's scary to think of moving away from your friends once you graduate," Michael says. "But knowing how we've stayed connected to Beth, I realize it doesn't matter where everyone is. Those relationships don't go away."
Thomas Hollywood '98 is an alumnus who took advantage of formative travel opportunities as a Stonehill student. In celebration of the H.O.P.E. Service Immersion Program's 25th anniversary, he reflects upon the work he did with his classmates rehabilitating a local school in Lima, Peru. This influential experience ultimately led him to a long-lasting career as a frontline worker with Catholic Relief Services. "I've been blessed with the decisions I have made and through my humanitarian work really believe global solutions are possible," he says.
Like Thomas, Kayleigh (McDonnell) Davenport '15 has also had occasion to travel across the world and navigate unfamiliar terrain, albeit on horseback. Last summer, the former equestrian team captain joined 47 other riders to compete in the Mongol Derby, often described as the longest and toughest horse race in the world.
As you read these stories and consider the paths you can take to achieve holistic growth, I hope that the memories you made at Stonehill help comfort and guide you.
Stonehill Alumni Magazine