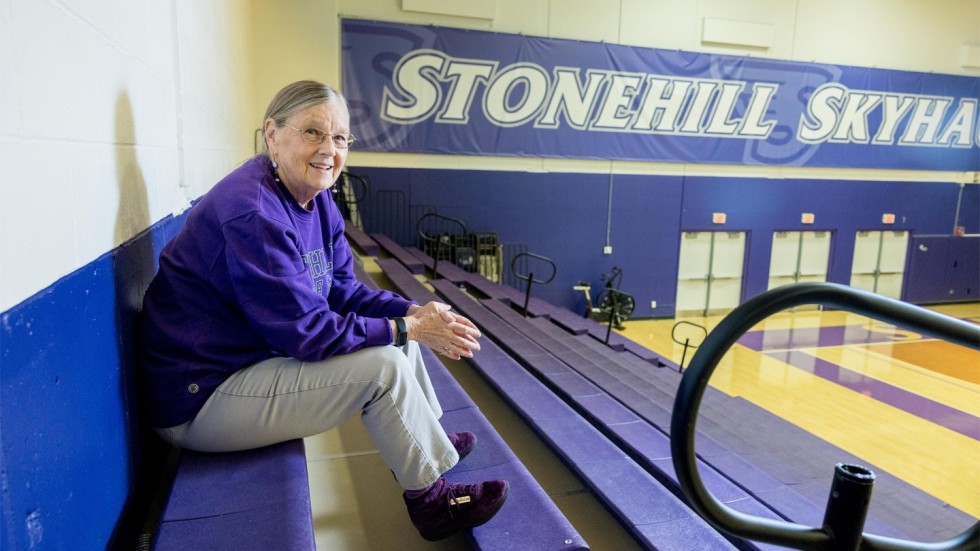 Fall '22 | Winter '23 - Alumni Community
Seen Around the Office
When Susan (Pedersen) Jezierny '87 first came to Stonehill in 1979, she thought it was a big mistake. She was already busy with a full-time job and was, as she recalls, "very shy and quiet."
At the time, Jezierny was working in the accounting department of a manufacturing company in Avon. When she was up for a promotion, her boss told her that she needed a degree to qualify, so Jezierny turned to Stonehill—just down the street from where she lives in Brockton. "I knew I needed the education to go anywhere in my life," she recalls.
Jezierny enrolled as an accounting major in the College's former Evening Division program and took two classes each semester. She flourished in her studies, becoming president of the Beta Xi Evening Division Honor Society. "This place opened doors for me that would have never opened," says Jezierny. After graduation, she went on to have a successful career in human resources, retiring in 2018.
While she has remained an involved alumna throughout the years—serving on the Alumni Council as well as the Career Services and Awards Committees—it wasn't until last winter that she became a familiar face around the Office of Alumni Engagement.
A bustling place, the office plans and hosts events and programming aimed at engaging the College's more than 29,000 alumni. When Jezierny heard about the busy office at one of her committee meetings, she offered to help. "I was looking for more ways to give back, so I threw it out there," she says. Director of Alumni Engagement Anne (Pollick) Sant '88 took Jezierny up on the offer.
Now, at least one day a week, Jezierny volunteers in the office, assisting with program and event planning, researching information for the Stonehill Alumni Magazine and creating spreadsheets for various projects. "I've also counted hundreds of plastic eggs for the annual Easter Egg Hunt and school supplies for the Back-to-School Backpack Project," Jezierny says with a chuckle.
But her favorite part of volunteering is talking to students. "I love hearing about their experience here because I love this place," she says. "I'm grateful to Stonehill. The person who walked into Duffy that first night of classes in 1979 was not the person who walked out on my last day."
Stonehill Alumni Magazine