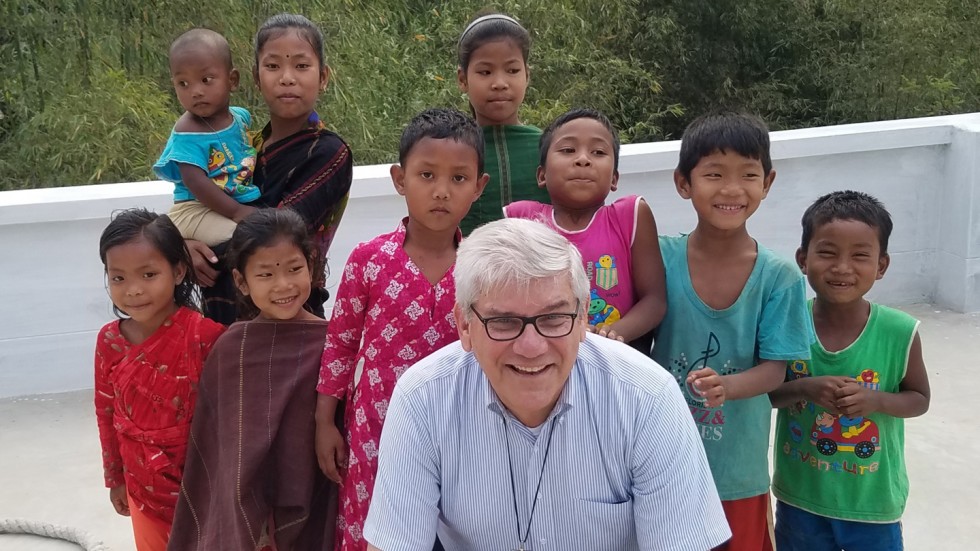 Fall '22 | Winter '23 - Features
A Brother Leads the Way
Elected superior general, Brother Paul Bednarczyk, C.S.C. '80 is the first brother to lead the Congregation of Holy Cross.
Last May, when Pope Francis approved a change in church law, he paved the way for the Congregation of Holy Cross to elect Brother Paul Bednarczyk, C.S.C. '80 as the first brother to lead the Congregation since Blessed Basil Moreau established it in 1837.
The Congregation's 13 previous superiors general had all been priests. The Pope's approval—or rescript in church terminology—now gives brothers the opportunity to serve as superiors general in religious congregations, like Holy Cross, that are comprised of both priests and brothers. Br. Paul is the first brother to be elected in the Church under the rescript.
As an educator in the faith, Br. Paul has served as a teacher, administrator and campus minister, as well as a vocation and formation director. For 14 years, he served as the executive director of the National Religious Vocation Conference.
He spent the past six years as the Congregation's first general assistant and vicar, visiting and working with Holy Cross religious in their parishes, schools and social ministries across the globe.
The second alum to lead the Congregation of Holy Cross, after Rev. Hugh Cleary, C.S.C. '69, who served as superior general from 1998 to 2010, Br. Paul is also the last Holy Cross brother to have graduated from Stonehill as a brother.
Based in Rome, Br. Paul is the 14th superior general with responsibility for leading 1,200 Holy Cross priests and brothers worldwide. SAM spoke with him about his new role, thoughts on Pope Francis and how he plans to lead.
What was your reaction to being elected superior general?
Unexpected and out of the blue. I am humbled and grateful for the confidence and trust of my brothers in Holy Cross for allowing me the privilege to serve as their superior general. I am equally grateful to Pope Francis for his courage and fortitude in issuing the rescript, which is a recognition and validation of a brother's vocation in the church.
Was the Congregation supportive of this change?
Absolutely. Believing in the fundamental equality between its priests and brothers, the Congregation has—for more than 35 years—unsuccessfully sought to receive a rescript from the church law that required a superior general to be a priest.
What challenges and goals are ahead?
One of the challenges we face is that we are growing in number very rapidly in Africa and Asia. However, our numbers are diminishing here in the West. Although, we are doing well with our vocation recruitment in the U.S. and have about 50 men in various stages of formation to be future brothers and priests. I am grateful to God for that, but we have to prepare for these global changes.
At our General Chapter, we established four new provinces, two in Africa and two in India. They are going to need accompaniment in the future. We have also said that we would like to expand our mission in countries where we have not ministered before, which is exciting. Our founder Blessed Basil Moreau called us to be a missionary congregation, and we want to recapture that missionary spirit.
We have three provinces in the U.S., one province in Canada and a region in English Canada. We are consolidating them into one province, which is going to take place in about the next six years, if not sooner. That will also include our districts in Chile, Peru and Brazil. It's a big undertaking.
Sounds like a daunting agenda.
I realize the task before us, but in our Constitutions, we say we are men with hope to bring. That is our charism—who we are as Holy Cross religious. I am not naïve in terms of what is facing us, but my confidence is rooted in faith that we are people of the resurrection, which brings new life and hope for a bright future. We have a capable, competent team in place. Our goals are ambitious but doable.
Earlier, you mentioned Pope Francis. Can you share your perspective on him?
He is a man of faith, a man of joy and a man of hope. He preaches the truth. He has reformed the Roman Curia to bring in lay leadership and to appoint more women in key leadership positions. He is changing the face of the leadership within the church. I find his leadership inspirational and hope to learn from that.
In particular, Pope Francis has been speaking extensively about the concept of synodality, returning to the early church, which was a more listening, discerning church.
This theme really resonates with you?
Indeed, not only for myself, but also for our General Chapter and our leadership team. I hope we can adopt some of the synodal concepts in the Congregation that Pope Francis has spoken of in his talks and writings. I pray we can be a listening administration. That we listen to our members as well as to our lay colleagues so we can bring all of this to prayer, so we can discern what the Holy Spirit is calling Holy Cross to do at this time.
What is your leadership style?
Leadership has to be relational. The days of solitary leadership are long gone. In my various positions, I have always tried to be collaborative and collegial, approaching leadership as a shared responsibility. It is not all about me, it is all about us together.
Please expand upon that point.
You need to establish relationships with your constituency and, in my case, now not only with our Holy Cross priests and brothers but also with our lay colleagues in ministry. They share in our mission, and without them, we could not achieve what we set out to do in Holy Cross.
Everything that Holy Cross does is rooted in the mission of Jesus Christ, which is primarily healing and teaching. As educators in the faith, we work to carry that through in our schools, parishes and social ministries.
What is a brother today?
It is the best-kept secret in the church. Part of my mission as a brother is to explain the beauty of this vocation to people. As brothers, we take our vows of poverty, celibacy and obedience. We live in community and commit ourselves to a particular ministry. Even though the sacraments are a very important part of my life, like other brothers, I never felt called to preside at them. However, I have always felt called to the religious life.
Can you share a Stonehill reflection?
English Professor Barbara Estrin was very dynamic in the classroom, and she helped me to hone my writing skills. I thought the world of Rev. Francis Walsh, C.S.C. '53, a professor of psychology, and took all of his courses. I learned so much from him. Even when I taught psychology in high school, I often referred to his notes.
I have always said that Stonehill is a very elegant campus, and it is even more elegant today, especially when I see the development of the new residence halls or buildings on the quad. I am grateful to Rev. John Denning, C.S.C. and his predecessor Rev. Mark Cregan, C.S.C. '78 for how they have carried on our Holy Cross tradition and philosophy of education at the College.
A parting thought?
Let me quote Saint James, who said in his epistle, "Everyone should be quick to hear, slow to speak." That's wise advice that I want to take.
Stonehill Alumni Magazine