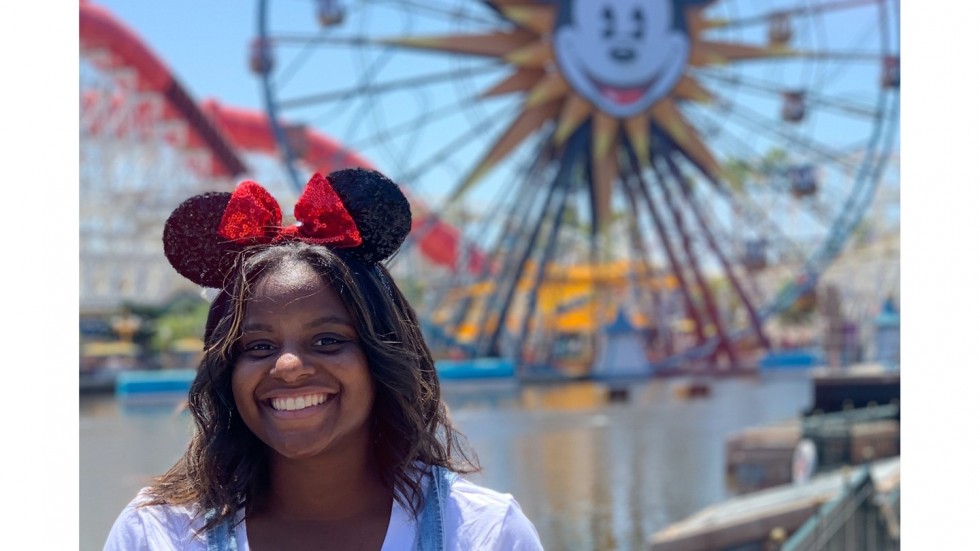 Fall '22 | Winter '23 - Alumni Community - Class Notes
Disney Role
Based in Glendale, California, Love Boussiquot '16 is a coordinator for current series at Disney Television Animation, a studio known for its artistry and memorable characters, from Mickey Mouse to Penny Proud.
Demanding and fast-paced, her career places Boussiquot at the heart of Disney's creative process, working with some of the most talented writers, animators, storytellers and editors in the entertainment industry.
Whether she is reviewing scripts with colleagues or collaborating with other Disney departments on programming, marketing and business priorities, Boussiquot, a mediated communications and English double major, is relishing her role.
"Being around so many creative people and observing how their ideas come to life can be mind-blowing, both exciting and challenging," says Boussiquot, who notes the importance of teamwork in everything she does at the company.
On any given day, with others, she could be reviewing three or four scripts, offering suggestions and feedback as the group works to refine the storytelling and animation.
"At times, it can be uncomfortable when there is disagreement, but that is part of the creative process. I have learned how to express my reservations about the work of others and how to find compromise when a creative disagrees with our thoughts," she explains.
As a Stonehill student, Boussiquot held many leadership roles. Looking back, she recalls spending three years as a peer mentor, an experience that developed her interpersonal skills—ones that are critical to her professional career today.
"As a peer mentor, I learned how to read people, listen closely and be empathic and diplomatic," she recalls.
Asked to name a rewarding part of her job, Boussiquot points to seeing the joy and excitement of children responding to their favorite shows.
"Also, sparking curiosity and seeing kids exploring different things, because we're exploring diverse narratives," she says. "That's rewarding."
Stonehill Alumni Magazine