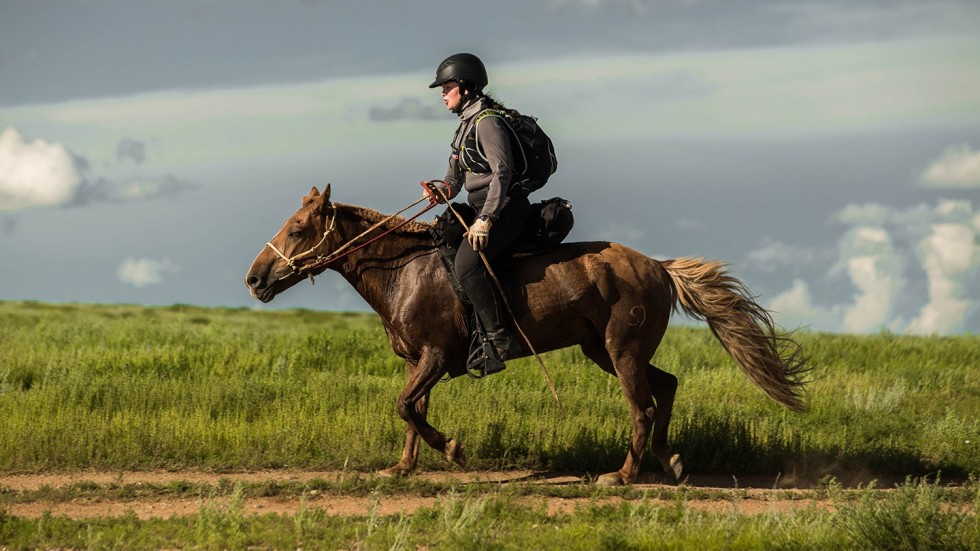 Fall '22 | Winter '23 - Features
Up for an Adventure
Kayleigh (McDonnell) Davenport '15 competes in the longest and toughest horse race in the world, in rural Mongolia.
Rural Mongolia appears untouched—with craggy rock formations towering above miles of open steppe and red sand desert.
In the Mongol Derby, semi-wild horses run through dunes, rivers, valleys, wetlands and open plains. Riders have no marked course. They navigate the racecourse's 1,000 kilometers, some 621 miles, on their own, switching horses every 21 miles or so to ensure fresh mounts. Kayleigh (McDonnell) Davenport '15 was one of them.
The former Skyhawk Equestrian team captain embarked on the odyssey of a lifetime last summer, as one of 47 riders from around the world to compete in the Mongol Derby—a 10-day equine adventure race, retracing the route that Genghis Khan took to create the world's first long-distance horse messenger postal system, in 1224. It is billed as the longest and toughest horse race in the world.
Davenport, of Sudbury, Vermont, first heard about the derby—which is part of the Equestrianists World Series—in 2018, when the equestrian retailer she works for, SmartPak, sponsored a rider.
"I was in a bit of a lull in my riding career, in between horses and not showing much. I think I read almost everything on the internet about the derby before applying. I figured, 'Why not?'" recalls Davenport. "I'm always up for an adventure, especially when it comes to horses. I've been jokingly calling this my quarter-life crisis."
The Training: "I took every ride I could get on other horses, the more difficult, the better."
After an extensive interview process, Davenport was accepted—but then Covid hit. The race was postponed for a year, which gave her more time to prepare—as much as anyone could for such a demanding odyssey.
"People say you can only prepare for about 20 percent of this race and the rest is luck," she says. Still Davenport wanted to be ready. "In addition to riding my horses, I took every ride I could get on other horses, the more difficult, the better. Luckily, I have generous friends with some quirky horses."
She saw a physical therapist who specializes in treating equestrians. "She created a workout routine that helped develop the muscles and stamina required for long days in the saddle," Davenport says. "I also traveled to California for a few riding boot camps that gave me the opportunity to ride full days, camp out and test my gear."
Davenport began meditating as well. "I'd never been one for meditation, but I found it super important to be able to center myself. I knew I'd be tested on the Mongolian steppe and having the tools to come back to center would be invaluable."
Of course, Davenport knew her way around the reins. She grew up riding horses in Vermont. Both her grandmother and mother also rode. As a girl, she dabbled in different equestrian disciplines from 4-H to barrel racing.
Stonehill's notable equestrian program was one of the key factors in her applying to the College. "I was on the team all four years and served as the captain my senior year. I loved every minute of it and wish I could do it all again," she says. While Davenport competed for Stonehill, the equestrian team collected multiple championships and reserve championship titles. Davenport herself was a regional qualifier all four years, zone-qualifier two years, national qualifier her junior year, placing third in the fences class, and she collected two high-point rider titles during her senior year.
"Collegiate equestrian is unique in that you essentially draw your horse out of a hat just minutes before you show," she says. "You need to be an adaptable rider. I was given the opportunity to ride many horses—they all taught me something and made me into the horsewoman I am today."
This skill set came in handy in Mongolia, as Davenport rode 29 different Mongolian horses in 10 days through hundreds of miles of ever-changing terrain.
The Race: "After that, you were a passenger hoping you were galloping in the right direction."
Davenport arrived in Ulaanbaatar, Mongolia's capital, on July 17. After exploring the city for two days, she checked into the derby's camp. The race started on July 23, and mostly took place in the Töv Province before ending on August 2.
"It was hard, but amazing," Davenport says. "The terrain and landscape were both the best and scariest parts. I cannot begin to describe the vastness of rural Mongolia. One leg of the race I could be going through a desert, the next trekking across endless mountains, and ending the day weaving through rock formations straight out of Jurassic Park. I had the hardest time both physically and mentally during the long, slow mountainous legs. Just when you thought you were on the other side of a mountain pass, in the distance, you saw a dozen more."
The riders raced between 7 a.m. and 8 p.m. each day, swapping horses every 35 kilometers. They navigated using paper maps and coordinates on a Garmin GPS.
Riding the half-feral horses is a major aspect of the race, and horse welfare is paramount to the derby, with veterinary teams at each horse station. Prior to the race, riders fundraise for the derby's official charity, Steppe and Hoof, a Mongolia-based nonprofit that supports herders and their animals.
"These horses have remained largely unchanged since the 13th century, when they were a key factor supporting Genghis Khan's conquests of the Mongol Empire," Davenport explains. "They're a stocky build, with relatively short but strong legs and a large head, weighing around 500 to 600 pounds. The majority were about 12 hands, so closer to the size of what we'd call ponies in the western world. They are small but mighty."
Davenport marveled at the "incredible animals with a beautiful wild spirit." It took some time, though, to adjust to riding one. "They have a short, choppy stride most of the time," she notes. "They're built differently than any horse I had ever ridden. They carry their head and neck very flat and have no shoulder, so it takes a bit to readjust your balance."
Add to that the fact that the horses are semi-wild, so they're harder to control. "There was only so much you could ask them to do," says Davenport. "After that, you were a passenger hoping you were galloping in the right direction."
And the course was unmarked.
Part of what drew Davenport was that, as the derby website states, "There's no marked course, no packed lunches, no beds to sleep in. That's the whole point. It's just you, your team of horses, and a thousand kilometers of Mongolian wilderness."
Davenport admits that navigation was not her strong point. "I trained a bit with the GPS, both on foot and on horseback," she says. "We were also given paper maps with topography to help plan our route. This was the biggest thing—making sure we weren't getting ourselves in trouble over a big mountain pass or ending up on the wrong side of an impassable river."
The Finish: "The experience turned out better than I could have imagined."
Resting and eating each night was sweet—made even sweeter by the native nomadic families who hosted riders. Davenport loved being immersed in Mongolian culture. "Some of my most memorable moments were sitting around reflecting on the day over a bowl of airag [alcoholic beverage made from fermented horse milk], with the Mongolian families watching endless herds of horses, sheep and goats in the distance," she recalls.
Her two years of preparation paid off. She wasn't sore after 13 hours in the saddle each day. No injuries, no falls, and all her gear and kit held up.
As for the scariest moment in the 10-day journey, Davenport at first thought it was a tie between traversing down steep mountains on a semi-wild horse and weaving in and out of marmot holes at a flat gallop. Both were equally terrifying and, she admits, a half-step away from a disastrous outcome.
But upon further reflection, Davenport says the weather presented the scariest moment overall. "When it rains in Mongolia, it really rains—hail the size of quarters, lightning, thunder, wind, all of it. At one point in a storm, my horse refused to move in the middle of a huge field. He turned his hip to the wind and waited it out as wild horses do," she remembers. "We were sitting ducks with lightning flashing right above us."
On day 10, Davenport had a solid finish, tying for 14th place out of 33 finishers. She chalks it up to luck.
"I was one of the luckiest riders out on the steppe. I had a few bad race legs and challenging horses that pushed me to the edge of breaking—but overall, the good legs outweighed the bad," she says. "There were very few times I didn't have a genuine smile plastered on my face. My body felt great, no lost horses, no broken or lost kit and through the derby, I got to experience this amazing culture."
It was the adventure of a lifetime. When she returned to the U.S., Davenport's hometown newspaper, The Reporter, interviewed her about the race, where she reflected: "I keep seeing people saying, 'Oh, you made it back in one piece,' and I'm like—I am wholer than I have ever been."
Stonehill Alumni Magazine