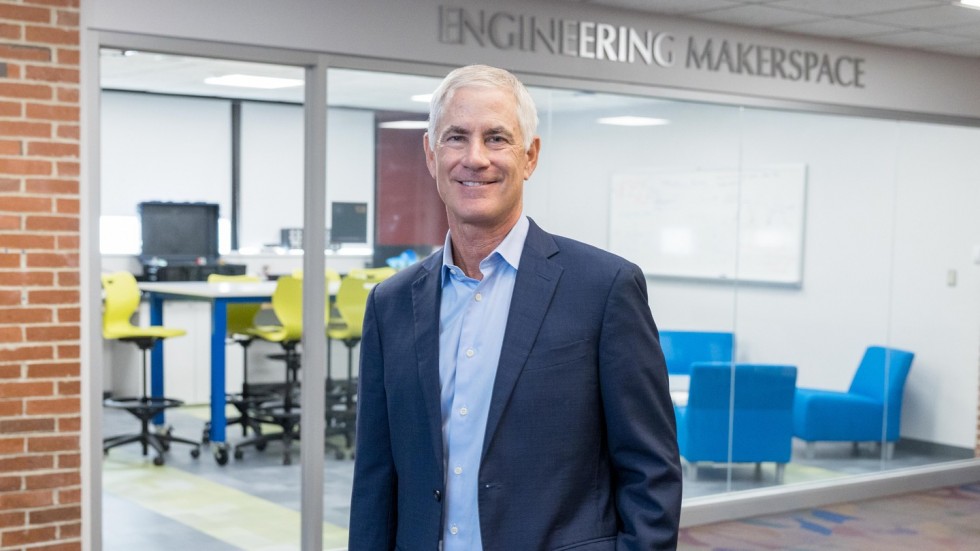 Fall '22 | Winter '23 - Features
Patrick Burke Supports Tomorrow's Engineers
Patrick Burke '84 didn't major in business, but he's been running a successful company for more than 25 years. He learned a lot on the job but credits his ability to solve complex business problems with his training as an engineer.
"How do you make companies more productive and more efficient? That's what I'm interested in," says Burke, who cofounded Waverly Partners in 1995 with a belief in manufacturing excellence and a strong focus on customers. At Waverly, Burke acquires, improves and operates specialty manufacturing businesses serving the medical, aerospace and energy industries, transforming them into key suppliers for industry leaders.
"In manufacturing, there are always new processes, new products and new challenges," he says. "Every day offers another opportunity to do better, faster. Technical and analytical skills are important in day-to-day business operations and problem solving. They're what you need to improve quality, reduce costs and eliminate bottle necks."
Burke had many compelling reasons to attend Stonehill. Some of his earliest memories are of visiting the lab of his late uncle Rev. Francis Hurley, C.S.C., longtime chair of the College's Biology Department. Following his three brothers and sister to Stonehill was another good reason. But for Burke, it was the 3+2 Engineering Dual-Degree program with the University of Notre Dame that sealed the deal.
"What I liked about the 3+2 program was that it offered a wider breadth of courses and small classes taught by phenomenal professors," Burke says. He particularly recalls Physics Professor Michael Horne, Computer Science Professor Ralph Bravaco, Math Professor Louise Hegarty, and physicist and astronomer Professor Chet Raymo. "They were always available. I really got to know them and benefit from their incredible knowledge."
With a solid foundation of liberal arts courses along with his engineering concentration, Burke earned a bachelor of arts from Stonehill and a bachelor of science in electrical engineering from Notre Dame. After graduation, he began his career in consulting at Arthur Andersen, where he managed productivity improvement programs and led manufacturing IT system implementations for Fortune 500 clients. He later was a senior executive at Fitchburg Coated Products, which won the RIT/USA Today National Quality Cup award in recognition of its accomplishments implementing team-based programs to improve products and services for customers in the medical industry.
These days, Burke enjoys passing on his knowledge and experience to the next generation of problem solvers. "As a leader, it's up to you to develop a culture where people can solve problems without you," says Burke, who is vice chair of Stonehill's Board of Trustees. "Beyond the business aspects, I really enjoy mentoring. It's why I love being involved with the IAB, supporting tomorrow's engineers."
Stonehill Alumni Magazine