Our program represents a broad array of interpretive methodologies, computational skills, and cross-disciplinary strategies for understanding and representing human knowledge, creations and community. Studies in the digital humanities apply computational models for analyzing and visualizing data to the inquiry and study of traditional humanities disciplines, such as literature and languages, philosophy, history, religious studies and the arts as well as the social sciences and business.
A Deep Dive into Culture and Technology with Computational Tools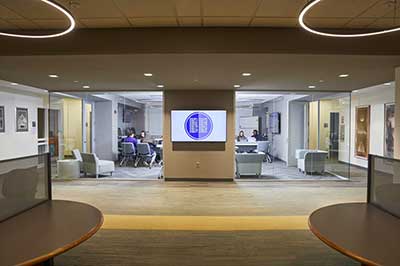 This six-course multidisciplinary minor, housed in the English Department and run in partnership with the Digital Innovation Lab, offers collaborative mapping, visualizing, interpreting and digital archiving strategies that bring students together with project-based learning experiences that yield new understanding of history, politics, economic relations, social structures, belief systems and culture. Courses for the digital humanities minor are "digital-intensive," which means that the coursework involves substantial use of or engagement with information technologies and computational tools for humanities research, algorithmic analysis, digitization of materials and artistic production.
A Valuable Supplement to Any Major
Digital Humanities students pursue coursework in their choice of disciplines in order to develop practical information literacy, data analysis, data visualization, coding and web design skills, combined with literary analysis, cultural studies, visual and performing arts, and media production. While the program allows students to tailor the minor to their own scholarly, creative and professional interests, all graduates will emerge with the cultural competency and critical thinking that the humanities foster, along with the competitive edge in the post-college job market that a digital skill set provides.
Sample Classes
Related Pages