Kristen Pierce, Director of Residence Life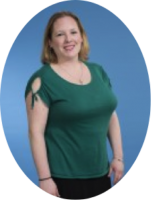 Kristen has a Bachelor's degree in Communication from Stonehill College and a Master's Degree in Higher Education Administration from Boston University. She began her career as a Residence Director/Assistant Director of Student Activities at Regis College, followed by a stint as the Assistant Director for Community Service at Wheaton College. While at Wheaton she realized that she missed working in the residential aspect of Student Affairs and took a Residence Director position at Wentworth Institute of Technology. After two years in Boston, Kristen moved on to an Area Coordinator position at Fairfield University and following that, served as our Assistant Director of Residence Life for six years. Presently, as the Director, she is responsible for the oversight of the residence halls that house our approximately 2300 resident students. In addition to representing the office on various campus wide committees, she is responsible for professional staff supervision, development, selection and training. When she isn't at work Kristen enjoys spending time with her husband and two sons, although she can also be found enjoying reality television, the beach/outdoors and playing sports! You can contact Kristen at 508-565-1290 or kpierce1@stonehill.edu.
Andy Anderson, Associate Director of Residence Life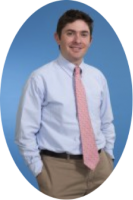 Originally from Middletown RI, Andy received a B.A in History and a M.A in Higher Education Administration from the George Washington University. Andy works closely with the Housing Assignment Coordinator on housing assignment processes, room changes, and openings/closings of the buildings. In addition he oversees the Special Interest areas, social media, and website for the department. When not at work Andy enjoys sailing, watching Patriots football, travelling, and spending time with his family. You can contact Andy at 508-565-1290 or aanderson@stonehill.edu.
Kristen Kearney, Assistant Director of Residence Life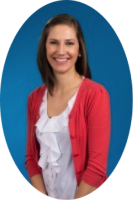 Kristen has a bachelor's degree in Psychology from Merrimack College. She earned her master's degree in College Student Personnel Administration from Canisius College, in Buffalo NY. Kristen previously worked at Emmanuel College as a residence director and is excited to continue working closely with students in her role at Stonehill. Professionally, Kristen is interested in wellness and student conduct. In her spare time, Kristen enjoys spending time in Boston and has plans to try as many restaurants as possible. She enjoys running and baking. You can contact Kristen at kkearney@stonehill.edu.
Jeanice Banks, Administrative Assistant
Jeanice has worked at Stonehill for the past six years. In her role as administrative assistant, she is the initial contact person for the Office of Residence Life. Jeanice works closely with the RAs and Residence Life Professional Staff to assist with the day to day operations of the department. You can contact Jeanice at (508) 565-1290 or jlbanks@stonehill.edu.
Eric Petersen, Area Coordinator of the Colonial & Commonwealth Courts
Born in a small town in Iowa and raised in Kansas City, MO, Eric received his B.A. in Spanish from Truman State University in Kirksville, MO and an M.S. in College Student Personnel Administration from the University of Central Missouri. Eric began his career working with student housing at Rockhurst University, a Jesuit Catholic college in the heart of Kansas City. Following that, he worked in Residence Life at Georgia Southern University and Valdosta State University, both larger colleges in Georgia. Eric began working at Stonehill College in January of 2015, working with the Colonial and Commonwealth Courts, a collection of townhouses that are home to primarily Junior and Senior students. Some areas of interest for Eric are social justice education and sexual assault prevention and awareness. Outside of the office, Eric loves to cook, read, and explore the area! You can reach Eric by emailing epetersen@stonehill.edu.
Vanda Barros-Lopes, Residence Director of Corr Hall & Villa Theresa Hall
Vanda is the Resident Director of Corr Hall and Villa Theresa. Vanda is originally from Cape Verde but has been living in Brockton, MA for quite some time now. She has has Bachelor's degree in International Studies and Foreign Languages from Stonehill, and is so excited to be back to her beloved alma matter. She hopes to pursue her Master's in Higher Education in the near future. Asides from housing, Vanda has a profound interest in multicultural affairs and anything related to diversity. Her interest in different cultures might've stemmed from her semester abroad while she studied at Stonehill. Outside of work, Vanda stays busy with her 2 year old son. She can be contacted via email at vbarroslopes@stonehill.edu.
Omar Rodriguez, Residence Director of O'Hara Hall & O'Hara Village
Omar attended Eastern Connecticut State University where he earned a Bachelor's degree in Business Administration with a concentration in Management. Throughout his undergraduate career, Omar was engaged in leadership roles for various student organizations and served as a Resident Assistant for the Office of Housing and Residential Life and as a Peer Counselor in the Office of Career Services. It was through his experience working with students, administrators and community leaders that Omar decided he wanted to pursue a career in Student Affairs. His professional interests include leadership and career development. In his spare time, Omar enjoys spending time with his family, enjoying different cultural cuisine, watching and playing sports (football/basketball) and traveling the world. Although he is now an official Massachusetts resident, he will forever be a New York Giants fan. Contact Omar
Michael Pina, Residence Director of Pilgrim Heights & Pilgrim Heights Village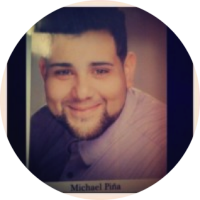 Michael Piña is a Massachusetts Resident that decided to go out-of-state for his undergraduate degree. While at Eastern Connecticut State University, Michael was a Resident Assistant, Vice-President of Student Government, Vice-President of the Organization of Latin American Students and a Program Coordinator for Intercultural Affairs. He was also on the academic misconduct board, acted in theatrical productions, was an orientation leader and a member of M.A.L.E.S. (a discussion group for men.) As if this weren't enough, he created and received a grant for the "Student Engagement Mentorship Program." His enthusiasm for students and connecting with them comes across to all those he meets. Outside of being a Residence Director, Michael likes to spend time with his Hermanos of Latino America Unida, Lambda Alpha Upsilon Fraternity Incorporated, dance and listen to music.
Elizett Pires, Residence Director of New Hall & Notre Dame Du Lac Hall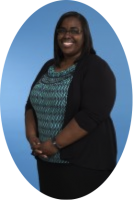 Elizett is originally from Cape Verde but immigrated with her family to New Bedford, MA in the early 90s. She earned a Bachelor's of Arts in Communication from Bryant University. After graduation she went on to serve as an AmeriCorps member for SMILES, a school-based youth mentoring program in New Bedford. From there she moved on to work as a Caseworker for her local Big Brothers Big Sisters. After several years in the mentoring field, she realized how much she missed working with college-age students and decided to pursue her longtime dream of becoming a student affairs professional by joining our staff. Some of her professional interests include leadership development and civic engagement. In her spare time, she enjoys spending time with family and friends, listening to music, watching movies and traveling. Contact Elizett.
Ricky Bevington, Residence Director of Boland Hall
Ricky holds a Bachelor's degree in Liberal Studies from the University of Notre Dame and a Master's degree in Higher Education from Harvard University. Prior to arriving at Stonehill, Ricky served as a Proctor and Fellow for Freshmen Programming with the Harvard College Freshmen Dean's Office. Ricky's background is in leadership development having worked for the National Student Leadership Conference and several other leadership programs. Professionally, Ricky is passionate about holistic student development specifically identity development, but outside of the world of student affairs, he enjoys playing the drums having previously played with the Notre Dame Drumline and a few liturgical ensembles. In his spare time you can find Ricky talking to people about the important things in life.
Daniel McDowell, Residence Director of Holy Cross Center
Dan earned his B.A. in Political Science from the University of Massachusetts Boston. While an undergraduate, he was heavily involved in student government and was student body vice president in his senior year. He also acted in a number of other leadership roles, including as an admissions ambassador and orientation leader. Dan went on to earn his Master's in Higher Education at Harvard University. While doing so, he also worked part time as a graduate assistant for Boston University's Student Activities Office, primarily working with the Programming Council. In addition to his interest in residence life, Dan is passionate about issues of access and affordability in higher education. In his spare time, Dan enjoys spending time with his wife, re-watching The West Wing, and reading.
James Madej, Graduate Assistant
James received a Bachelor's of Science in Psychology with a Minor in Counseling from Messiah College in Mechanicsburg, PA. Currently he is pursuing a Master's degree in Student Affairs Counseling at Bridgewater State University. During his undergraduate experience, James volunteered on the LOFT team throughout the 2011-2012 academic year. As a LOFT Facilitator, he led team-building and leadership development activities with groups on-campus. These activities included games, initiatives, canoeing, high ropes, and climbing. This opportunity provided him with a passion for working with undergraduate students and outdoor adventure. Professionally, James is interested in Residence Life and Student Development. He also enjoys reading, caring for the environment, traveling (particularly abroad), playing tennis, soccer, and volleyball, and going to the movies! You can contact James at jmadej@stonehill.edu.