Disney Leadership Experience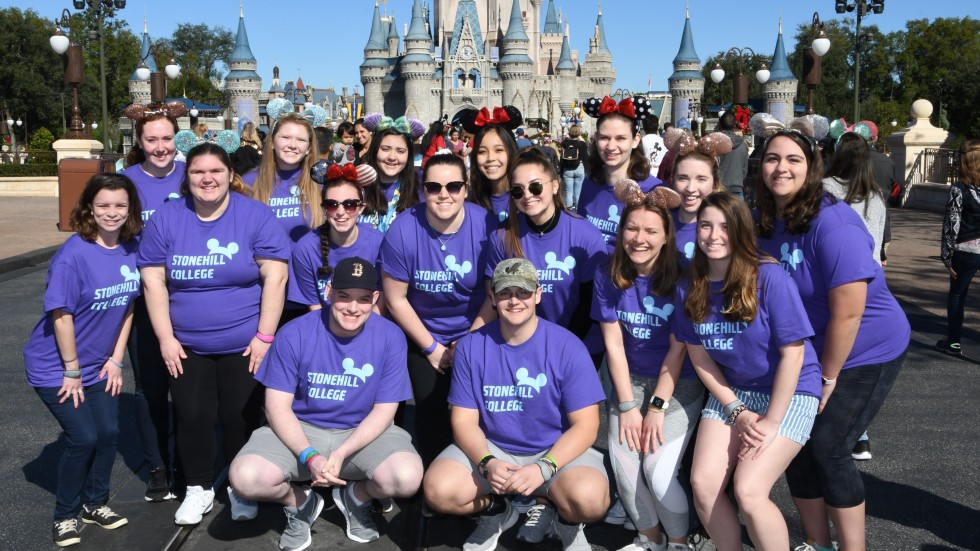 The Disney Leadership Experience provides students with tools to be the leaders who shape tomorrow. Beginning the fall semester and continuing in the spring, a cohort of 20 students from all classes engage in weekly leadership workshops, building a foundation of leadership principles and shared philosophy. Workshops include topics such as modeling the way, inspiring a shared vision, challenging the process, enabling others to act, and encouraging those around them.
Following workshops, students take part in a six day experience at Walt Disney World in Orlando, FL attending three Disney Imagination Campus workshops. These educational programs focus on Leadership Strategies, Techniques of Teamwork, and Immersive Storytelling. Students will understand how Disney develops leaders and creates magical experiences for their guests and cast members, while connecting back to their own leadership experiences at Stonehill. Students will engage through group learning and individual educational breakout sessions, participate in experiential activities in the Disney Theme Parks, and develop an action plan for accomplishing their student leadership and career goals.
The following are the intended outcomes for students taking part in the Disney Leadership Experience:
Understand elements of team dynamics; identify key challenges teams face; and develop a strategic plan to address them
Understand the need for building consensus on a team and an individual's responsibility in achieving it
Articulate the value of encouraging and supporting individual strengths and talents on a team
Share critical environmental elements that a leader must provide for a truly creative team to thrive
Articulate the pervasive and critical need for clear and precise communication from a leader to their team, as well as the necessity for a 360° communication flow within a team
Have insights into the nature of confidentiality and the need for a leader to properly identify the level of confidentiality required by various types of information
Describe discussed leadership styles, give examples, and identify which are closest to their own style
Develop strategic plan for great leadership and effective team communication
Identify and apply Disney Key Concepts for Strategic Leadership, Teamwork, and Creative Discontent
Understand forced perspective and how to use it
Identify the role of color in shaping mood
Identify the importance of safety within creativity
Incorporate physical assets such as restrooms, trash cans, restaurants and shops into the story you are telling
Explain how Guest flow is impacted by art design
2021-2022 Disney Leadership Experience
Applications are available HERE and due Wednesday, October 6th. 
Fall workshops begin on Wednesday, November 3rd and continue weekly through Wednesday, November 17. Spring workshops begin on January 19th and continue through February 23rd. Workshops will be held from 6:30 - 8 p.m. Students are required to attend every workshop for its entirety. 
The on-site experience at Walt Disney World will be Saturday, March 5, 2022 through Thursday, March 10, 2022. Students are required to be with the group for the entirety of this experience. *Dates may change by one or two days, as we look for the best cost and travel availably. 
The estimated program cost per person is $1,750, which includes airfare, transportation in Orlando, 5 nights in a Disney hotel, 5-day Disney Park Hopper pass, admission to three Disney Imagination Campus workshops, and a meal stipend. The payment schedule is as follows:

October 15th: Payment #1 ($550)
October 29th: Payment #2 ($600)
November 12th: Payment #3 ($600)
March 2022: Refunds paid from fundraisers 
It is expected that every member of the cohort takes part in fundraising during the fall semester to lessen the costs of the program for everyone. 
For questions or more information, please contact the program coordinators: 
Director of Student Engagement
Arianna Gulbis
Director of Residence Life
Duffy Academic Center, Suite 145