The Timeless Value of Arts & Letters Degrees
From history and English to world languages and philosophy, graduates of our Arts & Letters programs are thriving in 21st-century careers.
The complex societal issues at the heart of the work being done by Meghan Kilcoyne '10 and Nicholas Sangiovanni '18 require them to have mastery over the technology and organizational systems that drive progress in today's world. Yet both are infinitely grateful for having majored in disciplines that were around centuries before blockchain and 5G.
"My history studies not only equipped me with the skills to take on the professional world, but also the drive to better it," said Kilcoyne, a trailblazing civic leader who is the first woman elected to the Massachusetts House of Representatives for the 12th Worcester District.
"I couldn't do my work as well as I do if I hadn't had certain experiences in the philosophy department at Stonehill," adds Sangiovanni, who is currently pursuing a law degree at Boston University.
History, philosophy, English and world languages, religious studies, and art — together, the arts and letters degrees — have been a cornerstone of Stonehill's programs from the start. The critical thinking, problem-solving and global citizenship skills they impart are central to Stonehill's mission to educate the heart and mind.
"Our students learn to dig deeper to understand their place in the world," explains Kevin Spicer, C.S.C., dean of the May School of Arts & Sciences. 
Found in Translation: From Passion to Career Path 
For students who choose humanities majors, small class sizes and collaborative faculty relationships help turn intellectual passions into career pathways. It's an environment where classroom learning is augmented through experiential learning, with options ranging from the Stonehill Undergraduate Research Experience (SURE) and Capstone projects to internships that bring learning into the field. "We're one of few programs where every undergraduate humanities major has the opportunity to work one-on-one with professors on research topics of their choosing," notes Spicer.
Raquelle Espiricueta '23, who is minoring in French, is contributing to French and English Wikipedia pages on Haitian poets Jean Métellus and Frankétienne, while Carolyn Ford '24, a double major in education and dual languages (French and Spanish), is creating podcasts around the works of antiwar poet Etel Adnan, which will be archived on PennSound, an esteemed poetry resource at the University of Pennsylvania's Kelly Writers House.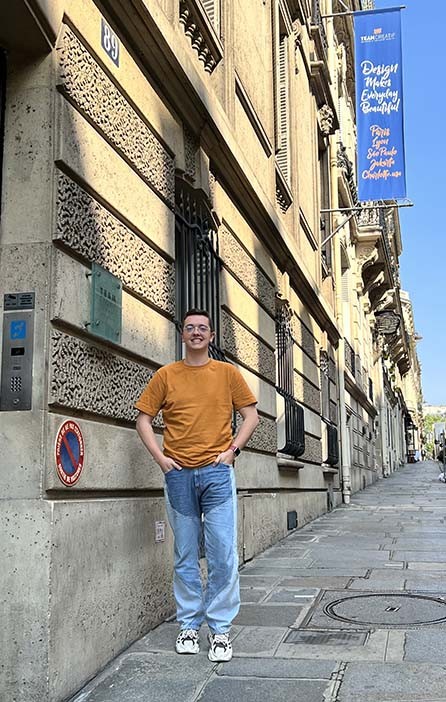 Similar hands-on experience and faculty advising led Danny Haffel '18 in a direction he couldn't have predicted when he chose dual languages as his major. Learning both French and Spanish via one degree was an obvious choice aligned with his passion for languages; an unexpected graphic design course experience showed him how the triad could combine into a career. 
Haffel completed his major's study abroad requirement in Grenoble, France, and now works as a junior designer in the Paris office of Team Creatif, a worldwide design agency. "My Stonehill experience developed a global outlook that impacts how I tackle and develop my design concepts," says Haffel. "I have both technical design skills and effective communications skills I use daily — whether developing a concept with a client or buying a baguette from a boulangerie." 
Global Citizens Prepared to Thrive 
The study of other humanities such as philosophy also helps graduates better understand how to respond ethically to questions of justice, freedom, equality and truth. 
"No amount of technological or economic progress will answer these questions and tell us what a truly just community looks like or how it is achieved, or what a richly lived human life looks like," says Edward McGushin, professor of philosophy. "We need deep thinkers who are curious, critical, creative and ethical — people educated in philosophy, history, literature, the arts and religious studies develop the intellectual tools, habits of mind and desire to confront these questions meaningfully." 
Stonehill's arts and letters majors graduate prepared to land in a multitude of career settings, from law to education to health care to public policy. "The history department's emphasis on acquiring strong writing skills, using critical thinking and analysis to solve problems, and learning to read efficiently will allow me to develop the skills to be successful in any career I go into," notes Gwenyth Taradash '22, a history major and speech-language pathology minor. 
These skills apply no matter how "technology reliant" our world becomes. "You might know how to write a computer program, but in order to do that job well, you need to both understand and communicate about the problem it's solving," says Spicer. "That's why our curriculum helps students take apart situations, read critically, speak and write effectively, understand the past, and acquire the statistical and empirical knowledge that is so important to life today."
Related
Sign up now to be added to our mailing list, and we will show you how Stonehill could become part of your story.

Our visit programs will help give you a better understanding of how Stonehill's expansive leadership and experiential learning opportunities equip students for success in a rapidly evolving and globally competitive world.

Stonehill College provides an exceptional learning experience for both undergraduate and graduate students. We invite you to review the process, requirements and application deadlines for our entry options.