Students and Alumni Explore Pathways to Success
On a recent Saturday, 218 students, mostly first and second-years, gathered for four hours in buildings across campus to explore what success means to them and identify pathways for their career and life goals.
To help with the process, 70 alumni returned to share with the students their real life, post-college experiences, network and present at career panels. And, students found their interactions with alums very helpful.
Brian Sharp '23 reports that all the alumni "offered amazing practical advice and were friendly and personable people that make you hopeful to one day come back and help future students the way they helped you."
For Elisha Brinkman '23, the conference was a great way to hear from alumni how Stonehill laid the foundations for their successful careers and to be able to connect and network with these alumni to start building on your own future career."
Connecting directly with Stonehill alums and talking with them about her career aspirations gave Jenna Rohlman '22 "comfort knowing how big our network is and how much help I have."
Dynamic Connections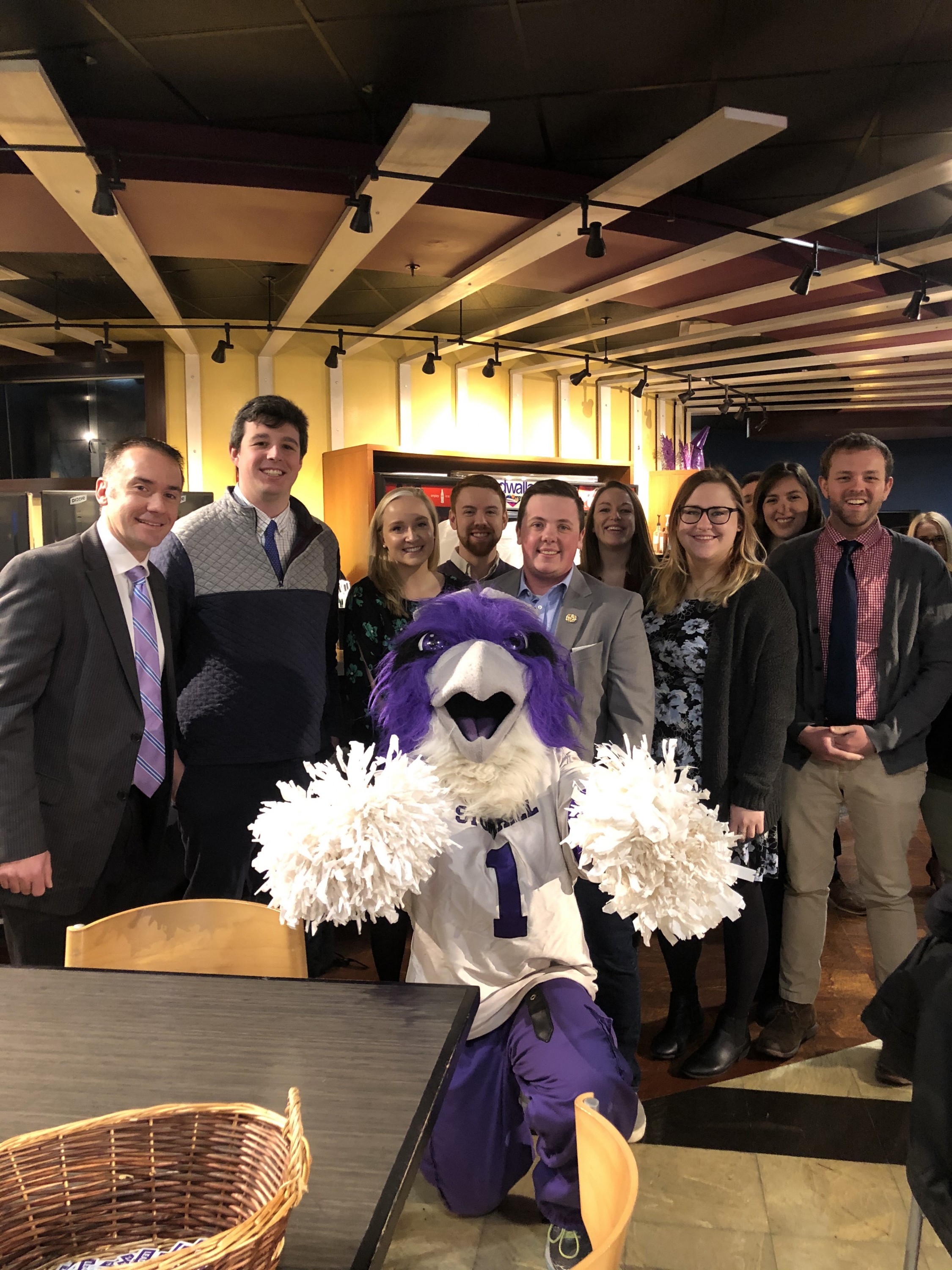 "The dynamic at the conference was powerful and productive with lots of conversations and connections made. Students heard from alumni about a wide variety of approaches, and challenges, to post graduate success as well as practical tips and insights. As a result, our students become more intentional and focused in their career planning while at Stonehill," says Director of the Career Development Center Christina Burney
Now in its third year, this bi-annual Think. Act. Lead. Planning Conference is co-sponsored by the Career Development Center and the Office of Academic Achievement.
Beneficial Pain
William Wingo '19, a Skyhawk linebacker who overcame cancer during his senior year gave the keynote address. Now a social entrepreneur with his own nonprofit, Beneficial Pain, Wingo is also a Mortgage Banker with New Day USA. His remarks encouraged students to navigate their challenges in a way that will make them stronger, learning from each experience.
Wingo told the students that he realized he could not control cancer. He could, however, control how he mentally dealt with it, especially using his beneficial pain approach. As a result, he "stood toe to toe with cancer and won."
Now cancer free, Wingo, said, "Beneficial pain provided me with an outlet where I could focus my attention on creating something bigger than myself….pain in life is inevitable so why not choose to make it beneficial."
Breakout Options
At the conference, students could attend two of the more than 20 alumni led breakout sessions that were held that day, covering interviewing, unexpected paths, inclusive workplaces, entrepreneurship, leadership for women, fundraising & development, service & justice and careers in areas such as healthcare, scientific research, technology and so much more.
" Seeing students and alumni helping each other as they do at the Planning Conference really speaks to the power of a Stonehill education to inspire both the mind and the heart and creating bonds that go beyond individual class years, " notes Associate Director of Career Development Andrew Leahy '05.