Cold Cases, Hot Courses
Professor Maureen Boyle is leveraging her success in the true-crime book genre to enrich her journalism students' learning.
The true-crime genre is killing it.
From best-selling books to most-watched TV series, audiences are seemingly obsessed with the exploits of killers and the mysteries of unsolved crimes. Yet, considering all the drama we already have in our lives these days, one might reasonably ask "why?"
Professor Maureen Boyle has a hunch.
The director of Stonehill's journalism program believes it has something to do with self-preservation instincts.
"Women make up a large portion of this genre's audience," she said. "Some have theorized that's because this content gives them an idea of how to protect themselves. If you know a lot about different types of crime, then you know what to do so you don't fall victim."
In writing about the case, Boyle hoped to showcase the determination of investigators who work around the clock to solve cases like this one. She also sought to disprove the notion that local and state police do not get along with federal agents, a cliché of many TV procedurals.
"This case was solved by all of them working together," Boyle said. "They built on the strong points that each of the agencies could bring into the case legally."
Decades of practical experience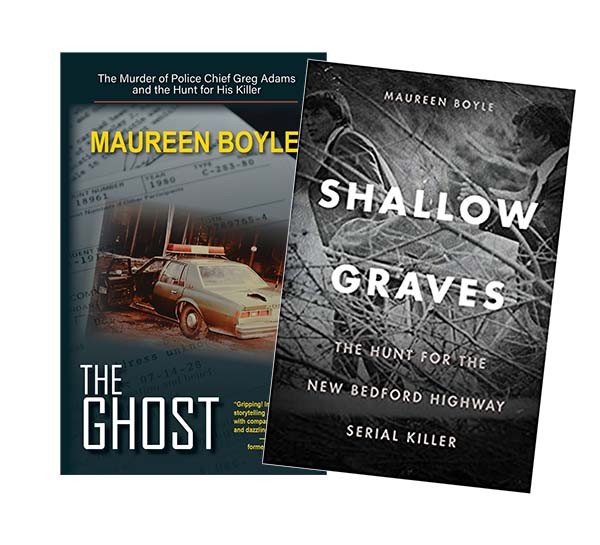 Before joining Stonehill's faculty full-time in 2010, Boyle spent 25 years as a crime reporter for The Standard-Times of New Bedford, Massachusetts, and The Enterprise of Brockton, Massachusetts. She never reported on the murder at the center of The Ghost but covered other stories about Bristol County. Donald Webb, the book's titular killer, had ties to the area. 
The Ghost is a follow-up to Boyle's 2017 work, Shallow Graves: The Hunt for The New Bedford Highway Serial Killer, which examines a gruesome murder case that has remained unsolved for over 30 years. Boyle notes her experiences writing both books impacted her teaching style.  
"I hope to spend more time with students, particularly in my Narrative Writing class, going deeper with their research," she said. "You realize you never know what information you need when writing until you don't have it. It's the littlest details that make your story sing." 
Boyle plans to use The Ghost as a tool in her courses. She believes the book will highlight for students the importance of using facts to complement subjects' memories. 
"Writers need to rely on research and documentation, then use interviews as the emotion," she said. "The documentation serves as factual back-up to the emotion." 
Setting students up for success, no matter their path
Over the years, countless students have benefitted from the decades of experience Boyle brings to her roles as educator and faculty advisor of The Summit, Stonehill's biweekly newspaper.
Ian Vescera '19 was recently hired as a producer by Spectrum News 1. The Uxbridge, Massachusetts, native said Boyle "is everything you could want in a Stonehill professor."
"She helped me to become a better journalist by providing constructive criticism while also focusing on the positives of my work," Vescera said. "She knows how to toe the line of letting you figure things out for yourself versus telling you how to fix things."
Desmond Bernal '21 of Warwick, Rhode Island, joined The Taunton Daily Gazette as a reporter shortly after graduating. He covers the publication's education beat and other local news.
"[Professor Boyle] taught me the necessary skills to excel as a journalist," Bernal said. "I can't thank her enough for her dedication to the journalism program and the school newspaper."
Whether they plan to write the next great true crime novel or chase scoops for their local paper, Boyle has one piece of advice for all her students as they pursue their goals.
"Write as much as possible," she said. "You learn something from every single story you write."
Related
Sign up now to be added to our mailing list, and we will show you how Stonehill could become part of your story.

Our visit programs will help give you a better understanding of how Stonehill's expansive leadership and experiential learning opportunities equip students for success in a rapidly evolving and globally competitive world.

Stonehill College provides an exceptional learning experience for both undergraduate and graduate students. We invite you to review the process, requirements and application deadlines for our entry options.