Adaptability is in the genes of our biology program
Curriculum allows graduates to pursue any career in science or any field in which they have to think about data in a meaningful way.
Whether it's in the field or in the office, you quickly get a sense of the joy Sarah (Shugrue) Heller '14 feels at being able to combine her innate curiosity about the natural world with the skills, training and knowledge she gained during her time in Stonehill College's biology program.
Heller, who works for America Farmland Trust as a soil health project manager, credits the program and its professors with not only giving her the tools she needed to pursue the career she wanted but also the confidence she needed to do it.
"The department offered so many opportunities to learn about professions, like the biology alumni [events] and weekly department seminars," she said. "If it weren't for these opportunities, I wouldn't have known about the various careers one can pursue in biology."
Professor Bronwyn Heather Bleakley, department chair, explained that the department is committed to giving people a broad biology education that allows them to pursue any career in science or any field in which they have to think about data in a meaningful way.
"We prioritize hands-on learning, so labs are critical," said Bleakley. "It's important for preparing students to go into laboratory and research careers."
Bleakley also said that the department is committed to creating an environment where all students feel supported, connected and like they belong as scientists, which has a major impact on how people are able to move through the program.
In addition, Bleakley articulated that it is important for biology students to get into the lab and that every student should get to do research once.
"If you want to be a tennis player, you gotta play tennis. If you want to be a writer, you gotta write. If you think that being a scientist might be important, then I think you've got to be a scientist," said Bleakley.
Heller is among the program graduates whom Bleakley advised, encouraging her to pursue her interests through internships and research.
"I spent two semesters conducting research on the effects of pesticides on the reproductive behavior of beetles and completed an undergraduate thesis," said Heller, noting that the experience allowed her to feel better prepared to pursue a graduate degree and a career in biology; she firmly believes her Stonehill experience has contributed to her success.
Nick Perry '19 said he gained similar career benefits through his two-and-a-half-year collaboration with Nicholas L. Block, an associate professor of biology, in which they conducted research on bird DNA both through the summer Stonehill Undergraduate Research Experience (SURE) program and during spring and fall semesters.
"I think just having that opportunity to expose yourself to something new is something really enlightening," said Perry, who now applies what he learned at Foundation Medicine in Cambridge, Massachusetts, where he is the lead clinical bioinformatics analyst.
Like Perry, Emma Rooks '15 (below) also likes the process of exploration and enlightenment. Currently a Ph.D. candidate with the coastal ecology and livelihoods labs at James Cook University in Australia, she said that she first began her undergraduate studies as a neuroscience major before becoming a biology major.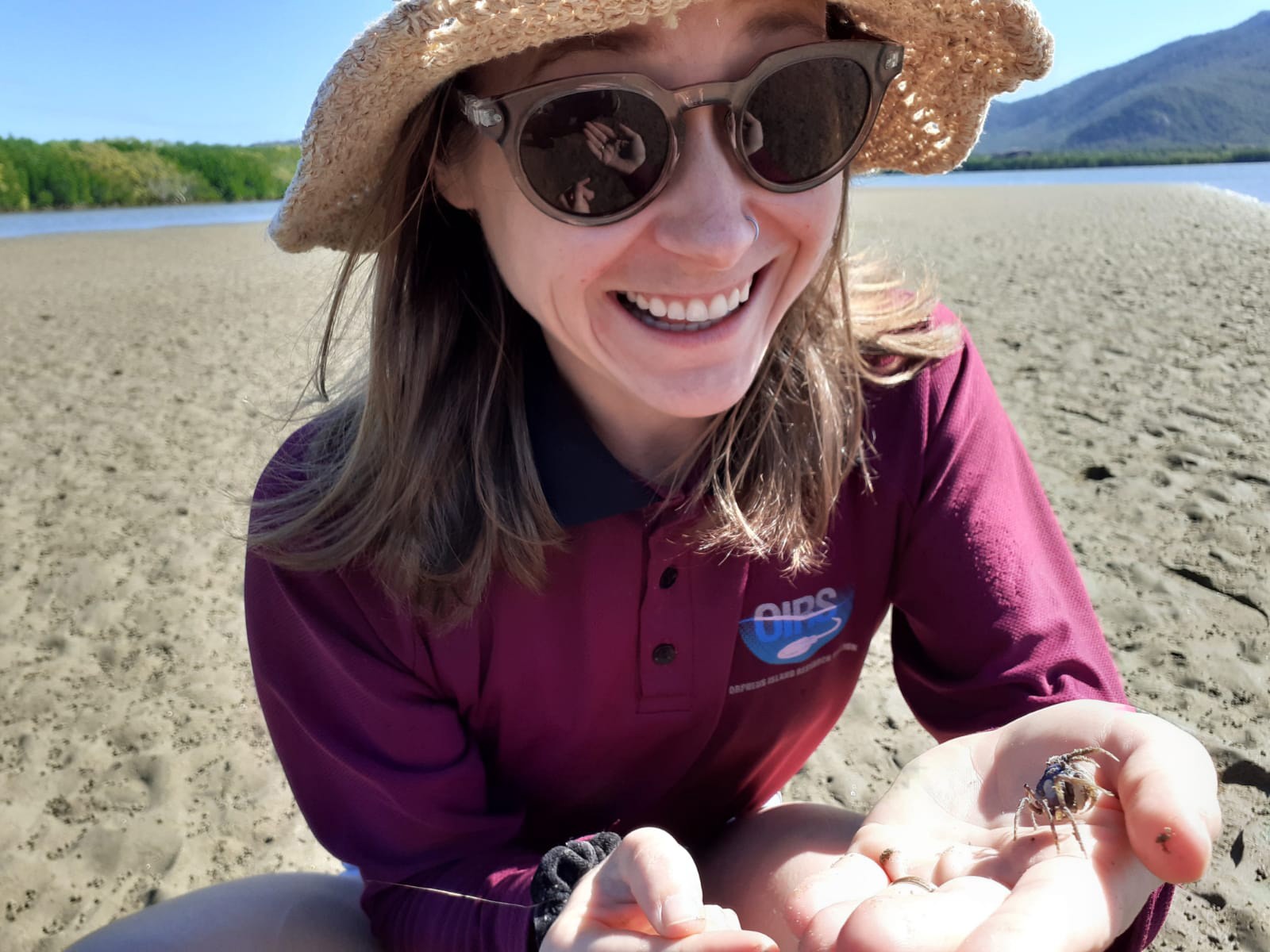 "In addition to the solid foundation I feel I was provided in the program, I am especially grateful for Professor Bleakley and Professor Martha Hauff, who helped me realize what I wanted to do following my degree at Stonehill and gave their time generously to assist me in building a respectable foundation in marine sciences that I could continue at a graduate level," said Rooks, who also holds a master's degree in marine biology and ecology.
Biology major Stephen Cobbs '23 said the biology department is second to none and that the professors are all compassionate and understanding toward student athletes such as himself.
"It's definitely hard," he said. "It's a lot of organization and time management skills. It's hard but it's also rewarding."
Cobbs is continuing his research in the SURE program for the second year in a row with Professor Nicole Cyr, focusing on stress and obesity. "I can say beforehand that I knew that I liked research, but at this point I want to make research a part of my career. I can't see myself not doing research in the future," he said.
Cobbs encourages undergraduate students to participate in research programs such as the SURE program because it provides a competitive advantage when applying to graduate schools. He also said it's more than just the research experience. It's also the mentoring you gain.
"Mentorship is imperative to research and Professor Cyr has been incredibly supportive throughout my experience," he said. 
Related
Sign up now to be added to our mailing list, and we will show you how Stonehill could become part of your story.

Our visit programs will help give you a better understanding of how Stonehill's expansive leadership and experiential learning opportunities equip students for success in a rapidly evolving and globally competitive world.

Stonehill College provides an exceptional learning experience for both undergraduate and graduate students. We invite you to review the process, requirements and application deadlines for our entry options.