The Commonwealth of Massachusetts is making a massive $3.8 million investment in the state's workforce, funding the creation of a new photonics lab at Stonehill College and Bridgewater State University (BSU) with respective $2.4 million and $1.4 million grants. Together, the institutions will form a technology hub that leads the region in technical training and research for integrated photonics—a revolutionary way to store and transfer data that is faster and more energy efficient than electronics.
Used by many of the most innovative businesses across the globe in computers and mobile phones, sensor networks, and autonomous vehicles, integrated photonic chips and systems will be a driving force for much of our future. Southeastern Massachusetts Lab for Education and Application Prototypes (SEMA LEAP) at Stonehill and BSU is the latest investment made by the Commonwealth's Massachusetts Manufacturing Innovation Initiative (M2I2) to develop the workforce and research labs necessary to ensure that the state is a global leader in this critical technology.
"We are proud to provide continued support to programs like M2I2 that help solidify Massachusetts' place as a global leader for innovation," said Governor Charlie Baker. "The two grants we are awarding today will provide support to the researchers developing cutting-edge technologies and boost collaboration between private sector companies and the state's top academic research institutions."
As faculty at the two schools design their innovative training and research programs, they will receive guidance and oversight from the American Institute for Manufacturing Integrated Photonics (AIM Photonics) Academy at Massachusetts Institute of Technology, which works directly with M2I2 to grow AIM Photonics in the Commonwealth.
Specialized Laboratories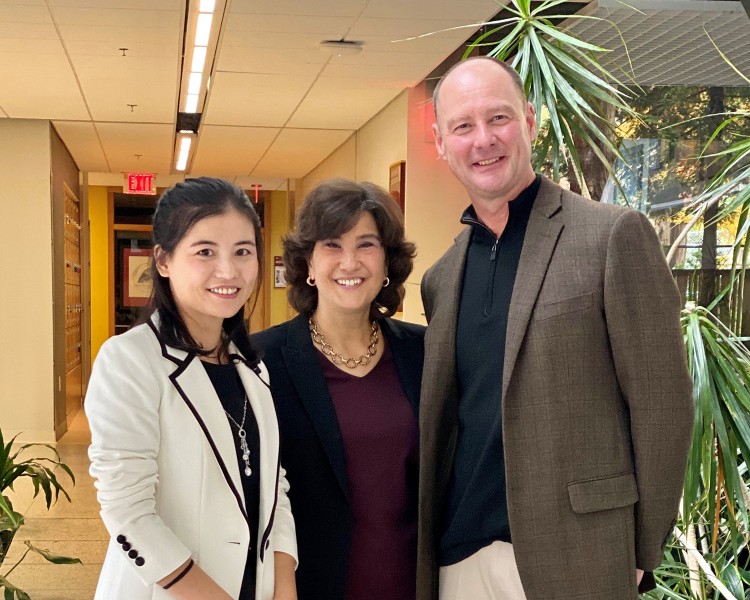 Stonehill's M212 application was spearheaded by Physics Professor Ruby Gu and Chemistry Professor Cheryl Schnitzer. Using $2.4 million of the award, the College will focus on: advanced photonic material characterization, a process that helps find the best materials to use and that improves device reliability and yield; testing of integrated photonic devices to better understand the device performance; and training a new, highly-qualified workforce for the integrated photonics industry.
Professor Ed Deveney will lead BSU's photonics initiatives. With $1.4 million in funding, BSU will focus on fiber optics and laser beams. "These programs will create opportunities for our students to gain skills and ultimately secure employment in a rapidly growing field," said BSU President Frederick Clark Jr.
"This major award stems from the initiative and vision of our science faculty, who have worked tirelessly in partnership with their peers at BSU to develop this innovative and timely area of expertise for the region," says Peter Ubertaccio, Dean of the Thomas and Donna May School of Arts & Sciences at Stonehill. "Stonehill is deeply committed to a liberal arts education that is reimagined for the 21st century and this award enables us to offer yet another unique, rigorous program that prepares our students in a practical way to make an impact on the future of the Commonwealth and beyond."
Faster, More Efficient Technology
"Using light to manipulate information, integrated photonics will revolutionize data collection and transfer—similar to how integrated circuits ushered us into the internet age," explains Stonehill Physics Professor Ruby Gu. "By using light, rather than electricity, to transmit and process information, not only will data transfer speeds increase substantially, but the process will take far less energy."
Fiber optics, which use photonics technology, are already in everything from cellphone networks to high speed internet and sensors, but there aren't nearly enough workers to create the technology. Massachusetts alone is facing a shortage of about 50,000 technicians, and technology companies across the country are eager to find talent.
"Integrated photonics technologies can do much more than store and transfer information," says Stonehill Chemistry Professor Cheryl Schnitzer. "They also play important roles in remote sensing, imaging and autonomous driving, as well as energy harvesting and energy-saving lighting."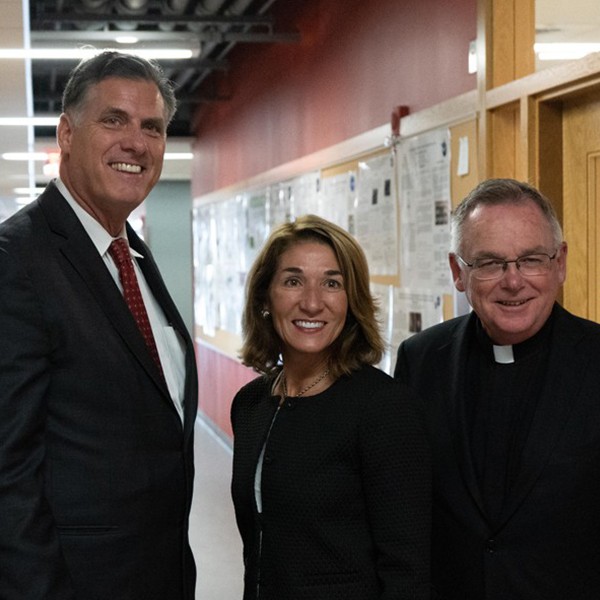 Closing the Labor Gap
Through the M2I2, the Commonwealth has already funded LEAPs at MIT and at Worcester Polytechnic Institute, which will share the facilities with Quinsigamond Community College. Once up and running, the AIM Academy LEAP at Stonehill and BSU will complement existing programs with a state-of-the-art training network that helps southeastern Massachusetts become a major hub for photonics technology.
"The state's network of LEAP facilities are positioned to fill the current labor gap, propelling Massachusetts into a nationwide leadership position in the field," notes Stonehill Physics Professor David Simon, who coordinate the Photonics Technician Training Program at Stonehill through a subaward from MIT that relies on the new regional lab.
"Graduates will become the photonics advocates and entrepreneurs of industry, business, and AIM-related opportunities, creating the engine of start-ups, industries, and workforce needs," adds Simon.
The Commonwealth's M2I2 program works to advance innovations and job growth within the state through cross-collaboration among companies, universities, national labs, government, incubators, accelerators and other academic and training institutions. M2I2 has committed $28 million in capital equipment grants to programs affiliated with AIM Photonics, which is an industry driven public-private partnership that focuses the nation's premier capabilities and expertise to capture critical global manufacturing leadership in this technology.