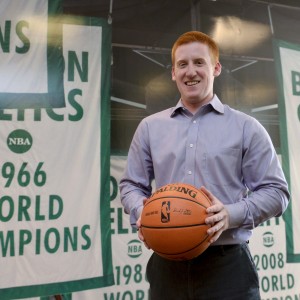 A Stonehill graduate now working as an account executive with the Boston Celtics recently came to campus to provide an insider's perspective on how to build a successful career in professional sports operations.
Zachary Soulier '14 spoke to this semester's Sports Marketing class at the invitation of Professor Lee McGinnis, who is the course instructor and was one of Soulier's professors.
"He discussed what it takes, realistically, to move up in the industry given how everyone wants to work for the Celtics," said McGinnis of the October 23 event. "His message of hard work and sticking to your goals painted a realistic picture for the students aspiring to work in the industry."
Soulier, a senior account executive in sales, is one of our Stonehill graduates working for the Celtics organization. The others are:
Nick Cacici '04, a senior premium sales account executive
Erin Kelly '13, a senior member experience manager
Matt Tardiff '14, the organization's CRM and business operations manager
Sports Marketing, offered through the Meehan School of Business, examines the marketing of sports, sport products and how companies use sports platforms to brand and market their products. Learn more about the Meehan School of Business.