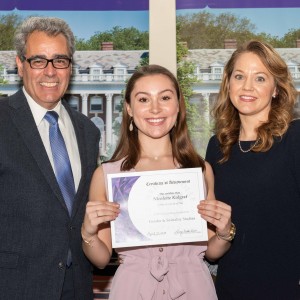 Nicolette Kolgraf '19 has received two departmental honor awards for 2019.
The English Department recognized her with the 2019 Maurice Morin Department Citizenship Prize for her outstanding academic record and for her embodiment of the values of the English major.
She also received the 2019 Gender & Sexuality Studies Program Student of the Year Award.
"Kolgraf approaches her work with open-minded humility and a complete commitment to rigor," said Linzy Brekke-Aloise, gender and sexuality studies program director. "She never stops at 'good enough,' but asks how she could push through to the next level. She is attentive to detail but interested in the disruptive implications of a radical argument. Her analysis and activism on behalf of Gender Studies has positively impacted the entire Stonehill community. We look forward to her changing the world."
During her time at Stonehill, Kolgraf was a member of Sigma Tau Delta, the national English honor society and the Stonehill English Society. She also worked as a teaching assistant for multiple courses, Digital Lab Fellow, IDEAS course facilitator and served as a social justice intern.