The Model United Nations Club recently participated in the Senate Immersion Module (SIM) program at the Edward M. Kennedy Institute for the U.S. Senate in Boston where 22 students experienced a day in the life of a senator.
"It's one thing to learn about the U.S. Senate in the classroom, it's another experience to engaged in debate and use procedural rules to get legislation passed," says political science and economics major O'Shane Morgan '16. "The Institute, with its full blown replica of the Senate Chamber ,brought the Senate alive."
The students negotiated and debated the Opioid Addiction Treatment Bill in a replicated Senate chamber and participated in a brief simulation of deliberations on the Civil Rights Act of 1964.
Participants were assigned a senator role and were sworn in. They proceeded to interview witnesses and added provisions to the bill. Then they debated the amendments and added them to the bill. Finally, students prepared and made their speeches and voted.
"I've had the pleasure of serving as the director of finance for the club in my first year and now the privilege of working closely with the faculty advisor as the Model UN Program Administrator," said economics and political science major Tim Cronin '19, who coordinated the trip. "I'm so lucky to have chosen Stonehill College, which has opened the doors to all these amazing opportunities I've had with this program."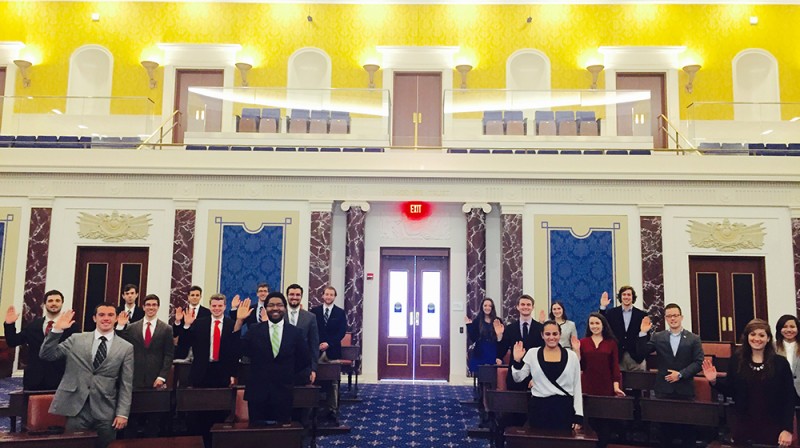 Participants said the experience gave them a greater understanding about the inner workings of the Senate and the making of bills. Of his experience, economics major Daniel Lavigne '18 says, "As a group we worked on creating a balanced piece of legislation to gain the needed support. We even channeled our inner senatorial passions on the issue, trying to sway future senators with our great oratory skills. Overall it was an excellent learning experience as well as a lot of fun!"
Fellow classmate Mounia El-Arar '16, a political science and economics major, adds, "One of the most profound moments was being in the Senate chamber and having a productive debate on rehabilitation programs for citizens dealing with addictions. However, my favorite moment at the Institute was taking part in the great Senate debate on the Civil Rights Act of 1964. The EMK Institute has so much to offer, I hope we will be able to visit again in the spring for another enriching experience."
The Model United Nations Club regularly participates and competes in national Model U.N. conferences. In spring 2016, the club will travel to New York City to participate in a simulation where students will be able to apply what they learned at the EMK Institute.