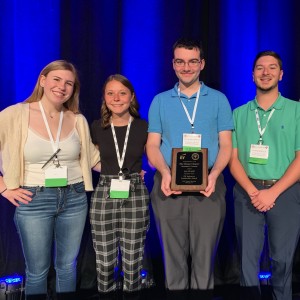 The Stonehill College (Mu Omega) Chapter of the Beta Alpha Psi honor society was recently honored at the national group's annual meeting in Chicago for taking 2nd Place in its Inclusive Leadership Competition, sponsored by the international accounting firm, Ernst & Young.
"First place in this competition in this international competition went to the University of Sydney in Australia, so you could argue that we were first place in the US," said Professor Alex Yen, BAP Faculty Advisor. "But joking aside, the fact that we finished in 2nd place, ahead of schools with 10 times the enrollment of Stonehill shows the quality of our students and that we compete successfully with the big schools."
The competition challenged BAP chapters to create and execute campus programming to develop inclusive leaders who "think, act, and learn inclusively" and leverage the "power of diverse perspectives."
For its entry in the competition, the Mu Omega Chapter hosted a panel discussion entitled "Managing Generational Differences in the Workplace," which explored the challenges brought on by Millennials, Generation X-ers, and Baby Boomers working together in the business world. Some of the topics covered by the panel included evidence-based differences versus stereotypes of each generation, what Millennials are looking for in an employer and how employers have had to adapt, the impact of a technologically advanced generation entering the workforce, and how to effectively manage multigenerational groups. The objective of this panel discussion was for attendees to become better informed about generational issues, so they are more comfortable in a multigenerational workplace and can be advocates for inclusion in their workplaces.
The panel included Professor Hilary Gettman of Stonehill's Business Administration Department, Gregg Giambanco '93, director of talent acquisition at Cumberland Farms, and Kristine Shatas, of Stonehill's Career Development Center. Special recognition goes to Cassandra Avery '19, who served as chair of the steering committee that organized the event and to Avery and Kayla Cadigan '19, who co-emceed the event.
"I am impressed that there was an interest on the part of our students to put this event on to promote inclusion and diversity and that it was so well thought out and executed," said Yen. "It shows that the motto of 'Strong Minds. Stronger Hearts' is being lived out by our students."