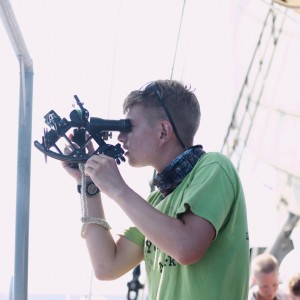 Stonehill's Adam Ziegler '21 spent two months this summer conducting research aimed at protecting and ensuring the future of a rare coral wilderness. Through the Sea Education Association (SEA) Semester, the biology and environmental studies double major traveled 2,000 nautical miles from Pago, Pago, American Samoa, to the Phoenix Islands Protected Area (PIPA), one of the last remaining coral wildernesses on Earth, to conduct research on the effects of climate change on the region.
The remote group of atolls and coral reefs in the Central Pacific Ocean is the largest and deepest UNESCO World Heritage site, with eight fauna-rich coral atolls.
Ziegler first designed his own research projects in ocean science and conservation policy for three weeks at SEA Semester's campus in Woods Hole, Massachusetts and then spent five weeks sailing and researching with other undergraduate students from diverse colleges and universities aboard the SSV Robert C. Seamans, the most sophisticated oceanographic research/sailing school vessel ever built in the United States.
SEA Semester is an interdisciplinary program that encourages students from a variety of academic disciplines and institutions to come together to gain a better understanding of the complexity of the ocean. The program combines oceanography, the humanities and the social sciences with practical skills in seamanship. This allows students to deepen their awareness and appreciation of the ocean through hands-on research and personal experience.