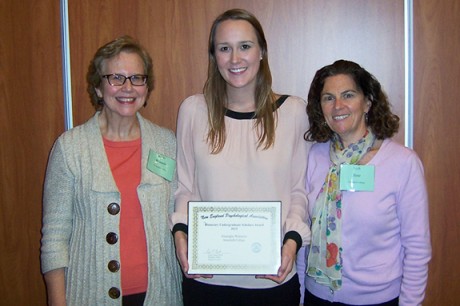 Recent graduate Georgia Winters '13, who received the Psychology Department's Student of the Year Award last spring, was named an Honorary Undergraduate Scholar by the New England Psychological Association (NEPA). The announcement came at the Association's fall meeting held in Bridgeport, Conn. on Saturday, Oct. 19th.
To be considered for the award, a student must be nominated by two faculty and have an outstanding record of research experience, applied experience, service to the department, and high academic achievement. Psychology professors Bonnie Klentz and Jane Nash, who both nominated Winters, worked closely with her on two separate projects.
Through Independent Research projects during the academic year as well as through Stonehill's Undergraduate Research Experience (SURE) Program in the summer, Winters collaborated with Professor Klentz on a project which examined the impact of viewing forensic crime dramas on jury decision making. The two presented their findings at the American Psychology-Law Society Annual Conference last spring and continue to collaborate on a manuscript based on this research.
"Over the two and a half years we worked on this research, she transitioned from student to true collaborator," said Professor Klentz on working with Winters. "Even with the high expectations I had for her work, she always surprised me by exceeding those expectations. She was, and continues to be a joy to work with."
Under Professor Nash's supervision, Winters completed a senior research thesis titled "I Knew It All Along: Identifying Sexual Grooming Behaviors of Child Molesters," which they presented at the New England Psychological Association's fall meeting.
"Georgia is everything we hope for in a student. She excels in every environment--in the classroom, in the research lab, and in the community. We are thrilled to see her honored for her hard work as an undergraduate and look forward to following her career in forensic psychology," said Professor Nash.
In addition to her research, Winters completed a two-semester internship at Taunton State Hospital and also interned at the Brockton District Court in its Domestic Violence Unit. She volunteered with the Big Sister/Big Brother Program, provided child care at a domestic violence shelter and held leadership positions in Stonehill's Psychology Society.
A stand-out student in the classroom, she was named to Stonehill's Dean's list every semester and was a member of the College's honor society Lambda Epsilon Sigma. Winters was also a member of Psi Chi, the International Honor Society in Psychology.
Winters is currently pursuing a doctorate in Forensic Clinical Psychology at the John Jay College of Criminal Justice in New York.
About the New England Psychological Association (NEPA)
The New England Psychological Association is dedicated to the advancement of psychology as a science, as a profession and as a means of promoting human welfare. The NEPA facilitates communication among New England's psychologists through its Newsletter and encourages students to enter the field of psychology, through its Honorary Undergraduate Fellow program and its co-sponsorship of Psi Chi and Psi Beta activities.