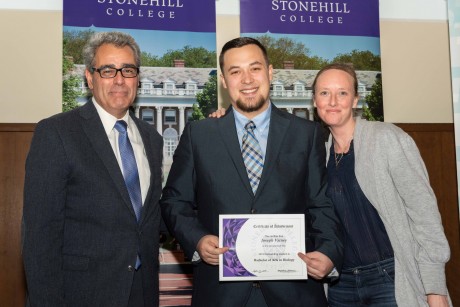 In recognition of outstanding academic achievement, Joseph Varney '19 and Nicholas Perry '19 have been named top students in the Biology Department for 2019.
Joseph Varney '19
Varney, of Palmer, Massachusetts, was awarded the Biology, B.A., Student of the Year Award.   
During his time at Stonehill, Varney served as a tutor and lab assistant as well as worked as a research fellow at Woods Hole Oceanographic Institute. He served as the vice president of the Pre-Dental Society and will attend the University Of Connecticut School Of Dental Medicine next year.  
"Stonehill has taught me to trust in myself even when the odds are against me, to be able to persevere with determination and courage to achieve my goals," said Varney, who hopes to fulfill Stonehill's mission to "make the world a more just and compassionate place" by becoming a dentist in low-income regions.  
Nicholas Perry '19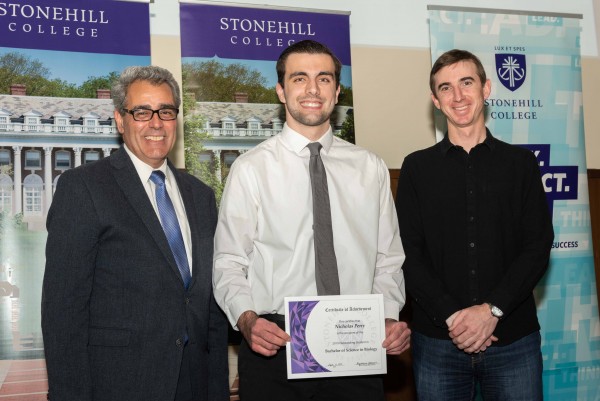 The Biology, B.S., Student of the Year Award went to Perry, of Cranston, Rhode Island.  
Perry was a member of the Lambda Epsilon Sigma and Sigma Zeta honor societies and the Moreau Honors Program. He was also a lab assistant in the microbiology lab and development biology lab, a general chemistry II peer-led team leader, tutor in the Center for Writing and Academic Achievement, and Lux et Spes ambassador.   
Perry's time as a Stonehill Undergraduate Research Experience (SURE) scholar led to his senior honors thesis, which he presented at the Evolution Conference in June. The biology major also minored in data analytics, the first Stonehill student to graduate with this combination. His data analytics senior project may lead to the description of a new species of bird.   
"Stonehill has taught me devotion and hard work as well as how to take initiative, expand my horizons and help others," said Perry.   
After graduation, he will begin working as a clinical bioinformatics analyst I at Fountain Medicine Inc. where he will look at patient cancer samples.