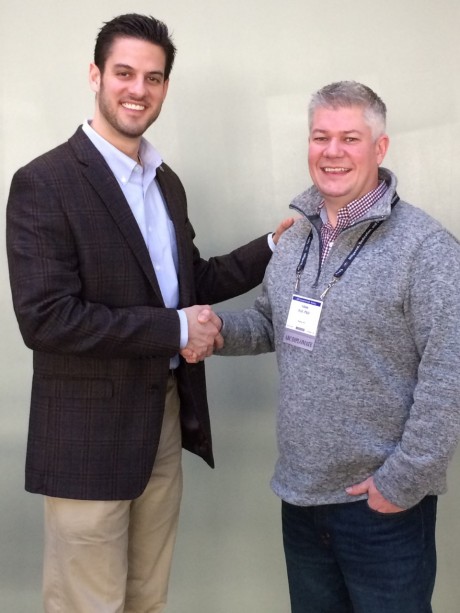 Succeeding in the world of forensic science, Adam Hall '00 edits the prestigious "Forensic Science Handbooks" by Saferstein and Hall while Andrew Schweighardt '06 spends his days in New York City crime labs. They are among only a handful of alumni working in this niche field and their Stonehill ties keep them close.
At its recent annual conference in Baltimore, the American Academy of Forensic Sciences presented Schweighardt with its Northeastern Association of Forensic Scientists Regional Award. The honor, however, had added meaning because Hall had nominated him for it.
Although they graduated six years apart, Schweighardt recalls, as a student, knowing about Hall, who received the same award in 2013, as one of the few Stonehill science graduates to pursue a career in forensic science. He knew he wanted to follow in Hall's pioneering footsteps.
And, today, Schweighardt is doing just that, making his mark in the world of forensic science. The former biochemistry major is a criminalist with the New York City Office of Chief Medical Examiner, Department of Forensic Biology. Working with DAs from all five New York boroughs is a job he enjoys very much.
Reinforcing Objectivity
"Every day, I use science to help people. My laboratory handles DNA evidence from all violent crimes in New York City and there isn't a day that goes by when I am not providing assistance to a victim or a family that has undergone a very traumatic and tragic experience. I also like that my job enables me to reinforce the objectivity and neutrality that are inherent to science," says Schweighardt.
Even though he works in a crime laboratory, Schweighardt notes that the lab is managed by the Department of Health, not the NYPD or a District Attorney's office —"So, we are scientists seeking the right answer, no matter who that answer may favor," he adds.
Faculty Encouragement
"All my Stonehill professors always encouraged me as I sought what was at the time a somewhat unconventional career path, since most of my classmates were pursuing careers in fields like medicine and pharmaceuticals. The faculty at Stonehill helped to instill the idea that science is the pursuit of truth—a belief that is the cornerstone of forensic science, " he says.
He holds a master's degree and a doctorate in Criminal Justice, both specializing in forensic science, from The City University of New York. A former visiting scientist at the FBI Laboratory, he also teaches at John Jay College of Criminal Justice, Pace University, and New York University.
Alumni Mentorship
Shortly after graduating from Stonehill, Schweighardt met Hall at a conference and, since then, the two have kept in touch professionally.
"Adam has been a great mentor to me. I am always grateful to have his input and advice, which I have sought on many occasions about job opportunities and other career matters," says Schweighardt.
A chemistry major at Stonehill, Hall was recently appointed editor of the highly-regarded and authoritative Forensic Science Handbook, which covers the theories and practices of contemporary criminalistics.

Formerly of the Massachusetts State Police Crime Laboratory, Hall has also served on the faculty at Boston University School of Medicine and Northeastern University. He holds a master's in chemistry and a doctorate in analytical chemistry from Northeastern University.

"There are only a few forensic science practitioners from Stonehill that I'm aware of, but with only six years between us graduating, Andrew and I knew and respected the same professors who prepared us so well. I connected with Andrew early in his career. In a short time span, he has made great professional progress. That's why I nominated him for the AAFS award," says Hall.
Warm Welcome
On his first visit to Stonehill, Schweighardt recalls getting a warm welcome from Professors Craig (Almeida) Kelley (Biology) and Marilena Hall (Chemistry) who also took time to give him a personal tour of the old Science Center, something he did not encounter at other prospective schools.
"Some of my favorite classes were taught by Professors Louis Liotta (Chemistry) and Magdalena James-Pederson (Biology). Professor Maria Curtin (Chemistry) was a wonderful mentor and has become a great friend," says Schweighardt.