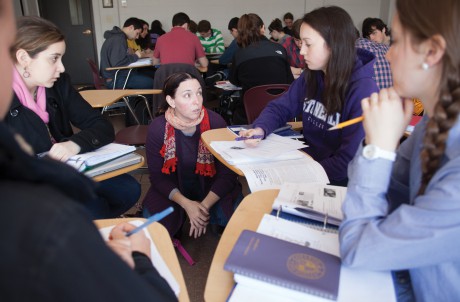 When faculty bring digital tools into the classroom, everybody learns.
Stonehill faculty members have long been recognized as passionate educators, experts in their fields and, above all, dedicated to the success and preparedness of graduates. With a sharp eye toward trends and proven technologies, professors at the College are continuously working to assess and improve their teaching methods and enhance student learning.
Along this pathway to academic excellence, emerging technologies offer fresh opportunities for collaboration, efficiency and resourcefulness. Most of all, they energize and excite scholars and students alike in the pursuit of critical thinking, free inquiry and an interchange of ideas.
In this edition of Stonehill Faculty Focus, four enterprising faculty members – _Eugene Quinn, Bronwyn H. Bleakley, Maureen Boyle and Scott Cohen – _share the ways they are experimenting with technology to inspire and engage Stonehill's next generation. They join educators throughout history who have been faced with the advent of new technologies – _from the film reel to the calculator to the computer – _and were compelled to question how students learn and to find meaningful, contemporary ways to teach.
Stonehill is responding to the opportunity and challenge of the digital revolution in higher education. It is paving its own road by creating and sustaining a culture of support for innovative teaching and the implementation of cutting-edge tools and skills.
Technology That Works
Eugene Quinn, Department of Mathematics
Eugene Quinn, assistant professor of mathematics, is fascinated by data. For 27 years he crunched numbers for the U.S. Environmental Protection Agency, Providence Washington Insurance Group and Blue Cross & Blue Shield of Rhode Island.
But in 2003, when his job was outsourced, he decided to go back to school. The year he finished his Ph.D., Quinn got a one-year teaching appointment at Stonehill and was then hired full time. "I'm incredibly lucky. I wake up in the morning, and I still have to pinch myself," he says.
Motivated by a career of using analytical tools, Quinn was quick to explore how technology could enhance his teaching methods. By using Stonehill's online assessment tools, he's discovered an innovative way to deliver problem sets to his classes and track their progress. For example, Calculus I students will sign on to the system and be presented with a group of six questions, one at a time. An important function of the system, Quinn explains, is that once they answer a question, the program provides instant feedback. "Students immediately see whether they got it right or wrong and also see an explanation of how to do the problem to reinforce what they've learned," he says. "Research shows that people learn better when they get immediate feedback instead of handing in an assignment and getting it back days later."
For the assessment feedback, Quinn employs one of Stonehill's newest technologies: lecture capture. Using an iPad, he writes out a problem and solution while verbally explaining the process. It is recorded as a video, which Quinn then links to the appropriate answer online.
Quinn is enthusiastic about the benefit to student learning. "They get a custom explanation, on demand, and can take the assessments and watch the videos as much as they want," he says. "Students with a higher learning curve can do it more, and others who came in more prepared do less. To a surprising degree, even after they get them all right, I often see students keep taking it for more practice.
Quinn has uploaded about 200 videos online, some only a couple of minutes in length and others that are seven to eight minutes long that serve as a summary of the lecture materials. Students use the lecture capture software too, as a way to present their solutions to the class. Their videos are also permanently recorded and posted in the course module, so students can watch each other's work.
"It's good practice of presentation skills for when they are out in the workforce," Quinn says.
Quinn's next challenge is to demonstrate the impact of technology in terms of what – and how – Stonehill students learn. "Technology is evolving very rapidly. The vast majority of students say they prefer doing work online, but it's not just about what they like," Quinn says. "It's what works in terms of learning more effectively."



Faculty across Stonehill use online assessment tools in similar ways, providing Quinn with a rich bank of information from a variety of disciplines and types of courses. To date he has collected 86,000 responses and continues to develop data-mining programs to extract information from the system. "By recording student responses – how long it takes to answer a question, right versus wrong answers, multiple choice trends – we can see how people use the technology," Quinn explains.
He is eager to analyze the data and hopes to get a handle on how quickly students progress through course content with the aid of new technologies. "If students do better", he says, "that is the bottom line."
Activating the Classroom
Bronwyn H. Bleakley, Department of Biology
For Assistant Professor of Biology Bronwyn Heather Bleakley, finding the spark that will ignite a passion for what students are learning is paramount. Like Quinn, she also uses the new lecture capture technology to engage classes in the hard work of problem solving, but in a slightly different way.
Bleakley has taken the most passive part of learning, watching a faculty member lecture, and moved it online for students to view outside of scheduled class time. This allows her to use class to connect with students one-on-one or in groups while they complete case studies and problem-solving sets – assignments that might have traditionally been done as homework.
Often called "flipping the classroom," this innovative teaching style affords faculty the time to draw out deeper inquiries from students. Bleakley explains that with dozens of students, it's not possible to lecture and answer all questions. But by removing the lecture component, it becomes feasible and highly beneficial for the learning process. "Instead of sending them to do the hard part on their own, we bring the active part into class. It's more effective to have students doing the work and asking questions while an instructor is standing right there," she says.
Bleakley experimented with posting 20-to-30-minute lectures online for her evolutionary biology class last fall with much success. This year, all sections of Biological Principles II are "flipped," with Bleakley spearheading the effort and guiding instructors through the process.
Faculty are excited about this new method of teaching because it wakes up students, sometimes literally in the case of an 8:30a.m. class, and really gets their brains buzzing, Bleakley says. "Initially, it is an enormous amount of work, but people have agreed to come along for the ride, and now they don't want to go back."
Though science is Bleakley's first love – she announced to her mother that she was going to be a biologist at 4 years old – she also has a profound interest in the scholarship of teaching and learning. While pursuing her Ph.D. at Indiana University, she minored in college pedagogy and has a true passion for methods development and mentoring.
At any given time, Bleakley has 10 to 15 students working in the lab with her as part of an independent study course or their thesis work. In addition to her evolutionary genetics research and a host of other scholarly pursuits, she is the advisor to the equestrian team, a community associate for the Office of Residence Life and a two-time Student Undergraduate Research Experience faculty mentor. "I don't sleep much," Bleakley laughs.
She has also participated in roundtable discussions presented by Stonehill's Instructional Technology Center and is excited about sharing her experiences using technology in the classroom with other faculty. "One of the biggest challenges of technology is sorting out what works. It can enhance learning, or it can get in the way if it is not really suited to the topic," she says.
As a scientist, Bleakley wants to look at the facts and is anxious to see what Professor Quinn's research yields. Anecdotally, though, she feels students are performing better on the more inventive parts of her class, including open-ended questions and analysis. "My perception is that they are giving better answers.
The level of engagement is higher; students are really thinking about the problems," she says. "I feel more connected to students than I ever have."
New Ideas, New Solutions
If there is one thing that Jan Harrison would tell all Stonehill faculty, it is this: "Bother us," she says.
As manager of Instructional Technology at the College, Harrison works untiringly with her colleagues in the Department of Information Technology to support professors as they explore using new tools and media to their greatest benefit for student learning.
"We do everything we can to offer all sorts of solutions," Harrison says.
She is passionate about the challenges of applying the ever-changing world of technology to education. "It's our job to ask why and figure out how. What is needed to make this work?" Harrison says. "I like to help, using our existing technologies to their best advantage, but I also love it when faculty come to us with something new."
To this end, IT launched the Faculty Initiatives in Technology (FIT) pilot program in 2011 to provide grants for integrating emerging technologies in the classroom. Each semester, the College awards two FIT grants. Harrison consults with applicants and says the program reflects the College's commitment to build an inclusive and collaborative technological community. Each recipient is given a stipend, funding for technology equipment and software (if necessary), and technical support from IT specialists.
At the biannual Faculty Technology Showcase, FIT recipients share their experiences. "It's a great opportunity to spread the word," Harrison says. "Faculty listen to what other members of the community have done to feel comfortable with technology and overcome obstacles. They come away thinking, 'I can do this too.'"
Harrison admits that technology isn't always the answer or that finding the right technology may take a few tries. She encourages faculty to use her office as a sounding board for new ideas: "We can sift through what's available and give advice on what we've seen be successful here and at other institutions. The future is wide open."
Making News
Maureen Boyle, Department of Communication
On a rainy afternoon in February, students file into Maureen Boyle's Advanced News Writing and Reporting class. Boyle, who serves as the director of the Journalism program at Stonehill, stands at a tech-equipped podium, pulls up a web browser on a large screen and navigates to her YouTube channel.
"Take out your iPads," she announces.
All eyes are on the front of the room as Boyle plays videos from the scene of a fatal fire. The clips include general surveillance along with interviews with the fire chief and an eyewitness. Students frantically take notes until Boyle stops the videos. "You have five minutes to file your story from your iPads," she says, "three paragraphs. Go."
Tapping away on their tablets, eyes never leaving their screens, students ask questions. Boyle answers some; to others she responds, "We don't know." As she walks around the room, looking over the shoulders of anxious would-be reporters, Boyle gives encouragement and advice.
"Good active word," she tells one student.
"Stick to the facts," she warns another.
"Don't forget AP style."
Once students have "filed" their story by emailing it to Boyle, there is a collective sigh of relief. Until she tells the group, "Your editor wants a more detailed story up on the web in 20 minutes."
Boyle worked at newspapers around New England for more than 25 years before joining the Stonehill faculty, first as an adjunct professor and then permanently in 2010. A three-time New England Press Association Journalist of the Year with several regional and national awards to her credit, Boyle strives to bring her real-world experiences into the classroom. In journalism today, that means introducing students to the latest technologies for reporting and distributing news.
Several years ago, Boyle began integrating technology into her introductory journalism courses. "Students could shoot video with whatever they had – a cell phone, camera, even their laptops – and post their stories to Blogger. But I got the idea that there must be a more uniform way to complete these assignments," she says.
Working with Stonehill's Department of Information Technology and Jan Harrison, who is the manager of Instructional Technology, Boyle was awarded a Faculty Initiatives in Technology, or FIT, grant to provide loaner iPads for the Advanced News Writing and Reporting class. Students use the tablets for research, notes, shooting and editing video in iMovie, and live tweeting as well as simulations of stand-ups in the field using FaceTime. Stories are posted to Blogger, WordPress, YouTube and a newer social network called Storify, which allows students to curate and build stories pulling together content across social media. For example, when winter storm Nemo raged through the area in early February, Boyle asked students to post to a Storify page using a Twitter feed for immediate updates.
"In journalism it is important to stay abreast of how people are gathering information, how they are getting the news," Boyle says. "We want to make sure students know how to present information in a way people want it. We're looking for ways to bring stories alive."
Boyle has shared her experiences at ITC faculty showcases and, along with Communication Professor Jack Jackson, serves as a faculty technology liaison to Stonehill's Department of Information Technology. "They are very supportive and always looking for the next step so that students and faculty aren't left behind," she says of her IT partners.
Boyle feels providing a technological skill set is a necessity for journalism students, as well as for those studying a variety of disciplines across the College. "Students expect technology, they expect visuals. They need to be familiar with what they'll be facing in the real world."
Technology and Pedagogy: Connecting the Dots
In 2007 the Center for Teaching and Learning (CTL) was founded to expand Stonehill's commitment to faculty development by offering consulting, research and collaborative programming.
"The fact is that we're never done learning how to be teachers," says Stacy Grooters, assistant professor of English and founding director of the CTL. "We work with faculty members to explore using all kinds of approaches that lead to good outcomes for student learning."
In recent years, technology has increasingly become part of the conversation. "Technology is a classroom tool, just like a textbook, an exam or a piece of chalk. It's only as good as the learning it leads to," she says. "With the great variety of learning goals that our faculty have, it only makes sense that they would use a variety of teaching techniques and tools to achieve those goals."
Among its many resources, the CTL works with the Department of Information Technology to collaboratively support faculty who are looking to test new technologies. Grooters says the most successful faculty are those with a genuine pedagogical reason for using technology – something they want to do better, something they want to do differently or a learning goal they are working toward.
Whether it is technology in the classroom, community-based learning or any number of academic methods, Grooters says that Stonehill faculty are willing to use every tool at their disposal to help students learn. "Our faculty are dedicated and creative teachers who are interested in experimenting," she says, "and our administration – from the department chair level to the provost – are very supportive of faculty teaching innovation."
Of Islands & Ipads
Scott Cohen,

Department of English
Scott Cohen, associate professor of English, agrees that Stonehill encourages innovative teaching methods and using technology to its greatest advantage.
In 2010, Cohen was teaching Storytelling in the Age of Information and was interested in trying out Apple's newest device. With the iPad in its infancy, the Center for Teaching and Learning took a chance on Cohen's vision and provided a grant to test three iPads in his class. Students used them to listen to and record audio clips, annotate transcripts from public radio shows such as This American Life, and share what they'd learned.
"I've always felt the iPad is a transformative device that allows students to engage with text on a different, deeper level," Cohen says. Today he uses iPads in an even more integrated way for Island Living/Island Leaving, a course that explores the role of islands in narratives.
Like Professor Boyle, Cohen was awarded a FIT grant, so each of his students has an iPad on loan for the semester. Recently students were asked to read an excerpt of Robinson Crusoe using the iBooks e-reader app on their tablets. Cohen then asked what they thought Crusoe's college major might have been. "They had to tweet their answers using a Twitter account I set up for the course," he explains. "It was a great way to get them thinking about the character and to set up our next class discussion."
When his assignments are longer than Twitter's 140-character limit, Cohen also uses the social sharing website Tumblr, where students can comment on each other's posts and build content-rich topic threads. "In both cases, with Twitter and Tumblr, it makes their engagement public within the discursive community of the course. In some small way, it replicates the dialogue that we try to create in class – and extends their engagement with the material."
Last year, Cohen's teaching methods caught the attention of the popular blog MindShift, which focuses on technology and the future of learning. At the same time, Apple was looking to improve its iTunes U online catalog of free educational content and contacted Cohen.
In the past, iTunes U had been largely used as a place to post videos of academic lectures, but Apple wanted to broaden its interactive potential and was particularly interested in offering more humanities courses online. "It seemed like a good opportunity to show the world what kind of interesting work we're doing at Stonehill as well as to engage in a more public conversation," Cohen says.
In January, Island Living/Island Leaving was the first Stonehill course to be offered on iTunes U, attracting more than 8,500 free downloads in its first two months online. Cohen regularly gets emails from subscribers worldwide and was recently designated as an Apple Distinguished Educator. He also uses a private iTunes U version of the course for his Stonehill students, making integration with the iPad technology seamless.
Cohen is optimistic about the prospect of using innovative tools to deepen student engagement with literature and culture and as something that becomes durable and sustainable over time. "The technology is useful, but the act of thinking through how I'm using technology in itself has made me come to these courses with a whole new, fresh perspective," he says. "It has invigorated my teaching because it forced me to think about what I am doing all over again."
To be reflective about what is being taught, to look for new vehicles that allow students to communicate, engage and create; Cohen says, "are only good things."