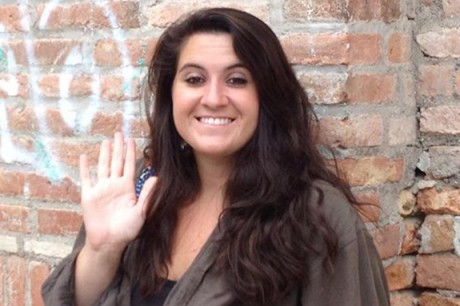 by Domenique Ciavattone '13
Hiss. BANG. Click. My palms began to sweat as I wrapped my mind around what had happened. I saw my two traveling companions safe behind the train doors. I pounded my fists against the cold, steel frame, jabbing the useless "open" button, screaming to the conductor, my friends, the universe, this hunk of metal itself to let me in. It was, however, futile.
Trains can go on ferries? I mean an entire train can pull onto a track embedded into the floor of a boat, and be carried across a body of water. I had no idea, but found out the hard way.

With two other recent Stonehill graduates, Kristen Kelly and Sara Burnheimer, I was six weeks into a 20-country backpacking adventure when I was awoken on an overnight journey from Hamburg to Copenhagen. The three of us hadn't slept in days, and had used this train as a hostel, but now we found ourselves being herded up three flights of stairs after it pulled onto the ferry.
Travel Daze

When the ferry reached the other side, I stepped off the train to try to find someone to direct us to the right train car. I was left breathing in the smell of salt water, mildew and gasoline, standing in the surround sound of coach buses and trucks revving their engines, readying to disembark. I had no idea where I was (since I'd slept the whole train ride). I had no phone or way to contact my friends, had limited knowledge of German and Danish, and was carrying about 25 pounds of things in my makeshift purse.
I snapped into problem-solving mode and screamed to my friends to find someone to help, then ran to the only other human on the vehicle-filled floor. He was mounting his Vespa as I begged for his help to get me onto the train. He sprinted up to the front and I followed in a speedy hobble, but, as I neared the exit, the train let out another hiss and jolted forward. It was moving.
I ran next to the accelerating train with my bag over my shoulders, dodging giant trucks and coach buses. After about a mile of running, heeding the honks of the buses and trying to keep up with the train's pace, I made it across ten tracks, and pulled myself onto the platform to join my friends, who had ended up on the wrong end of the train!
Lost Journal

As we regrouped on the train, a passenger who watched my marathon sprint unfold informed me that I had dropped a purple book when running. My journal! I leapt off to try to find it, but only had two minutes and with no luck, was ordered back on the train.
In Copenhagen, I sought to retrieve the diary, which chronicled my Stonehill graduation, defending my senior honors thesis, spiritual journey, and one month of our backpacking adventure.
After contacting the police, the ferry company on the German and Danish sides, the train company, and the local lost and found office, not a soul had seen it. After two weeks of emails and phone calls, I gave up hope of finding my journal.
While staying with family friends in England, my friend and I were talking about one of our favorite Stonehill professors, Communications Professor Xuejian Yu, and how we wanted to share our experiences with him. When I logged into my email the next day to touch base with him, the first message in my inbox was from Professor Yu! His note began, "Domenique, I think you've had too much fun traveling Europe and became somewhat forgetful."
We assumed he meant we'd forgotten to keep in touch with him. My jaw dropped when I read further: "I just got this message from this woman in Denmark who happened to find your diary and reached out to me for help. She wanted to send the diary back to you and wanted your contact information."
Denmark Connection

Jane from Denmark found my anonymous diary and saw Professor Yu's name in reference to my thesis defense. She played Sherlock Holmes (her description, not mine), and contacted him. He sent me an email and sent her my postal address.
Jane friend-requested me on Facebook: "Hi Domenique, your diary is now on its way to you!" I asked if she wanted anything in return, and she said that a simple friendship across continents would suffice. She just wanted to see what my life brings me. I am now forever connected to this 40-year-old woman from Denmark who lives on a pig farm, works as an occupational therapist and has two children.
Priceless Pages

Back home in August, I found a large yellow envelope on my bed with Danish postmarks: my journal. If I've learned anything from my backpacking experience, it's that people can be unbelievably good, strangers can be unwarrantedly kind, and global connections are more powerful than I could have ever imagined.
My written memories are now back where they belong thanks to a new friend, a caring professor and mentor, and sweet serendipity. I have a new memory to add to the weathered, priceless pages.
A Global Social Justice major, Domenique Ciavattone is now based in Raleigh, North Carolina where she is serving with MusicianCorps, a new branch of Americorps, using music as a tool for social innovation and community outreach in schools, veteran's facilities and hospitals.
Ciavattone with Communications Professor Xuejian Yu