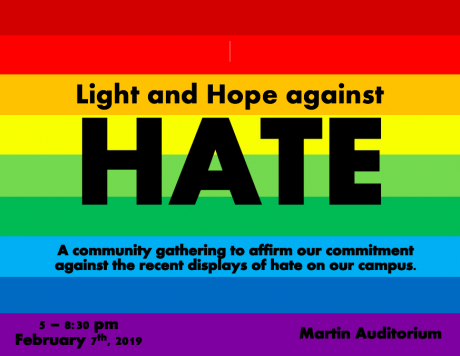 At the recent Light and Hope against Hate teach-in, Professor of Religious Studies Shari Lowin gave a harrowing account of how two members of her family avoided death by the Nazis in World War II Poland.
In exchange for land, a farmer hid her relatives in a space, about the size of two coffins, under a barn. There, the two of them, Jews targeted for extinction, had to remain in silence for 18 months until the war ended.
In a personal way, Lowin's story underscored the devastating consequences of hate. It, along with a film presentation by her Learning Community students about their reactions to recent anti-semitic incidents on campus and to viewing holocaust sites in Europe, set the tone for the teach-in held in response to the discovery last semester of a swastika carved into a Martin Institute windowsill, and two extremist flyers found in the MacPháidín Library.
"We need to be cognizant that words and symbols have power," Lowin said. "Hateful words and symbols too easily turn into hateful acts. If and when hate and discrimination rear their ugly heads in words and symbols, we must stand up loudly."
And that message echoed throughout the three hour event in the auditorium and resonated with an audience of engaged students, faculty, staff and alumni, many wearing pins referencing Black Lives Matter and other social justice movements. The teach-in represents a continuation of a tradition that emerged on campuses, including Stonehill's, across the United States during the anti-Vietnam war movement. More recently on campus, there was the Hands up Don't Shoot Teach-in (2014) and the Occupy Stonehill Teach-in (2011). Coincidentally, the teach-in followed soon after the termination of a faculty member of color, a decision that frustrated many diversity and inclusion advocates on campus.
At the start, Associate Professor of Criminology Anamika Twyman-Ghoshal, a co-organizer with Assistant to the President for Institutional Diversity and Director of Intercultural Affairs Constanza Cabello, expressed the hope that the line-up of speakers and performers would empower attendees to "use the collective knowledge of the community to come together against hate."
In his remarks, President John Denning, C.S.C. said "We come together to remember the past, to deepen our understanding, to confront issues, and work together to better ourselves and our community," he said. "It is important work, and work I am committed to. I am grateful for the opportunity to learn from each of you."
Associate Professor of Anthropology Erica Tucker kicked off our first discussion, sharing her insight on the power of symbols and moral panics. That led into a reflection on discourses of hate and the history of discrimination against those perceived as the other, as Political Science Teaching Fellow Anwar Mhajne discussed Islamophobia, something she, as a Muslim woman, has experienced. Education, by-stander intervention, and interfaith engagement, she stressed, are key to combating bias and harassment.
Victoria Pierre '19 used her musical talent to make a statement about hate later in the evening. She sang "Lift Ev'ry Voice and Sing," sometimes referred to as the "Black National Anthem."
"I'm singing a song tonight because songs can bring healing and restoration," said Pierre. After her, Sociology Professor Corey Dolgon, guitar in hand, sang two original songs of protest against injustice.
Associate Professor of Studio Arts Adam Lampton, Assistant Professor of Neuroscience Jennifer Segawa, and General Counsel Thomas Flynn, members of the College's Freedom of Expression work group explored what happens when free expression collides with hate speech.
Noting that hateful speech and symbols are protected under the First Amendment and are not deemed illegal by the government, Flynn said:
"We are not a government. We are a private institution. We can say that a swastika is a symbol of hate that isn't welcome on this campus."
Associate Professor of Sociology Christopher Wetzel welcomed four young alumni for a session on hearts and minds in action. Prithak Chowdhury '15, Brittany Frederick '16, Amanda Nagim-Williams '16, and Melissa Mardo '17 returned to campus especially to participate in the teach in. In their remarks, these alumni, three of whom are persons of color, reflected on their Stonehill experiences, both challenging and positive, in relation to issues of diversity, inclusion, and democratic learning.
From India, Chowdhury, now the Coordinator for Residential Leadership and Civic Engagement at Georgia State University, noted the ways white supremacy affects people of color in educational and professional settings.
"When you don't see yourself represented, you're constantly trying to prove that you matter, that you're worth it," he said. "That's the most impactful and insidious thing white supremacy does."
College Archivist Nicole Casper '95 also shared highlights from a new Martin Institute display highlighting instances of hate speech and efforts to fight discrimination over the past few decades at Stonehill.
The teach-in concluded with a video, which you can see below, in which students explain why they support the Black Lives Matter movement.
Event co-organizer Cabello said the teach-in serves as a reminder that Stonehill cannot be complicit in acts of hate.
"As a Catholic educational institution, we hold a responsibility to counter acts of hate, with acts of justice and compassion," she said. "It is the right thing to do. By gathering as a community and engaging in shared learning and responsibility, we send a strong message: hate has no home here."
"The purpose of the event was that we, as a community, can learn to better counter acts of hate in all its forms, to listen to each other, and to help our community act in ways that reinforce the inherent dignity of every human. My hope is that we can take this opportunity to work on strengthening the commitment of our institution to justice, diversity, and inclusion," said Twyman-Ghoshal.