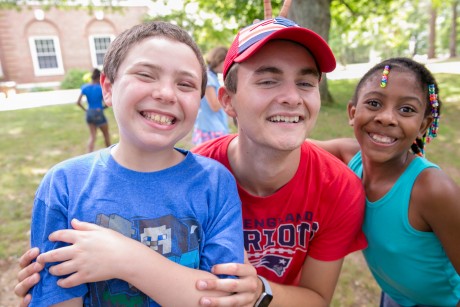 A few seemingly simple minutes from his second summer at Camp Shriver continue to resonate with camp co-director Bryan Bosworth '14, of Bridgewater, Massachusetts, and inspire him to continue working at the fully inclusive sports camp for children with and without intellectual and developmental disabilities.
In 2014, Bryan and the other counselors spent the entire summer encouraging one of the campers to swim in the pool at the YMCA in Easton with the other children. On the last day of camp, she not only swam but also took the "Deep End Challenge," a challenge to swim from one end of the pool to the other.
"Seeing how everyone supported her in her goal to swim across the pool was inspiring," said the Spanish teacher at Bridgewater-Raynham Regional High School. "All the counselors, and even some campers, were crying. We were happy to see her succeed."
It's encouragement and dedication of this type from Stonehill students and alumni that allow not only the campers but also the counselors, whose work each day at camp fulfills the College's mission of inclusion, to grow. As Stonehill launches a new undergraduate major and master's degree program in special education, opportunities like Camp Shriver embody the culture that will set those programs apart.
Inclusive sports camp fulfills College mission, opens doors for Stonehill students
Camp Shriver uses sports and other outdoor activities to bring children together, giving them the opportunity to develop motor and social skills, create positive peer relationships, and make new friends. Composed of 50 percent campers with and 50 percent without disabilities, the camp enables counselors and campers to create an environment where everyone feels comfortable and welcome.
"We use sports as a vehicle to teach kids how to be inclusive, accepting, nonjudgmental and able to work with everybody," said Kathleen McNamara, Camp Shriver faculty director and Stonehill director of licensure, placement & supervision in the Education Studies Department.
The camp embodies the mission of the College, of the Education Studies Department and of Stonehill's faculty, staff and students: to create a more just and equitable world and to promote inclusivity for everyone.
"Every teacher is a teacher of special education," said McNamara. "Our students are interested in making sure everybody in their classrooms gets what they need to thrive, to grow, to achieve and to be better people."
The camp also serves as an experiential learning opportunity for Stonehill's students. Co-director Kirsten Arvidson '14, of Andover, Massachusetts, says Camp Shriver is one of the first opportunities the counselors have to work with kids and, in particular, kids with disabilities. It is an opportunity for Stonehill students to put their skills into action.
"It opens a lot of doors to them," said Kirsten, a fourth-grade math teacher in Lawrence, Massachusetts. "It gives Stonehill students an opportunity to see a truly inclusive setting and bring that into their future careers."
This type of opportunity isn't beneficial to only education majors and students in the special education master's degree program. Marytza Mompoint '19, of Everett, Massachusetts, is a psychology major and plans to study the interactions between adults and children. "Campers interact with each other without thinking twice about who has a disability. In school, that's not necessarily true for these kids."
Counselors learn leadership, compassion through play
Running an inclusive camp like Camp Shriver takes a very specific person: a compassionate leader. And the culture at Stonehill primes its students to be passionate about helping others, about making the world a more just and equitable place, and about fighting for inclusive environments.
"It's that nontraditional vision of a leader we're looking for," said McNamara. "The leader who sets the tone, makes sure everything works and brings everyone along with them. Not someone who is going to tell everybody else what to do. It's 'I'm going to ask you to do it with me. I'm going to guide you and teach you.'"
"Camp Shriver changed how I view leadership," said Kyle Collins '18, of Natick, Massachusetts, an eighth-grade teacher in Wakefield, Massachusetts. "To be a leader, you need to be reliant on everyone else. As a lead counselor, I have two other counselors in my group, but we're a team. We communicate and improvise together."
This idea of compassionate leadership is exemplified in the level of dedication Stonehill students have to helping others.
Last year, Kyle noticed one camper was having a hard time at home. He paid special attention to that camper so the boy could feel comfortable at camp. At the end of the summer, the camper's mother wrote a letter to the camp directors.
"This cute little boy called me his 'big brother away from home,'" said Kyle. "It brought me to tears to know our actions don't go unnoticed."
Camp Shriver presents a unique opportunity for Stonehill, the campers and the counselors. By embodying the College mission, Camp Shriver helps Stonehill students develop into leaders passionate about celebrating the unique attributes of others.
"You have a range of campers who have different interests, different strengths and different weaknesses," said Kirsten. "It's important to see those same things in your leaders. It's an opportunity to demonstrate to the campers that they can bring their strengths to the table, that their strengths are just as important and that their interests are just as important as anyone else's."