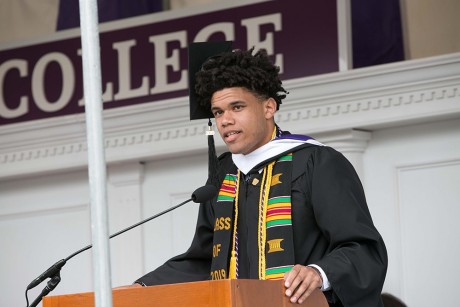 While the road to graduation wasn't easy, Pierrce Holmes reports that love made the difference for the Class of 2019.

I would like to first thank Father Denning, all of the distinguished faculty and guests in attendance, and of course Ms. Heather Abbot for her incredible speech.

Before I say anything else, I want to offer my most genuine thank you to every parent, sibling, relative, friend, caretaker, or otherwise who made it out to show us love during this very special occasion. I think I speak for all of my classmates when I say that we would not be in this fortunate position if it was not for all of you providing us with love and support throughout life. So y'all deserve at least half of the credit here.

I know my family brings numbers to any event, so even if you fall asleep you're definitely gonna hear them at some point. But I hope everybody hears it today, this is such a huge accomplishment and it deserves celebration. When asked to "represent my class", I started to think "how could I ever do that"?

We encompass so many different groups of people as individuals. We are first generation college students, we are foreign students, we are working or commuter students, we are minority students, we are LGBTQ students, we are athletes, dancers, singers, actors, artists, scientists, business folks, religious students, students with disabilities, and everything in between. But today, we all identify as one thing, college graduates.
DEALING WITH STRESS
Don't get it twisted, it wasn't an easy road for any of us to get here. We dealt with serious things like the loss of family and friends. We struggled with our own mental and emotional health as we navigated adulthood on this campus. We stressed over grades, whether or not we were on the right track in life, and if we would even be able to make it to the point that we have. And I know even the parents will feel this one because we all been stressing about jobs and the future, school don't pay for itself after all. Neither does watering the grass during rain storms but I'm not bitter at all…

But we all stressed over so many silly things as well, like driving 40 miles down the road to Newhall trying to get the only open spot (this is a good time to tell y'all that one thing I won't miss about this place is the walk back from lot 17). We stressed getting to the hill before 1 am on Fridays and Saturdays because otherwise we had to make that dreaded call to Slice of Greek or Mei East for an order of borderline okay food that wouldn't arrive until 3 am. And after all of that… we stressed money a little bit more cause its hard out here.
FORGING LIFELONG BONDS
But seriously, all of these experiences allowed us to forge bonds that won't ever break (shout out to my family from Villa, all the way to Newhall 401). They gave us memories that we won't ever forget. Its honestly not even about those epic moments or wild Saturday nights. Its about the time spent dodging school work together on a Tuesday night. Its about those spontaneous trips to go spend money we didn't have on food that wasn't good for us. There's so many little moments that I think helped pull us all together in different ways. But I think there is a common theme that links all of these struggles, highs, lows, and fond memories together: Love.

And when I say love, I mean the love that we can show to everybody blindly. Love was there when we were at our lowest and our friends picked us back up out of the goodness in their hearts. It was there when we were jumping around at courts parties listening to Bad and Boujee for the 50th time that night. And it was definitely there for those late night work or study sessions where sometimes the only thing keeping us sane was the love our friends showed us in the form of shared procrastination.

I feel as though it would be hard for us to look back on the experience that we have had at Stonehill and not think of love at least 20 times. We have only reached such a fortunate and privileged position through the love that others were willing to show us and the love that we were willing to show ourselves.

And so as we close this chapter in our lives, I hope that we write every page after this with the utmost love. We are entering the world in trying and divisive times where there seems to be a lack of empathy and understanding between so many people. It can even be seen here in the "Stonehill Bubble" where people at all levels seem to act without much regard for the implications and consequences of their actions.
FULFILLING POTENTIAL
But love is the sum total of both empathy and understanding. If we can try our absolute hardest to approach the rest of life, its trials and tribulations, its successes, its disagreements, and its challenges with the various forms of love, then I know that we will all be able to reach our enormous potential, and help the next person reach theirs as well. We cannot rest on our laurels and be content with helping ourselves when we have only reached this point because so many others were willing to share their love with us.

But also, never lose the ability to love yourself. Speaking as somebody who has struggled with that mightily over the course of his life, as I am sure many of us have, it is essential that you show love to yourself by reflecting and trying to be the best version of yourself every day. And honestly, that "best" won't be the same every day just cause it be like that sometimes. But love will always get us where we need to be. With that being said, peace to everybody, and I love all of y'all.