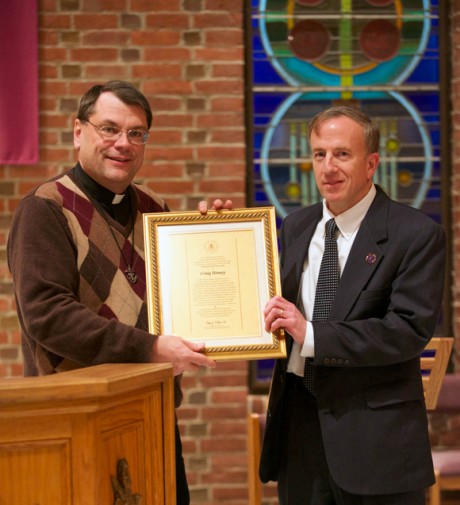 At a prayer service in the Chapel of Mary at Stonehill recently, Craig Binney '83 was honored by the Congregation of Holy Cross, whose U.S. Province of Priests and Brothers presented him with the Spirit of Holy Cross Award.
Presented by Rev. Anthony Szakaly, C.S.C., the Award recognizes Binney as a lay collaborator whose "diligent and deft service" has contributed to the Congregation's mission of making "God known, loved and served." He expressed gratitude to Binney for his "spirit of giving" and his "time, expertise, support, and kindness."
Currently the Associate Vice President for Finance and Operations at Stonehill, Binney has served the College in numerous professional capacities since 1985.
"In his family life Craig and his wife Ann consistently model Christian values. In his professional life at Stonehill, Craig is known for the competence, the cooperation, and the friendship he exemplifies. He is quick to extend a helping hand," said Rev. Robert J. Kruse, C.S.C. who spoke in praise of Binney at the ceremony.
"Craig is a team player and community builder. His constant and generous spirit of service mark him as a worthy recipient of the Spirit of Holy Cross Award," added Fr. Kruse, who nominated Binney for the Award.
In a full Chapel of Mary and surrounded by family members, friends, colleagues, and many members of the Congregation of Holy Cross, Binney said, upon receiving the Award:
"I never imagined when I first stepped onto this hallowed ground, it would become so much of my life…I will continue to embrace the days I have remaining to serve this College--to be part of our important mission, educating the hearts and minds of our students—to collaborate with the many great people with whom I have the privilege of working with each day."
Binney has been at Stonehill since 1985, when he started as Assistant Director of Academic Computing and Assistant Professor of Computer Science. He rose to Director of Administrative Computing in 1988 and continued as an assistant professor until 2000. Binney was named Assistant Vice President for Finance in 1997, Associate Vice President for Finance in 1999 and then to his current post in 2011.
Binney also is involved in local charities and last year rode 100 miles to raise money for the Rodman Ride for Kids. He received Stonehill's Gaudete Medal in 2005.
A graduate of Stonehill, Binney is a parishioner at Holy Cross Parish in South Easton, Mass., where he is also a member of the finance commission. Binney and his wife, Ann '83, have been married for 27 years and have five children.