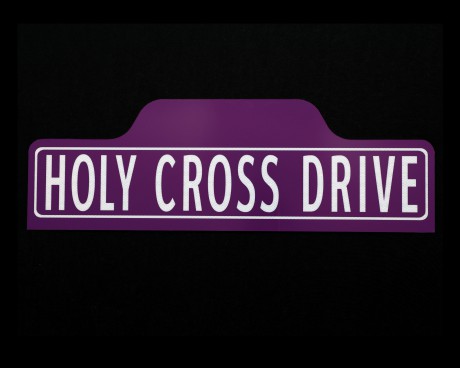 In response to a request made by the Town of Easton, Stonehill is pleased to announce that its on campus roads will soon be named so that fire personnel and emergency medical response teams can more quickly identify the location of a call. The road names will honor the College's history and the Congregation of Holy Cross priests who devoted most of their lives to Stonehill. A dedication ceremony will be held on Thursday, April 18th at 4 p.m. in the Martin Institute. Stonehill's Facilities Management personnel will install the street signs shortly thereafter.
Below are the road names which have been selected:
Blessed Basil Moreau Drive
Blessed Basil Moreau, C.S.C. founded the Congregation of Holy Cross in 1837, and declared that his community would serve the Church and the world as educators in the faith. Moreau Drive will begin at the main entrance of the campus on Route 123 and end at the four-way stop sign on campus. This road is one of the main roadways on campus; i.e. the spine; thus the acknowledgement to the founder of the Congregation of Holy Cross.
Holy Cross Drive
Holy Cross Drive, named for the Congregation, begins at the West entrance to campus on Route 138 to Parking Lot 17. As one of the most-traveled roads on campus, it seemed appropriate to honor the Congregation in this way. Holy Cross Drive meets with Moreau Drive, creating a cross at the main thoroughfare of our campus, bringing together the founder and the Congregation he founded.
Saint Andre Drive
Saint Andre Bessette, C.S.C. was known for his simplicity of life, his service to others, and his devotion to St. Joseph. As the first Holy Cross religious to be canonized, on October 17, 2010, in Rome, it seemed fitting that he should be honored in this way. Saint Andre Drive begins at Holy Cross Drive, near the Roche Commons, and extends to New Hall.
Fr. James Donahue Hill Drive
Fr. James Donahue, C.S.C. served as the Superior General for the Congregation of the Holy Cross from 1926 to 1938. Under his leadership, the Congregation expanded locations from Indiana to the East with the establishment of a seminary in North Dartmouth, Massachusetts. Fr. Donahue later moved the seminary to Stonehill College's current campus with the vision of growth into a four year college. The road that circles Donahue Hall will be named Fr. Donahue Hill Drive.
Fr. John McCarthy Way
Universally known as "Fr. Mac," Fr. McCarthy, C.S.C. came to Stonehill in 1964 and served the College until 1991 in a variety of roles including Religious Superior, Campus Minister, faculty member, Chaplain and Director of Campus Ministry. In 1991, he was appointed as Stonehill's first Alumni Minister, a role he held until his death in 2003. During his tenure, Fr. Mac advised hundreds of students and alumni, presided at countless weddings, baptisms and funerals, and was beloved by two generations of Stonehill alumni. The road leading from Moreau Drive to O'Hara Hall will be named Fr. McCarthy Way.
Fr. David Arthur Way
Fr. David Arthur, C.S.C joined the Stonehill faculty in 1954 and taught subjects including philosophy and mathematics in addition to serving as the College's Intramurals Athletic Director. In 1960, he was named Library Director and supervised the construction of the Cushing-Martin Library. From 1966-1970, he served as the College's Academic Dean. After a brief sabbatical to work on his doctoral degree, Fr. Arthur returned to Stonehill and was appointed as the College's first Director of Institutional Research, a position he held until his retirement in 2000. After his retirement, he served as the archivist of the Congregation of Holy Cross Eastern Province Archives until the merger with the Indiana Province in 2011.
The road in front of the Sally Blair Ames Sports Complex will be named Fr. Arthur Way.
Fr. Francis Walsh Way
A member of the first seminary class to graduate from Stonehill College in 1953, Fr. Francis Walsh, C.S.C. returned to Stonehill as a faculty member in the psychology department in 1966. In addition, he served as counseling psychologist from 1966-1968 and Director of the Counseling Center from 1970-1973 and 1986-1993, after which he returned to teaching full time until his retirement in 2008. The road in front of Alumni Hall will be named Fr. Walsh Way.
Fr. Robert Kruse Way
Fr. Robert Kruse, C.S.C graduated from Stonehill in 1955 and returned in 1961 as a faculty member. From 1966-1978, he served as the chair of the Religious Studies Department and as a member of many college committees. In 1978, Fr. Kruse moved into an administrative role at the College when he was appointed Academic Dean. In 1987 he stepped down as Dean to assume the role of Executive Vice-President. After semi-retiring in 2000, he served as an Assistant to the President until 2010. A specialist in 19th and 20th century religious thought, Fr. Kruse helped guide the College through many decades of change and growth. The pathway leading from the Sally Blair Ames Sports Complex to Holy Cross Center will be named Fr. Kruse Way.
Fr. Francis Hurley Way
Fr. Francis Hurley, C.S.C. served as Chair of the Biology Department for 32 years. He was one of the founders of the Science discipline at Stonehill. During his tenure, he was also Chair of the first Governance Committee established in 1970. In 2003, Fr. Hurley received the Stonehill President's Medal for Excellence. Also in 2003, the Rev. Francis J. Hurley, C.S.C. Scholarship Fund was established. The road leading from Moreau Drive, which passes by the Science Center, and ends at the College Center and Merkert Gymnasium, will be named Fr. Hurley Way.