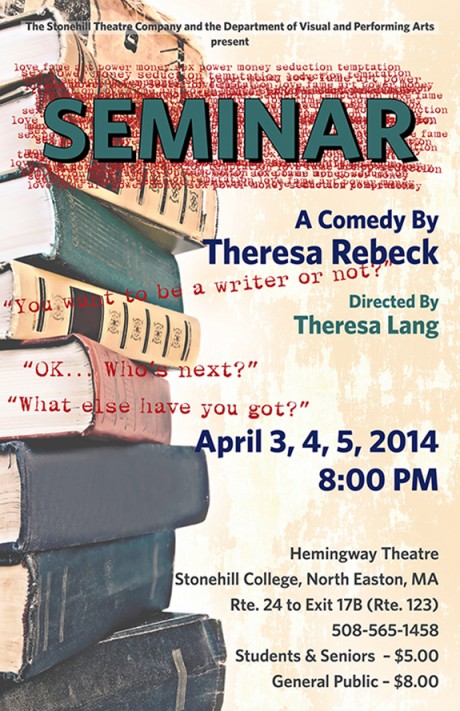 The Stonehill Theatre Company and Department of Visual and Performing Arts will debut their spring production of Theresa Rebeck's Seminar, a comedy about four aspiring playwrights, on Thursday, April 3 at 8:00 p.m. in the Hemingway Theatre. The production will be directed by adjunct professor Theresa Lang. Follow up performances will take place on Friday, April 4 and Saturday, April 5 at 8:00 p.m.
Seminar follows the story of four young, aspiring writers of fiction who take an intensive class taught by an international literary figure. Tensions flare and relationships are tested as the students begin to evaluate the true nature of their goals and their art.
The cast includes Christopher Crider-Plonka '16 as Leonard; Austin Herzog '17 as Martin; Jonathan Morasse '14 as Douglas; Gabrielle Jacques '16 as Izzy and Samantha Putko '16 as Kate.
The play will mark Lang's third directorial performance at Stonehill, as she previously directed the STC's adaptations of We Won't Pay! We Won't Pay! and Three Sisters. She holds a bachelor's degree in drama from the University of Texas, a master's degree in theatre from Brown University, and a Ph.D. in drama from Tufts University.
At Stonehill, Lang has taught courses in Dramaturgy and Production and Stage Management. She also serves as the Regional Chair of Dramaturgy for the Kennedy Center American College Theatre Festival.
Rebeck has enjoyed a strong career on Broadway and in Hollywood, working for some of television's most popular series. She spent time writing for such successful television series as NYPD Blue and Law and Order: Criminal Intent. Shewas the creator and co-executive producer of the NBC musical series Smash inwhich Steven Spieberg also served as an executive producer. Her various works have been nominated for numerous Golden Globe and Emmy Awards. She was also nominated for a Pulitzer Prize in Drama for the play Omnium Gatherum which she co-wrote in 2003.
Her screenwriting abilities have also been critically acclaimed, as she has written 20 plays that have been featured on and off-Broadway. The Broadway version of Seminar featured Hollywood stars like Alan Rickman, Jeff Goldblum and Justin Long. Her most recent work, Dead Accounts, premiered on Broadway in 2012.
Tickets for Seminar are $5 for students and $8 for the general public. Advanced tickets can be purchased starting on March 24 in the Roche Dining Commons or over the phone by calling the Stonehill Theatre Company Box Office at 508-565-1458. Tickets may also be purchased at the door.