"The Academic Welcome Center is a great place to be social with your friends over lunch at Au Bon Pain and also provides students with a lot of quiet study spots to get work done."
- Zachary (Zack) Balkam '21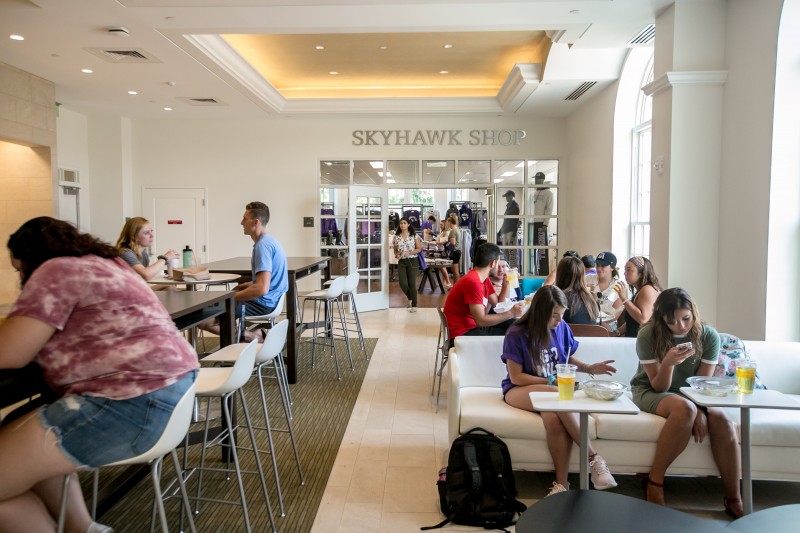 "The Au Bon Pain in the new Welcome Center is a great place for students and faculty members to meet up! The strawberry lemonade is amazing!"
- Rachel Coia '19

"I know I'll be using the high top tables by Au Bon Pain to do homework a lot! Also, the little study nook above the Admissions office has a great view and is a place I'll be all year!"
- Kateri Collins '19

"I was amazed at how clean and open the building looks. I'm excited to have classes in there and find new study spots over this year!"
- Laura Coppinger '20

"We've been waiting for a long time to see the inside of the Welcome Center, and it was definitely worth the wait! Having a new building on campus definitely sparked an excitement in me for the new academic year. The building is filled with so much natural light and beautiful features, and I can't wait to be able to utilize all that it has to offer for my final two years at Stonehill!"
- Claire Shamber '20

"I am absolutely blown away by the Academic and Welcome Center. I am very lucky to have a class in there and the technology is innovative and very helpful. As a student who is involved with Admission, I can't wait to give tours starting from this amazing location."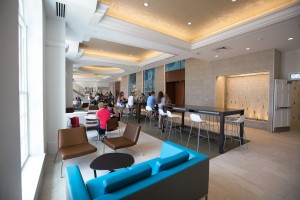 - Brendan Barry '20

"The new Welcome Center has a bright and energetic feeling to it--perfect to motivate students!" - Hannah Baxter '19

"The new student Welcome Center is absolutely beautiful and brings a breath of fresh air to campus while still maintaining the welcoming vibe of Stonehill College. I am excited to have this new building for my senior year!"
- Samantha Claveau '19

"There is nothing more welcoming to a campus as beautiful as Stonehill's than this Welcome Center. It's an awesome way for prospective students and their families to get a glimpse of Stonehill College life at its finest--at a cafe, in the classroom, and looking for some Skyhawk swag."
- James (Jimmy) Coppinger '19

"When I first walked into the Welcome Center, I was blown away! The architecture and design of the building are breathtaking! Although the beauty of the building makes it stand out, it fits perfectly into our campus! I can't imagine a better space for prospective students to begin their Stonehill journey!"
- Jennifer (Jen) Lepine '19
Quotes compiled by Rachel Riani '19.