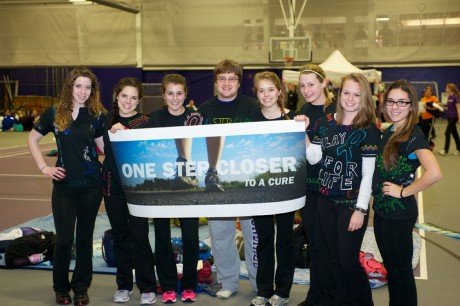 In nine years, over 4,000 participants have walked the track at Stonehill College and have raised over $350,000 at the annual American Cancer Society's Relay For Life Program. Celebrating its tenth year at the College on April 11th, the Relay will once again bring together hundreds of students, faculty, staff and friends of Stonehill for a night to celebrate the lives of people who have battled cancer, remember loved ones lost and fight back against the disease.
This year's Relay co-chairs are Tara Daniels '14, who has battled leukemia twice in the past five years, and Vicki Miller '15, who lost her mother to breast cancer in June of 2012. So far, the two have helped bring together 39 teams for this year's event and have helped raise over $20,000.
For Daniels, the event hits close to the vest. Originally diagnosed with leukemia at age 16, she faced the same battle once again in the summer of 2012 when the cancer came back. Since that time, she has undergone chemotherapy treatments, which won't stop until the beginning of next year after she graduates from Stonehill.
Daniels credits the support system she gained at the College with helping her get through some of the most difficult times of her life. In an op-ed article written for The Summit, Daniels said: "While I have not had the typical college experience most people think of when they see someone my age, I can't say I would change my experiences for anything because it taught me so much. I couldn't have accomplished half of what I have done without the backing and help from both my family and my second family that I formed here at school."
For Miller, whose father is Stonehill's General Manager of Dining Services David Miller, Relay For Life has been an opportunity to honor her late mother Tina, who fought a courageous three-year battle against breast cancer.
"To see Stonehill students being so selfless and taking such an initiative is terrific. Thanks to student effort and passion a ten year tradition has been established at the College," explained Rebecca Ybarra '12, a community development executive with the American Cancer Society who served as a Relay co-chair when she was a student.
The rules of the Relay are that at least one team member must walk/run on the track during the event, keeping the motto of "cancer never sleeps" in the back of their mind.
Beyond walking, there are three traditions at all Relays that help commemorate those who lost their bouts with cancer and to honor those who fought and won their battle.
Each Relay begins with a Survivors Lap, where cancer survivors circle the track together to celebrate their victories over cancer. At night, the Luminaria Ceremony honors loved ones who have passed because of cancer with a candlelit lap of silence. Lastly, there is a Fight Back Ceremony, where all participants make a commitment to fight against cancer.
For more information about Relay for Life at Stonehill, visit here.