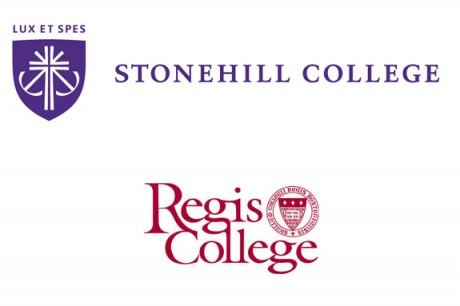 As President Obama calls for more affordable higher education, Regis College and Stonehill College are responding, beginning with a graduate program that will also help meet the increased market demand for prepared healthcare administrators.
Regis College and Stonehill College recently signed an agreement that will make the Master of Science in Health Administration degree at Regis more affordable to qualified Stonehill students. With the agreement, Regis will accept four of Stonehill's undergraduate courses in the Health Administration baccalaureate degree program as credited courses in the Regis Master's of Health Administration program.
This type of advanced standing agreement is the first of its kind among Regis' graduate programs and will provide students with the opportunity to save approximately $8,000. For these qualified students, the time it will take to earn their MS degree will also be expedited.
"This articulation with Regis College strengthens Stonehill College's commitment to provide its students with the best opportunities for continued professional development," said Stonehill Healthcare Administration Professor and Chair Thomas Gariepy, C.S.C.
"It's an exciting time to be in this field and these students will reap the benefits of being educated by two of the region's best programs," he added.
"The growth of healthcare in the United States necessitates the preparation of educated and qualified administrators as soon as possible," said Dr. Claudia Pouravelis, Associate Dean of Graduate Academic Affairs at Regis. "Students can get real world experience both with Stonehill's internship and Regis's Field Experience, which makes this arrangement a win-win."
"Regis and Stonehill are both Catholic institutions grounded in mission and sharing a commitment to liberal arts education," said Dr. Craig Almeida, Dean of Academic Achievement at Stonehill College. "The partnership allows our Healthcare Administration and Interdisciplinary Studies—Health Science majors and minors to be better prepared for the advanced degree, and Regis has an exceptional graduate program in which our students were already enrolling."
About Regis College
Regis College is a multifaceted Catholic university in greater Boston with 2000 undergraduate, graduate and doctoral students in the arts, sciences and health professions devoted to engagement, service and advancement in a global community. With a strategic graduate focus on health care, Regis College was recently named a Center of Excellence in Nursing Education by the National League of Nursing for the second time. The College also provides accredited pre-school and kindergarten programs and a Life-Long Learning Program (LLARC) for retired seniors. Visit Regis on the web at www.regiscollege.edu.
About Stonehill College
Stonehill is a selective Catholic college located near Boston on a beautiful 384-acre campus in Easton, Massachusetts. With a student-faculty ratio of 13:1, the College engages over 2,500 students in 80+ rigorous academic programs in the liberal arts, sciences, and pre-professional fields. The Stonehill community helps students to develop the knowledge, skills, and character to meet their professional goals and to live lives of purpose and integrity.