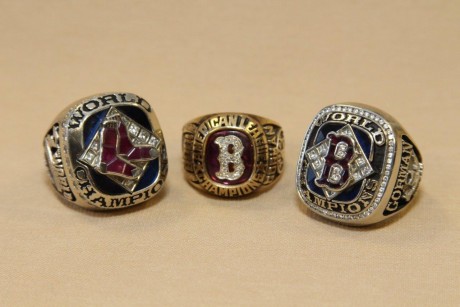 As groundbreaking for the Sports Complex expansion project nears, memorabilia for the new Lou Gorman Pavilion has begun to arrive, most notably Gorman's three championship rings with the Boston Red Sox: his 1986 ALCS ring as well as his 2004 & 2007 World Series rings! These and other cherished items from his baseball career, including his championship rings with the Baltimore Orioles and the New York Mets, will be on display in the new space, which is being supported by a generous $2 million gift from the Yawkey Foundation.
A member of the Class of 1953, Gorman received every honor the College can bestow on a person including the Outstanding Alumnus Award, the Lux et Spes Award and an honorary degree. He was also one of our greatest ambassadors, always proud to proclaim that he was a Stonehill alumnus.
The Red Sox general manager from 1984-1993, Gorman served as the organization's executive consultant for public affairs prior to his death in April of 2011.
Gorman was the first alumnus to receive both the Outstanding Alumnus Award (1979) and the Alumni Service Award (2000). A member of the basketball and baseball teams while a student at the College, he was inducted into the Athletic Hall of Fame in 1989. The Stonehill baseball field bears his name.
In addition, he served several terms as a member of the Board of Trustees and as Chair of the College's Annual Fund. There is also a scholarship at the College named for Gorman and his beloved wife, Mary Lou.
In 1999, Stonehill gave Gorman its Moreau Medallion which was presented to 50 individuals whose loyalty and service contributed to the success of the College during its first half century.
He also received an honorary Doctor of Business Administration degree from the College in 2002 and, in 2003, he received the College's highest honor, the Lux et Spes Award, named after the College's motto, which means "Light and Hope."
The expansion project is being funded by a matching gift from the Stonehill College Board of Trustees and the generous support of alumni and friends of Stonehill College. Please consider making a gift to support this project. For more, visit here.
(Above photo: Gorman posed with Red Sox players Calvin Schiraldi and Don Baylor for the Winter 1987 cover of Stonehill Alumni Magazine)