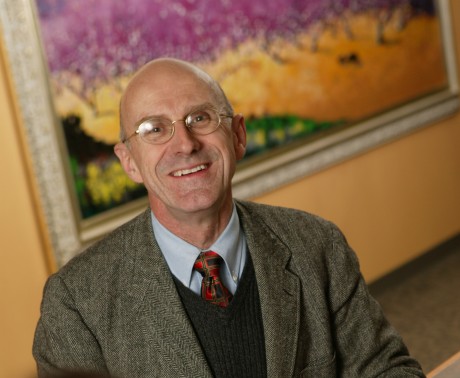 Stonehill College Assistant Professor of Healthcare Administration Warren Dahlin was recently featured on Boston's FOX 25 News for an installment of its Real People, Real Stories series. The piece focused on 52 year-old Peter Wong, a man Dahlin met 39 years ago when he was an occupational therapy graduate student at Boston University.
Wong, who has spastic cerebral palsy, was just 13 at the time. ""They were touring me through the hospital the first day I was there. I had one month, it was my last clinical affiliation, we walked in the room and there was Peter in his wheel chair," Dahlin told Fox 25 reporter Maria Stephanos. "I said what about him? And she said, 'Oh he's profoundly retarded, he'll never leave the nursery- they squashed his cerebellum when he was born with a high forceps delivery and he'll probably choke to death because he can't swallow,' " Dahlin continued.
From that moment forward, Dahlin put Wong on his caseload and he quickly learned the 13 year-old was no ordinary teenager- he was extremely gifted with an IQ of about 140.
"Physically, Peter is one of the most disabled people I've ever known and worked with, physically, he's quite disabled. In his spirit and mentally, Peter is the least disabled person of everyone I know," Dahlin told Stephanos during their interview.
After nearly four decades, Dahlin and Wong remain close friends and for years, have been teaching the course Disability? together at Stonehill. In the course, students review personal and societal fears about disability, learn to confront and change negative attitudes and values, understand medical causes, effects and treatment of a wide range of clinical disorders, and develop a belief and value system which includes positive attitudes toward the emotionally and physically challenged.
Dahlin has been teaching at Stonehill since 1979. In 1990, he received the coveted Louise Hegarty Award for Excellence in Teaching at Stonehill. Prior to his work in academia, he was an occupational therapist for the Department of Mental Health in Brockton and Foxboro State Hospital.
Dahlin also has extensive experience in elder care, conducting some of the first research in the country on elder abuse. His professional appointments in the field include serving as the executive director of South Shore Elder Services from 1983-86 and Director of Elderly Services for Southeast Human Resources Associates, Inc, in Brockton from 1972-1985. Since 1972, he has operated The Elderhealth Institute, which provides consultation and education nationally.