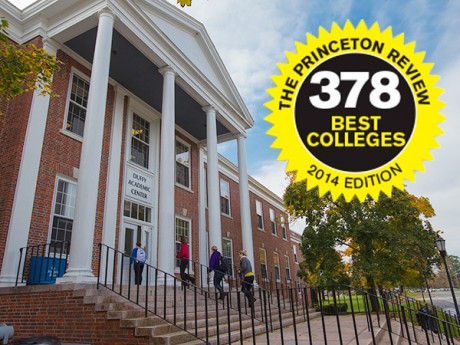 Stonehill is one of the nation's best institutions for undergraduate education, according to The Princeton Review. The education services company features the school in the new 2014 edition of its annual college guide, "The Best 378 Colleges."
Only about 15% of America's 2,500 four-year colleges and only four colleges outside the U.S. are profiled in the book which is The Princeton Review's flagship college guide.
"Stonehill offers outstanding academics, which is the primary criteria for our choice of schools for the book. We base our selections primarily on data we obtain in our annual institutional data surveys. We also take into account input we get from our staff, our 35-member National College Counselor Advisory Board, our personal visits to schools, and the wide range of feedback we get from our surveys of students attending these schools. It is their opinions that college applicants often value the most, particularly on (or in the absence of) campus visits. We also work to keep a wide representation of colleges in the book by region, size, selectivity and character," said Robert Franek, Princeton Review's Senior VP / Publisher and author of "The Best 378 Colleges."
"The Best 378 Colleges" is the 22nd edition of The Princeton Review's annual "Best Colleges" book. It is one of 150 Princeton Review books published by Random House in a line that also includes test-prep guides for the ACT, SAT, SAT Subject Tests, and AP exams, plus "The Complete Book of Colleges," and "Paying for College Without Going Broke."
The Princeton Review is an education services company known for its test-prep courses, tutoring, books, and other student resources. Headquartered in Framingham, Mass., the Company is not affiliated with Princeton University.
About The Princeton Review
Founded in 1981, The Princeton Review is a privately held education services company headquartered in Framingham, MA. The Company has long been a leader in helping students achieve their education and career goals through its test preparation services, tutoring and admissions resources, online courses, and more than 150 print and digital books published by Random House, Inc. The Princeton Review delivers its programs via a network of more than 5,000 teachers and tutors in the U.S.A., Canada, and international franchises. The Company also partners with schools and guidance counselors worldwide to provide students with college readiness, test preparation and career planning services.