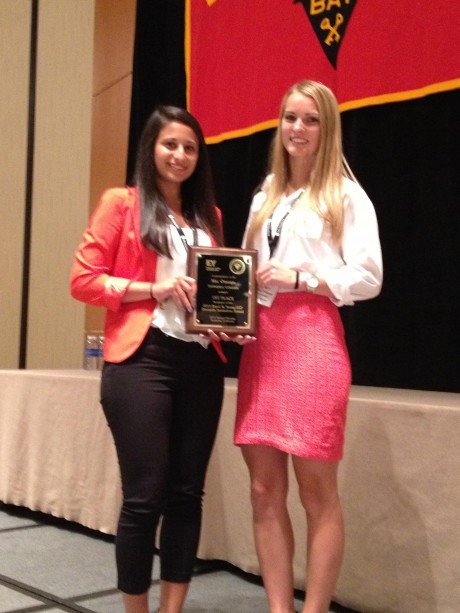 Stonehill students who are members of the accounting and financial information honor society Beta Alpha Psi (BAP) were named the winners of the 2013 Ernst & Young Diversity Challenge. The announcement was recently made at Beta Alpha Psi's annual meeting in Anaheim, California.
The challenge called for college chapters of Beta Alpha Psi to design and implement a project which created and supported a diverse and inclusive environment. To achieve that goal, Stonehill's BAP chapter, Mu Omega, created a "Team Yankees vs. Team Red Sox" challenge for students at two diverse high schools, Mount St. Michael's Academy in the Bronx and Cardinal Spellman High School in nearby Brockton. The students at both high schools were given a business case to solve and Stonehill's BAP students, faculty and alumni advised them on the project.
To give the high schools students the opportunity to talk to Stonehill students face-to-face, two SKYPE sessions were held. In addition to responding to questions, the Stonehill students introduced themselves, talked about Stonehill College, Beta Alpha Psi and the College's accounting program.
The case model proved to be a rigorous challenge for the high school students, giving them a unique, hands-on introduction to collegiate course work in the financial field.
By participating in the competition, the high school students also learned about the benefits of a career in accounting and finance. In terms of going on to enroll in a collegiate business program, they grew in confidence and specifically, they learned about the quality of Stonehill's business and accounting programs.
To assist them with the project, the team of Stonehill students, led by Mu Omega President Samantha Lindquist Carrico '13, incoming President Kymberly Knoph '14 and Vice President Christina Simoes '14, recruited the help of various offices on campus, including the Office of Admission and the Office of Intercultural Affairs.
In the end, "Team Yankees" from Mount St. Michael Academy won the competition and was in May was presented with an award commemorating the event. Students from both high schools were presented with certificates of participation and each high school was given a financial contribution on behalf of Stonehill. In addition to receiving a plaque at the annual meeting noting first place finish in the Challenge, the Mu Omega chapter will also receive a $2,000 scholarship award from Ernst & Young.
Assistant Professor of Business Administration Michael Mullen, who attended the Beta Alpha Psi (BAP) annual meeting with some of Stonehill's BAP students, said the exposure the College received by winning the award was invaluable.
"There were 1300 students, faculty, and business professionals in attendance during the award presentation. Many people came up to me later to say that they had not heard of Stonehill College but had looked it up after the announcement. If we were not on the map in their eyes before, we are now," says Mullen.
Stonehill's Mu Omega Chapter was officially recognized by the Beta Alpha Psi Honor Society this past January. BAP President Blaine Ruschak, who came to Stonehill for the induction ceremony, was pleased to see Mu Omega success in such a short period of time.
"He came up to me immediately following the awards presentation to congratulate us. He was very proud and has become a great admirer of our chapter," recalls Mullen.
To learn more about Stonehill's Mu Omega Chapter, visit here. To learn more about the College's business administration program, visit here.
About Beta Alpha Psi
Founded in 1919, Beta Alpha Psi is an honor organization for financial information students and professionals. There are over 300 chapters on college and university campuses with over 300,000 members initiated since Beta Alpha Psi's formation.