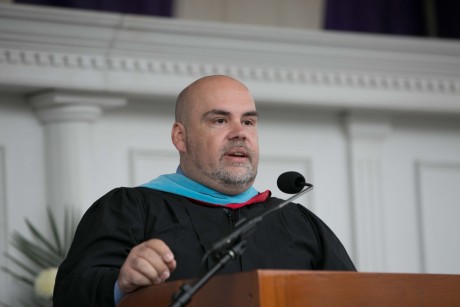 Good morning fellow alumni. Please be seated. It is my distinct honor to be the first to greet each of you as fellow Stonehill College graduates. On behalf of the 67 classes who have graduated before you, I offer you, the graduates of the Class of 2019, congratulations and a very warm welcome. Many of these alumni are in attendance today and I now invite them to stand and be recognized.
Today, you, the members of the Class of 2019 join an Alumni Association comprised of over 27,000 individuals who also stressed over final exams, their career choices, and what the future held for them. I guarantee you will meet some of these alumni in the future; whether it be at a job interview, in a parent/teacher conference, at a reunion, or, I hope, at one of the many alumni events Stonehill hosts.
Many of these alumni will tell you that their life's journey differed from what they expected when they received their degrees. I encourage you to embrace the challenges and change that will come your way because they will open the doors of possibility for you. At the same time, you now have the opportunity to make a positive impact in this world and remember how your Stonehill education supported you on that journey.
21 years ago, on a very raining Sunday, I sat where you sit today hopeful for what the future held (unemployed) and still wanting to make a difference. I am grateful to my mentors, like Dean Richard Grant and Professor Sue Mooney, and so many other faculty and staff at Stonehill who helped to shape my future as I continued on a career path of supporting student success in higher education. At the same time, I never dreamed that I would one day serve as President of Stonehill's Alumni Council and address you, the graduates, at Commencement.
Being an active alumnus has provided me tremendous opportunities and a personal sense of fulfillment. As you enter the next chapter of your lives, I encourage you to stay in touch with Stonehill and take part in some of the many opportunities and activities the Alumni Association offers…you will be amazed at how rewarding this relationship with your alma mater can be.
Each year we have the opportunity to interview current students for the Alumni Association Scholarships. When speaking with one recipient in recent years, I was struck when he shared that it is the Alumni who demonstrate the true value of a college. You are now the outward sign of what a Stonehill education produces. Respect that, honor that, treasure that, and always remember these roots. Be proud of your time on the Hill, share it with others in your future, and think about how you can pay it forward to other future Stonehill students who will one day walk these halls.
On behalf of Brandon Hall the Vice President of the Alumni Council, Jackie Tracy the Treasurer of the Alumni Council, as well as the other alumni in attendance today; I wish you a bountiful future - be it in the corporate world, advancing the next generation, or in service to others and our country. When you walked on campus four years ago you became part of Stonehill's family as students ….today we welcome you to the family of Stonehill alumni.
So let's make this official. You all look amazing so let's get a picture of our newest Stonehill Alumni to share with the world.
Thank you and congratulations Class of 2019!