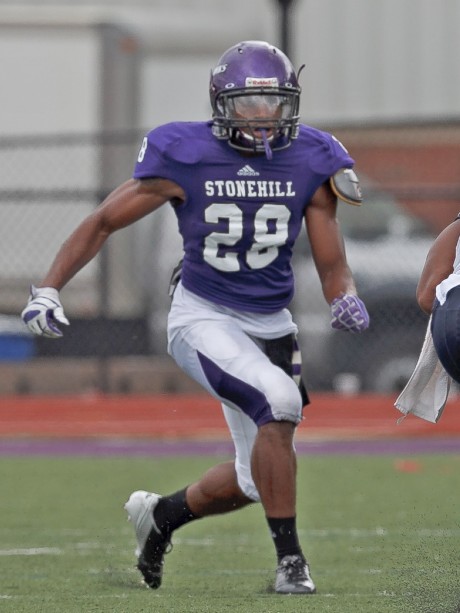 Senior defensive back James Lanier may be a hard-hitting force on the football field, but off the gridiron, the Westhampton N.J. native is a soft-spoken, hard-working individual who has successfully balanced academics and athletics.
Last month, Lanier was a semifinalist for the National Football Foundation's 2013 William V. Campbell Trophy, which honors the top scholar-athlete across all divisions in college football.
"I was really surprised when I learned I had been nominated," Lanier said. "It meant a lot to be recognized for what I was doing on and off the field. As a freshman it was hard to balance football and class, but I was able to take things one step at a time and doing things in parts helped me get a balance and do pretty well," says Lanier.
All-Around Success
In his four years with the program, Lanier has amassed 152 tackles and an interception, seeing significant playing time since his freshman season. This season, he helped lead the team to a share of its first Northeast-10 Conference regular season championship. And while his football prowess has made him one of the cornerstones of the Skyhawks' secondary, he has also been a force in the classroom.
A criminology major, Lanier has earned Northeast-10 Commissioner's Honor Roll awards each semester of his collegiate career and was named to the Capital One Academic All-District First Team a year ago.
Focused on a career in local law enforcement, Lanier has built an impressive resume during his time at Stonehill, completing three internships. In the summer of his sophomore year, he interned at the Burlington County Superior Court near his home in New Jersey and last spring he spent the semester in Washington D.C. interning with the US Marshalls. While living on campus this past summer, Lanier interned with the Boys and Girls Club in Brockton, where he continues to work this fall, tutoring children after school.
"I ultimately want to go to grad school and I will focus on that once football is over," Lanier says.
Historic Season
On Saturday, Nov. 16, Lanier and his teammates will look to tie the school record for wins as they will battle American International College in the NE-10 Championship game. It will be Stonehill's first appearance in the NE-10 Championship and the winner of that game will likely represent the conference in the NCAA Division II Tournament starting the following weekend.
The Skyhawks are currently 8-2 overall and the winners of five straight games. The team has been overcoming the odds all season as they were picked to finish seventh in the NE-10 preseason poll and have seen a number of injuries throughout the year.
"When somebody has gone down this year somebody has been ready to step up. And good teams are the ones that have the young guys to step up and continue to make plays. Even with all the injuries, we continue to believe in our family and go out there. We keep playing with this sense of urgency and focus on one game at a time," says Lanier.
The NE-10 Championship game is set to kick-off at 2 p.m. this Saturday in Springfield, Mass. For more information on the game, visit here.